LCdr. R. Weidenbacher
1970 - 1973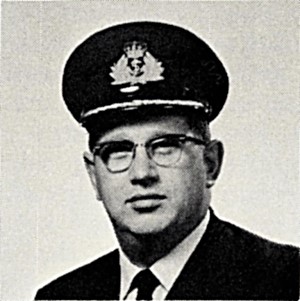 Rudy Weidenbacher died peacefully and surrounded by his family on Thursday, February 13th 2020 at Grace Hospital. Rudy is survived by his loving wife of 56 years, Joanne, his children Anne Pereira (Michael), Thor Weidenbacher (Tricia), Kim Melvin (Brett), and his grandchildren Reid, Saige, Emily, Alex, Sam and Kate. He is also survived by his sister-in-law Delores Weidenbacher, as well as numerous cousins, nieces and nephews both in Canada and in Germany. He was predeceased by his parents, Hans and Mary Weidenbacher, and also by his brother John.
Rudy was born in Winnipeg on August 22nd 1941. He grew up in Winnipeg's West and North Ends and graduated from Daniel McIntyre Collegiate. During his youth he joined JTC, Royal Canadian Sea Cadet Corps John Travers Cornwell YC. It was while being a member of the JTC honour guard presenting the colours at an ice show at the old Winnipeg Arena that he met his beloved Joanne, who was one of the figure skaters.
Rudy and Joanne were married in 1963 at First Lutheran Church and resided for a time in Winnipeg before moving to Nelson B.C. In 1965. Rudy was transferred there while he was working for Crown Life Insurance. Upon their return to Winnipeg in 1967, Rudy resumed his work with the Sea Cadets and rose to the rank of Lieutenant Commander. He was appointed Commanding Officer of JTC from 1970-1973. In 1977 Rudy began working for Prairie Remanufacturing Inc., an engine remanufacturing company. He worked there until 2003, retiring as General Manager and part-owner. In his retirement Rudy enjoyed spending his time at his cabin up at Hillside Beach on Lake Winnipeg. He made wonderful memories there with his wife and children and grandchildren.
Rudy was always heavily involved in the community. He was a member of the Kirkfield-Westwood Optimist club in the 1970's and was instrumental in starting the Optimist Club Band Festival in 1976. He spent 30 years as a volunteer accountant and executive in the sport of figure skating. He was inducted into the Skate Manitoba Honour Society in 1998. He joined Ancient Landmark Lodge #3 in 1980 and was elected Master of the Lodge in 1990. He was a proud member of the Scottish Rite and was also Knighted Sir Rudy "Receptive" Weidenbacher in the Royal Order of Scotland. In 2004 Rudy served as President of the Khartum Komedians and as secretary-treasurer in 2005. In 2008 he was named "Clown of the Year" for his dedication to the Khartum Komedians. In 2017 he received the Grandmaster's Award for Merit for a lifetime of service to the Craft.
Much of Rudy's life was guided by his faith and the principles of morality and virtue. He was a pillar of First Lutheran Church and provided leadership there for many years. Rudy revitalized the First Lutheran Church Men's Club, initiated several fundraising projects, and sang in the bass section of the choir. He was particularly proud to support the church's refugee sponsorship program. His own parents were immigrants to Canada and he wanted to pay-it-forward, by doing whatever he could to help give opportunities to newcomers. It brought him great joy to see the success of this program and the hope it gave to so many people.
Rudy lived his life rising to eminence by merit; he lived respected and has died regretted. A Funeral Service was held at First Lutheran Church on Wednesday, February 19th at 10:30 AM, with Pastor Michael Kurtz officiating. Internment followed at Chapel Lawn.