Order an Alumni Challenge Coin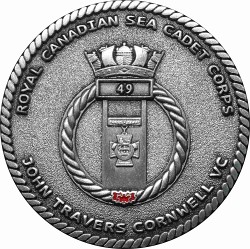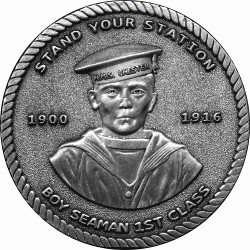 As a lead up to the Royal Canadian Sea Cadet Corps - John Travers Cornwell VC 100th Anniversary celebrations in May 2020, the Cornwell (Winnipeg) Branch of the Navy league of Canada are pleased to release the Alumni Challenge Coin on June 2, 2016 for presentation and retail. This date coincides with 100th anniversary of John Travers Cornwell VC death after he had succumbed to wounds inflicted during the World War I naval battle "Battle of Jutland".
The coin (38mm x 3mm) was conceived and designed by Richard (Rick) Hunt CD LCol (Ret'd), a former cadet and officer with the Corps (1967 to 1978).
June 2, 2016 ..... commencing on this date, at the discretion of the Cornwell (Winnipeg) Branch, the Alumni Challenge Coin will normally be awarded to senior Corps Cadets when they age out of the cadet program in recognition of their loyal service to the Corps and to welcome them as an Alumni member. The Cornwell (Winnipeg) Branch may also award the coin to dedicated friends, donors, and sponsors of the Corps. The coin will also be available for retail to former cadets; current and former officers, instructors, and volunteers; current and former Cornwell (Winnipeg) Branch members; and dedicated friends of the Corps. In all, members of the John Travers Cornwell VC family.
Challenge Coin - Origins ..... A Challenge Coin is a small coin or medallion bearing an organization's insignia or emblem and carried by the organization's members (usually military). Traditionally, they are given to prove membership when challenged and to enhance morale. In addition, they are also collected by service members. In practice, challenge coins are normally presented by unit commanders in recognition of special achievement by a member of the unit. They are also exchanged in recognition of visits to an organization. Police, security and fire departments have embraced the concept and have found coins to be an excellent means of team building and creating a sense of brotherhood or belonging. Many non-profit organizations, especially those with connections to the military, give challenge coins to donors to acknowledge their support of the organization. Traditionally, the presentation of a coin is passed during a handshake.
Challenge Coin - Challenging ..... The tradition of a challenge is the most common way to ensure that members are carrying their unit's coin. The rules of a challenge are not always formalized for a unit, and may vary between organizations. In the case of the Alumni Challenge Coin, the challenge only applies to those persons that have received a coin from the Cornwell (Winnipeg) Branch. The tradition of the coin challenge is meant to be a source of morale in a unit, and forcing the challenge can cause a reverse effect. The act of challenging is called a "Coin Check" and is usually loudly announced.
The challenge, which can be made at any time, begins with the challenger drawing his/her coin, and slapping or placing the coin on the table or bar. In noisy environments, continuously rapping the challenge coin on a surface may initiate the challenge. Accidentally dropping a challenge coin is considered to be a deliberate challenge to all present. Everyone being challenged must immediately produce the coin for their organization and anyone failing to do so must buy a round of drinks for the challenger and everyone else who has their challenge coin. However, should everyone challenged be able to produce their coin, the challenger must buy a round of drinks for the group.
Specifications
38mm with 3mm thickness, solid bronze with soft enamel colour; 3D design both sides with dual plating (nickel/antique silver)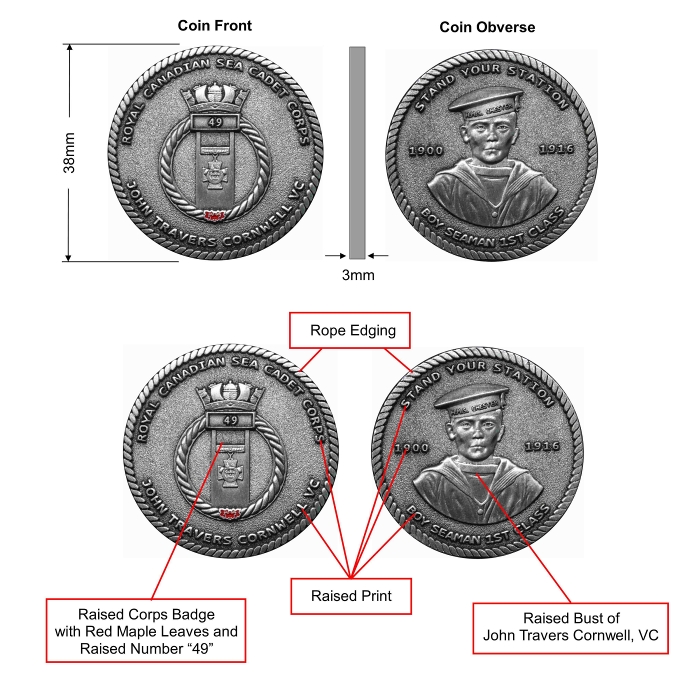 How to Order Your Alumni Challenge Coin
To order your Alumni Challenge Coin:
Complete the Alumni Challenge Coin fillable PDF order form (non-fillable PDF order form)
Print the completed order form
Mail the printed order form, along with your cheque or money order (PLEASE DO NOT SEND CASH), to the following address:

JTCVC Alumni
PO Box 41009 Markham
Winnipeg, MB R3T 2H0
If you have questions, please e-mail us at: AlumniTeam@jtcvcAlumni.ca
Thank you for your support!