Storyboard for the Cornwell at his Gun Print Case
Submitted by: Phillip Bingham (1972-1978)

This print of John Travers Cornwell, VC standing his station, was one of 12,000 that hung in a position of honour in the schools across the United Kingdom that had contributed to a memorial fund in his honour. The original painting, measuring 8 ft. X 5 ft., was painted in 1917 by Frank O. Salisbury (British, 1874-1962) and was presented to the Board of the Admiralty on March 23, 1917. It passed from the Admiralty to the seaman training establishments at Devonport, Gosport and finally HMS Raleigh in Cornwall, where it still resides, in their chapel.
The painting is named "Thou hast set my feet in a large place" (Psalm 31:8), though it is more commonly know as "Cornwell at his gun". The official name, inscribed below the painting on this print, was provided by the captain of HMS Chester (Captain Robert Lawson). When asked by the artist for a title for the painting, the captain replied that he knew of none that was more appropriate than "Thou hast set my feet in a large place".
The painting depicts John Cornwell standing at his gun aboard the HMS Chester while his gun's crew lay wounded and dead around him. The artist studied the site on HMS Chester before beginning the portrait and he used John's younger brother, Ernest, as a model for John during the painting.
Below the painting's title are the signatures of the artist, Frank O. Salisbury (on the right) and of Sir Edward Carson, First Lord of the Admiralty, Sir John Jellicoe, commander of Royal Navy's Grand Fleet, and Sir David Beatty, commander of the Battle Cruiser Fleet (top to bottom on the left). Below that, spanning a picture of HMS Chester, are inscribed Sir David Beatty words from the official despatches of the Battle of Jutland, which describe John Cornwell's heroism and which resulted in him being awarded the Victoria Cross.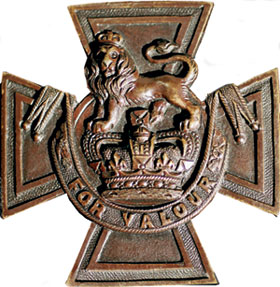 Replicas of John Cornwell's medals are also displayed here (the originals are in the Imperial War Museum in London). The Victoria Cross (VC), with the "Navy" blue ribbon, is awarded for gallantry in the face of the enemy, and is the highest military award issued by the United Kingdom. Between 1856 and 1918 the Victoria Cross was issued with a red ribbon for army recipients and a dark blue ribbon for navy recipients, but after the formation of the Royal Air Force in 1918 it was issued with a red ribbon for all three services.
The British War Medal (1914-18), also known as "Squeak", was awarded to officers and men who entered the theater of war between August 5, 1914 and November 11, 1918.
The Allied Victory Medal, also know as "Wilfred", was awarded to select officers and men that served during the First Wold War. John's medal also includes the MID emblem on the ribbon. The MID emblem was awarded to those recipients who were Mentioned In the Despatches (MID). The despatches were the official reports that fleet and field commanders sent to the government back home. Jack was mentioned in the official despatches by Sir David Beatty, Cruiser Fleet commander at the Battle of Jutland.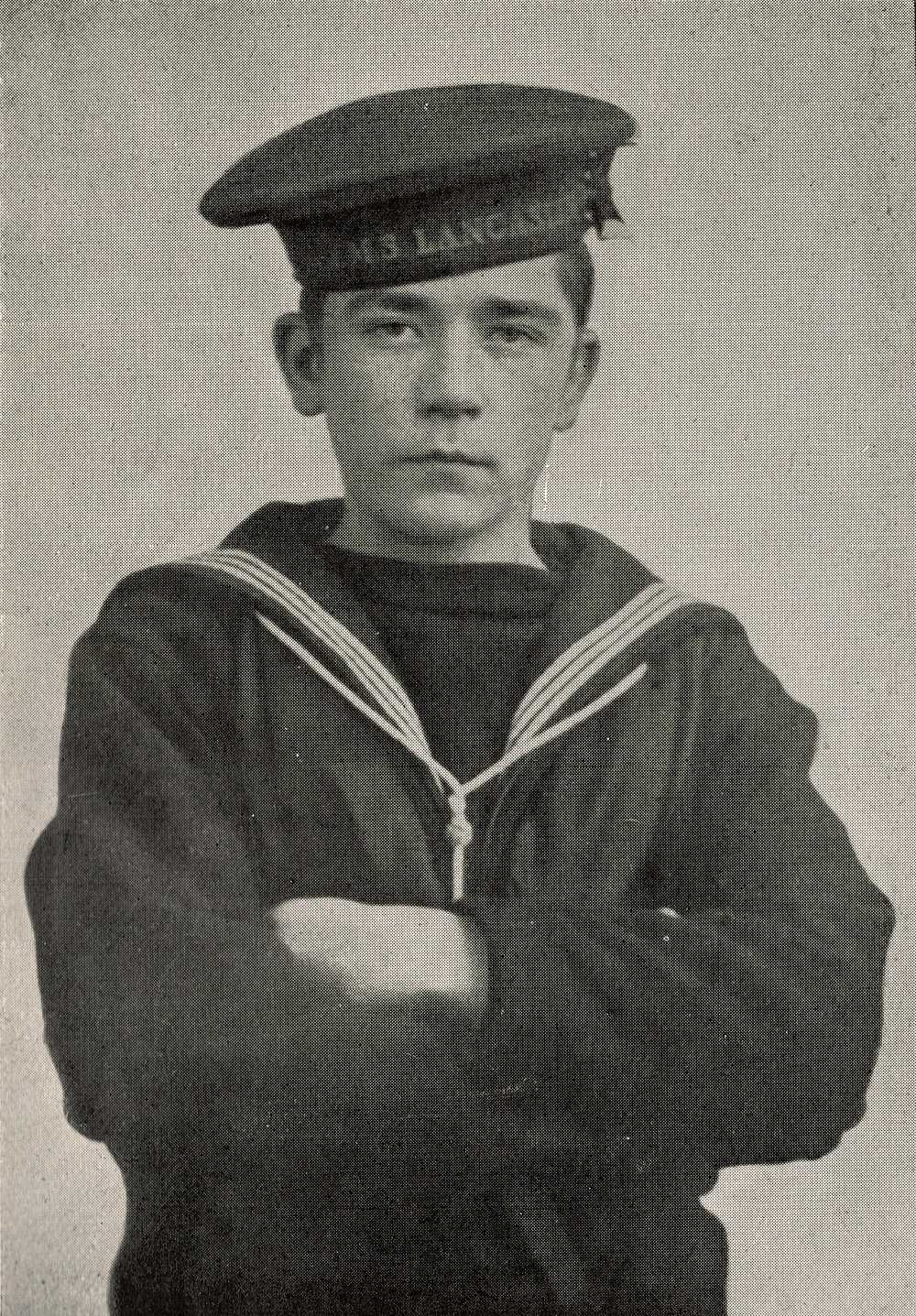 John Travers Cornwell, or Jack as he was always called, was born on January 8, 1900, in Leyton, Essex, England. He was the second son in a family of four; three boys and one girl. His father, Eli Cornwell, a retired soldier, was born in Cambridge and his mother, Alice Cornwell, was born in Bedfordshire.
Jack was a quiet and reserved boy for whom duty and honor were important. One of his teachers had said of Jack: "we always felt we could depend on him."
Jack left Walton Road School at the age of 14, which was a standard age for this time, and secured a job as a delivery boy on one of Brooke Bond's tea vans. But, Jack had always wanted to be a sailor, so at the age of 15 Jack enrolled in the Royal Navy. The navy wasn't taking just any boys though; you needed to be a boy of very good character with a spotless record. So, when Jack went down to enlist he took a letter from his school principal and his current employer.
Jack left, via London station, on October 14, 1915. As a Boy - 2nd Class, he was paid sixpence a week and "all found" (i.e. food, clothing, housing). He joined 600 other boys, at the Royal Training Establishment at Keyham Naval Barracks at Plymouth Sound for his training. The boys were divided into messes of twenty boys and those messes completed all their training together. They were taught about the lead (i.e. depth sounding), the compass, semaphore, seamanship and gunnery. The program would take about two years to complete in peacetime, but this was wartime (i.e. First World War), so the program was compressed to six months.
Seamanship and the other subjects came easy to Jack and though he found gunnery a harder subject, he had mastered it by the end of their training, with his instructor saying he was "quite good" by the end of the gunnery class. Another instructor said of him: "He was quick and intelligent, he tried hard and behaved well. Yes, a good boy!" Though Jack didn't stand out in his class, he was remembered as a "thoroughly decent lad--he had a lot of character--he was a good boy".
The one thing the boys were taught at Keyham, day in and day out, continuously, was that the secret to the mighty Royal Navy was to obey orders without question or hesitation. This was also something that Jack was taught throughout his school years.
Jack completed his training in April 1916 and was now a Boy - 1st Class, with double the pay. He spent a few days at home before joining his ship, His Majesty's Cruiser Chester on Easter Monday, 1916. He said to his mother on having to leave on such a holiday: "It's just a matter of duty, you see. I should feel ashamed for ever if I got back late and had bad marks against my name."
HMS Chester was a fast light cruiser (Town-class light cruiser) that was commissioned in May 1916, just three weeks before the Battle of Jutland. It was commanded by Captain Lawson and had a compliment of about 500 men, with ten 5½" guns, two 2" anti-aircraft guns and two 21" torpedo tubes. During the Battle of Jutland, HMS Chester was part of the 3rd Battle Cruiser Squadron under the command of Rear Admiral Hood.
The Battle of Jutland was a First World War naval battle fought between the British Royal Navy's Grand Fleet, under Admiral Sir John Jellicoe, and the Imperial German Navy's High Seas Fleet, under Vice-Admiral Reinhard Scheer. It took place between May 31st and June 1st of 1916 between 151 British combat ships and 99 German combat ships. When it ended, there were almost 10,000 casualties (i.e. killed and wounded) and 25 ships sunk.
At 17:30 on May 31, 1916, just over a month since Jack Cornwell became a member of the ship's company, Rear Admiral Hood sent HMS Chester to investigate and report back on guns heard in the distance. Fifteen minutes later, as they approached the mist that was hiding the German fleet, Chester's crew was at their stations ready for action. Sight-setter, Jack Cornwell, was just behind the gun shield on left side of the forward 5½" gun with his telepad (i.e. headset) connected directly to the ship's gunnery officer. Based on the orders he received through the telepad, Jack would adjust a brass wheel in front of him, which controlled the pitch of the gun. The gunnery officer would rely on sight-setters like Jack to quickly and accurately translate his orders.
HMS Chester and its crew engaged three or four enemy cruisers for about twenty minutes and at about 18:05 she rejoined the 3rd Battle Cruiser Squadron. During the 20-minute battle, Jack's gun received the full force of the attack. The gun shield did not reach all the way down to the deck, so shrapnel was not only flying around the gun, but under it as well. It was not uncommon for men to lose their lower limbs. Throughout this carnage, Jack remained at his station, hand on the brass wheel, awaiting his orders. A few minutes into the battle, only three of the nine men manning the forward gun with Jack were alive. A few minutes after that only two others remained, both were wounded but sheltered, only Jack was standing at their gun, wounded and faint, hand still on the brass wheel; even though there were no more orders coming over the telepad and there was no one left to fire his gun.
After the battle medics found Jack at his post awaiting orders, metal protruding from his chest. They did their best for him, and when the Chester reached port at Immingham, he was transferred to Grimsby General Hospital. A telegram was sent to Jack's mother, but before she could arrive at the hospital Jack passed away. It was the morning of June 2, 1916.
Captain Lawson later wrote to Jack's mother the following:
"I know you would wish to hear of the splendid fortitude and courage shown by your son during the action of May 31. His devotion to duty was an example for all of us. The wounds which resulted in his death within a short time were received in the first few minutes of the action. He remained steady at his most exposed post at the gun, waiting for orders. His gun would not bear on the enemy : all but two of the ten crew were killed or wounded, and he was the only one who was in such an exposed position. But he felt he might be needed, and, indeed, he might have been ; so he stayed there, standing and waiting, under heavy fire with just his own brave heart and God's help to support him.
I cannot express to you my admiration of the son you have lost from this world. No other comfort would I attempt to give to the mother of so brave a lad, but to assure her of what he was and what he did, and what an example he gave.
I hope to place in the boys' mess a plate with his name on and date and the words ' Faithful unto death.' I hope some day you may be able to come and see it there. I have not failed to bring his name prominently before my Admiral."
In the official despatches of the Battle of Jutland, Sir David Beatty wrote:
"A report from the Commanding Officer of ' Chester ' gives a splendid instance of devotion to duty, Boy (1st Class) John Travers Cornwell, of ' Chester,' was mortally wounded early in the action. He nevertheless remained standing alone at a most exposed post, quietly awaiting orders till the end of the action, with the gun's crew dead and wounded all round him. His age was under 16½ years. I regret that he has since died, but I recommend his case for special recognition in justice to his memory, and as an acknowledgment of the high example set by him."
John Travers Cornwell, VC was buried in a common grave in Manor Park Cemetery, London, but was later exhumed and on July 29, 1916, he was buried with full naval honours in a private grave in the same cemetery. On November 16, 1916, Alice Cornwell, Jack's mother, was presented with Jack's Victoria Cross, directly from King George V at a ceremony in Buckingham Palace.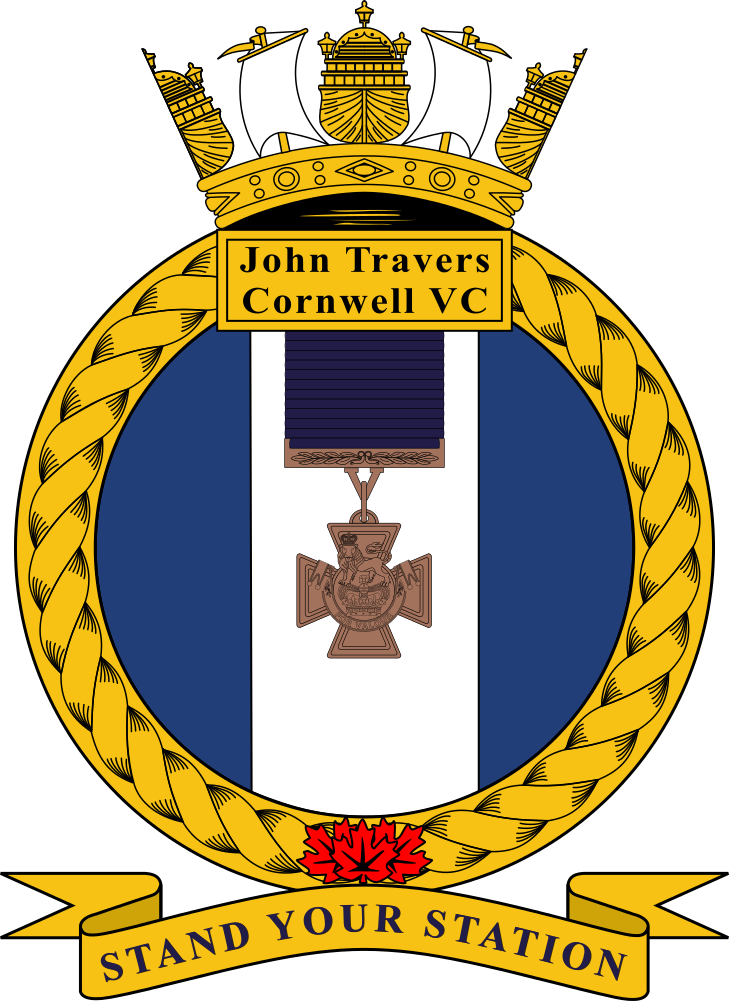 The Winnipeg Boys Naval Brigade was formed in 1920. It wasn't until an event in March of 1927, however, that the Corps took on the name John Travers Cornwell VC, in honour of the heroic young seaman who won the Victoria Cross during the Great War. Then in 1943, with the consent of King George VI, sea cadet corps across Canada were allowed to use the prefix "Royal Canadian". The Corps now had its full name; the name we know it by today: Royal Canadian Sea Cadet Corps John Travers Cornwell VC.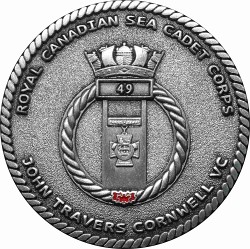 In anticipation of the 100th Anniversary celebrations of the Royal Canadian Sea Cadet Corps John Travers Cornwell VC in May 2020, the Cornwell (Winnipeg) Branch of The Navy League of Canada unveiled the Cornwell Challenge Coin on June 2, 2016 (100th anniversary of the death of John Travers Cornwell, VC following the Battle of Jutland in the First World War).
The challenge coin was conceived and designed by Richard (Rick) Hunt, CD, LCol (Ret'd), a former cadet and officer with the Corps (1967 to 1978).
Commencing June 2, 2016, at the discretion of the Cornwell (Winnipeg) Branch, the Cornwell Challenge Coin will normally be awarded to deserving Corps Cadets when they age out of the cadet program to signify their loyal service to the Corps and to welcome them as a Corps Alumni member. The Cornwell (Winnipeg) Branch may also award the coin to dedicated friends, donors and sponsors to the Corps and Branch. The coin will also be available for sale to former cadets; current and former officers, instructors and volunteers; current and former Cornwell (Winnipeg) Branch members; and dedicated friends to the Corps and Branch.