Replace the Corps Kisbee Ring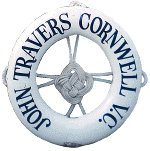 The Chief and Petty Officers' Mess of RCSCC John Travers Cornwell VC, presented the current Kisbee rings to the corps in 1978. Two Kisbee rings were presented at that time and initially hung at the top of the stairways on either side of the Sea Cadet Deck of the former HMCS Chippawa.
After about forty years of service, the JTC VC Alumni would like to retire the current Kisbee ring, which is starting to show its age, and replace it with a new freshly painted Kisbee ring.
The JTC VC Alumni are currently investigating the options for this project, so stay tuned for updates.