1930
Sailor's Hornpipe Class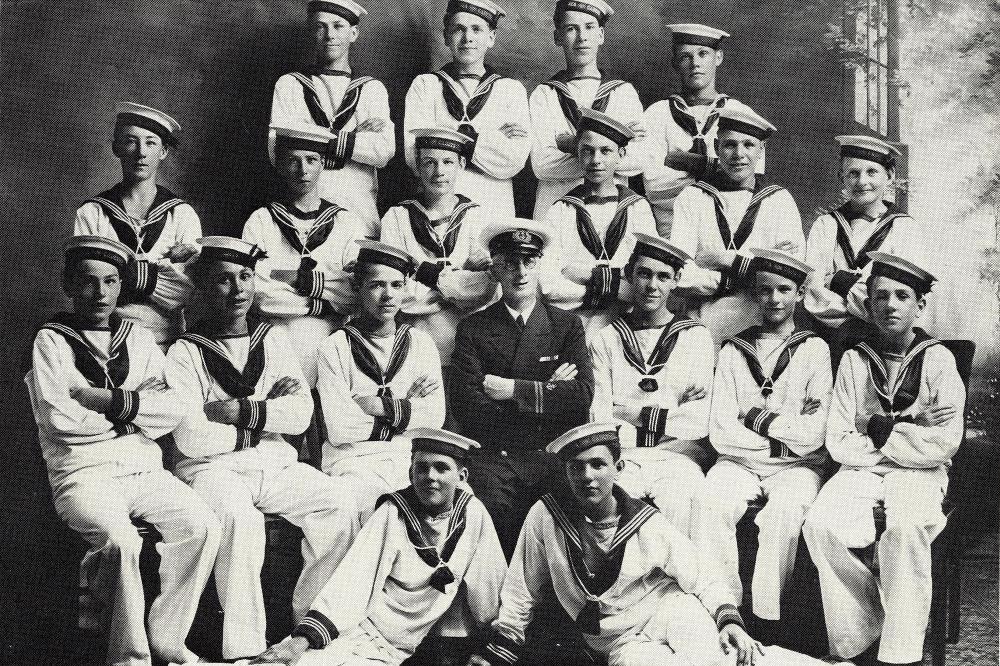 Lieutenant Tamkin and members of the Hornpipe class.
The growing strength of the Winnipeg Sea Cadets and their quest for suitable quarters was fulfilled, when in January, 1930, the Navy League acquired control of the Winnipeg R.C.N.V.R. Barracks in Norwood. The local Naval Reserve unit transferred to new quarters at Elim Chapel on Ellice Avenue and Sherbrook Street.
Throughout the 1920's and early 1930's there was a very good vocal lobby for the abolition of the cadet movement in Canada. By 1930, this question was to reach the stage where it was being actively debated in the Manitoba Legislature. However, despite the controversy and the antagonism shown by some local citizens, the cadet activities continued and outlasted its critics. The feeling of many was perhaps expressed most aptly by H.R.H. The Duke of Connaught, when he was approached to lend his influence against the cadet movement. His reply was, "Militarism? I am not sure what the word means. But if militarism teaches boys to stand straight and keep themselves smart, and say "Yes, Sir," and "No, Sir," to their elders, for heaven's sake, let's have more of it."
The senior first aid team continued its dominance in the provincial cadet championship by winning the trophy for the third consecutive year. In 1930 the team consisted of Tom Waddington, Arthur Smith, R. Marshal, H. Ross, and George Dockson. These boys, with the expert guidance of their instructor, Mr. E.D. Campbell, of the St. John's Ambulance, represented Manitoba in the Dominion Championships.
Activities of the contingent during this year included six church parades to All Saints, St. Augustine Holy Trinity, and St. Philips Churches. In addition, the Corps gave two concerts in the Amphitheatre and the Winnipeg RKO Theatre.
The Corps was inspected by Admiral W.O. Story, supervisor of Sea Cadets in Canada; Col. Gillespie, Cadet Officer of Military District 10; Mr. S. Harris, president of the Navy League of Canada, and the Honourable Donald M. Sutherland, Minister of National Defence for Canada.
Following his inspection Mr. Sutherland stated that the Corps was a credit to Winnipeg and that their commander, Mr. Millen, was deserving of the highest praise for the training and enthusiasm of his men.
The photograph shown above was kindly provided by Mr. G. Kent of Winnipeg, Manitoba.
Page 24