1952
Gun Crew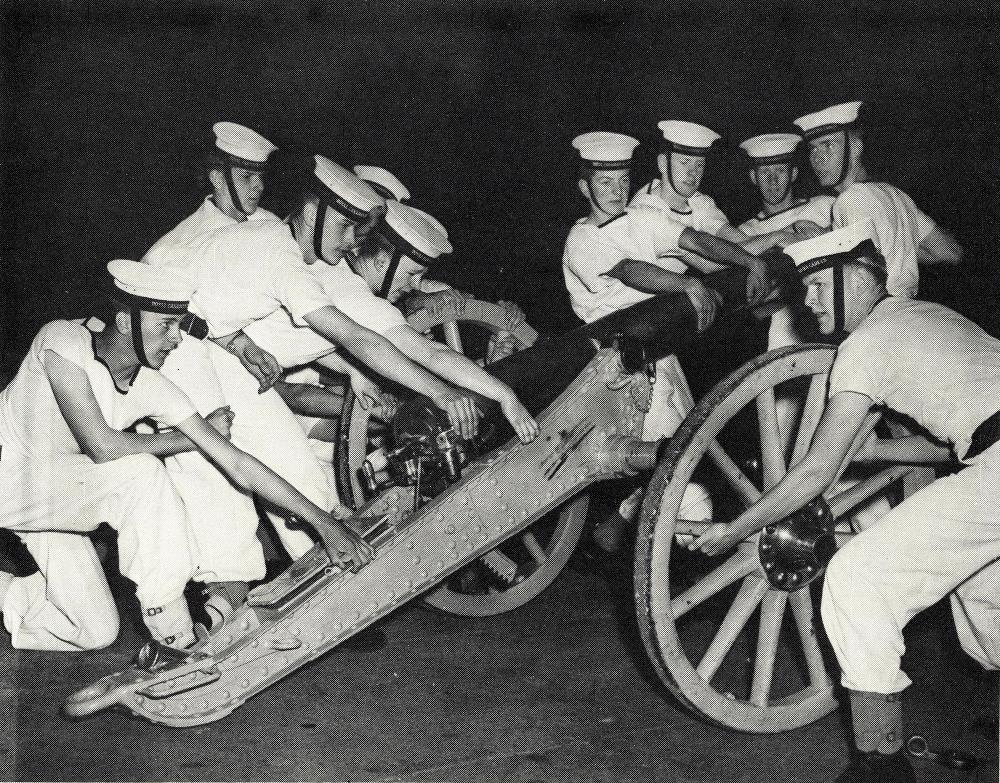 The Gun Crew, a feature of corps training for over twenty years, is shown performing the gun drill at the Manitoba Legislative Grounds.
Early in February of the new year the 248 members of the corps held a brief memorial service in tribute to King George VI. Rev. J.I. McKinney, chaplain for H.M.C.S. Chippawa conducted the service while Mr. E.B. Frost, president of the Manitoba division of the Navy League paid tribute to the dead monarch and pledged allegiance to Queen Elizabeth II.
In the spring it was announced that Camp Ruttan would remain closed for the second successive year. As was mentioned earlier a naval spokesman indicated that a shortage of active force personnel would permit the operation of only two sea cadet camps in Canada. One at Comox, B.C. and the other, Camp Ewing, near Montreal.
During 1951 the Winnipeg sea cadets had been forced to take a limited number of training billets at various location across the country. However, this was to be rectified in 1952 when the corps was informed that Winnipeg sea cadets would be eligible for a two week camp period at H.M.C.S. Quadra at Cornox, B.C. Further training opportunities were forthcoming during 1952 as was indicated by cruises completed by two corps members. Petty Officer Jack Templeman left Esquimalt, B.C. in March for a six week cruise aboard H.M.C.S. Quebec enroute through the Panama Canal to Halifax. Petty Officer Templeman was one of twelve cadets to take the trip sponsored jointly by the R.C.N. and the Navy League of Canada.
Petty Officer Blair Ledger departed from Halifax in June aboard H.M.C.S. Quebec for an extended trip to England and Sweden. Petty Officer Ledger, accompanied by five other Canadian cadets, attended the second Commonwealth Sea Cadet camp at Osprey Naval base, Portland. A further two weeks was spent at the Swedish naval base at Karlskrona on the Baltic.
The corps continued training on the range produced results when Petty Officer N. Rudnick was awarded the Gold Medal as individual small bore rifle competition champion for Canada. The excellent range and pool facilities at H.M.C.S. Chippawa were to produce many hours of enjoyment and training throughout the years.
The corps had the honour of being included in the inspection of H.M.C.S. Chippawa by Vice-Admiral E.R. Mainguy, O.B.E., C.D., Canada's chief of naval staff. Admiral Mainguy praised the assembled navy personnel and sea cadets for the fine turnout. He suggested the fine ground-work laid by the Winnipeg sea cadet organization had made such a successful reserve unit possible.
The photographs for 1952 were included with thanks to Mr. E.B. Frost of Winnipeg.
Page 77