Cadet Year 1971/72
Activities
---
Year Culminates in Annual Inspection
Culmination of a years work and training, compressed into one all too short night. The heart, the tension, the crowd of expectant spectators all combined to set nerves on edge and tempers flying. But in the end all worked out well.
In a sense this night started some eight months ago, back in September. You looked around and said to yourself, "What's happening. How can anything emerge from this confusion" But time goes on and September and October slip ftway and all around things change ever so gradually. The Band sounds just that little bit sweeter, the Guard isn't out of step nearly so often. Winter slips by and you notice that the Gun's Crew moves like they did when you were an impressionable twelve year old, seeing them for your first heart stopping time. Into spring and you begin to think that maybe it is all possible, that perhaps everything will fall into place in time for that inspection deadline.
And here it is the night that has been the goal all year long. Colours and the actual inspection of the Ship's Company go smoothly and the marchpast is a gem. The inspecting officer is visibly impressed by the classes and displays. Whaler ropework, jackstay and drill team, all trained, prepared and doing their best. And then the climax of the evening, the Ceremony of the Flags. The pomp and majesty of full guard band and colour party with the gun's crew thrill the heart. Presentations: PO B. Fry-Cadet of the year 1972 and reciprocal presentations of paddles to Capt. R. Bracken and Major W. Sommerville. Finally liberty boats and you have a feeling weak in the knees but relieved and most important proud and satisfied that you have done your best, and stood your station. This is just a small part of Sea Cadet life - a life I wouldn't trade for anything - what a challenge - what an experience.

Cmdr. Durham Inspects Divisions


Guard Braces for Inspection

Area Officer (S)


Whaler Rigging Class

Jack Stay Transfer

Cadet of the Year


Ceremony of the Flags
---
Communications and Amateur Radio
SEMAPHORE: The Semaphore class started early in the Cadet year and was a very succesful activity with many Cadets obtaining their Communicator Third Class rate. PO D. Blain was the class instructor, while PO L. Palmquist and PO A. Hooper arranged the high calible annual inspection display.
MORSE CODE: PO B. Fry instructed the Morse Code class this past year. A different method of instruction and a new code practice table were utilized making the class very successful. A Supplementary class was held for Amateur Radio instruction at high speed. Most Cadets who participated obtained their Communicator Second Class rate.
FLAGS AND PENNANTS: A small group of knowledgable Cadets were able this year to qualify for their Communicator First Class rate. This qualification involves a retest of semaphore and Morse code plus a knowledge of international flags and pennants. To the Cadets who qualified-"Well done" in obtaining a rarely worn badge.
AMATEUR RADIO: This year a number of Cadets participated in an amateur radio class held at Tec-Voc. Collegiate. The instructor was Mr. J. Bell VE4CL. Two of our Cadets obtained the Amateur Radio Certificate as a result. They were PO B. Fry VE4ZQ and PO A. Smith VE4ZA. Our Corps was able to obtain a call sign of which we should be very proud, namely: VE4JTC. The promise made one year ago at our annual inspection was fulfilled: John Travers Cornwell V.C. now has a lisenced operational amateur radio station.

---
Advanced Bends and Hitches
| | |
| --- | --- |
| | 1972 saw the introduction of the ancient Naval pastime, decorative ropework as an activity in JTC. Classes were held each Saturday morning at Lt. Lofto's house. The Cadets learned the basics of canvas work, making tool pouches and sea bags. Decorated Coke Cans (pencil holders?) led on to half-hitched bottles, knives and even one toothpick holder. The biggest project of the class was the manufacture of a ceremonial paddle. The results of many weeks of hard work were without doubt some of the finest paddles produced by Cadets anywhere. Two paddles were presented to Major Sommerville and Capt. Bracken on the night of the Annual Inspection. |

---
Swim Team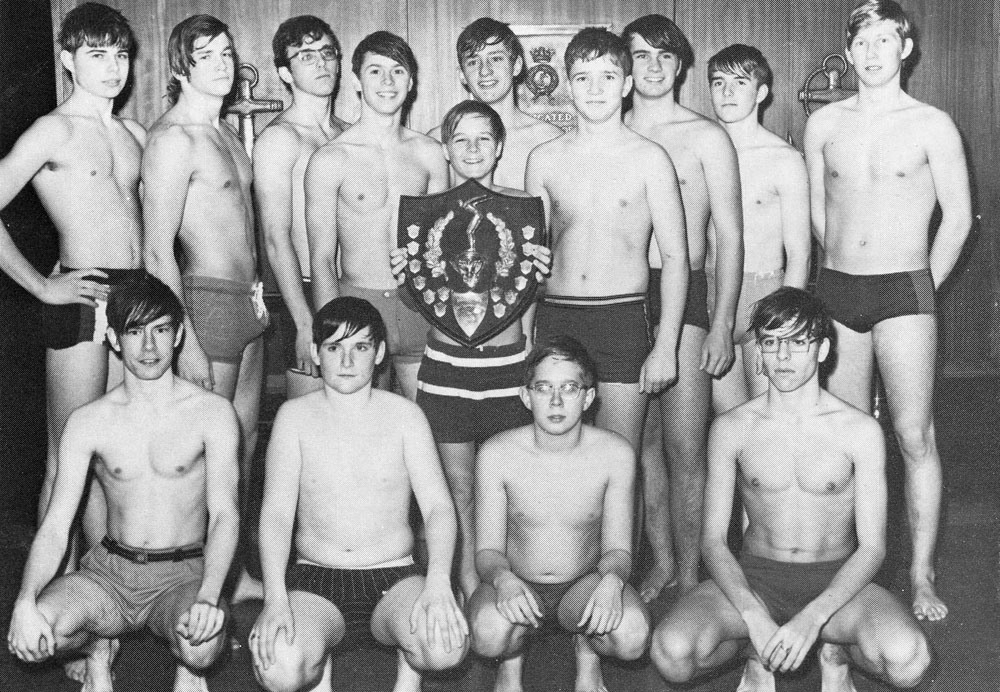 BACK: G. Janze; D. Duval; D. Smythe; G. Sadler; F. Haight; L. Roy; K. Carlsen; C. Perkins; A. Smith; P. Hay
TEAM CAPTAIN: FRONT: P. Cowtun; G. Fergusson; D. Divineigh; R. Weatherby
WINNERS OF TRI-SERVICE CADET SWIM MEET.
---
Range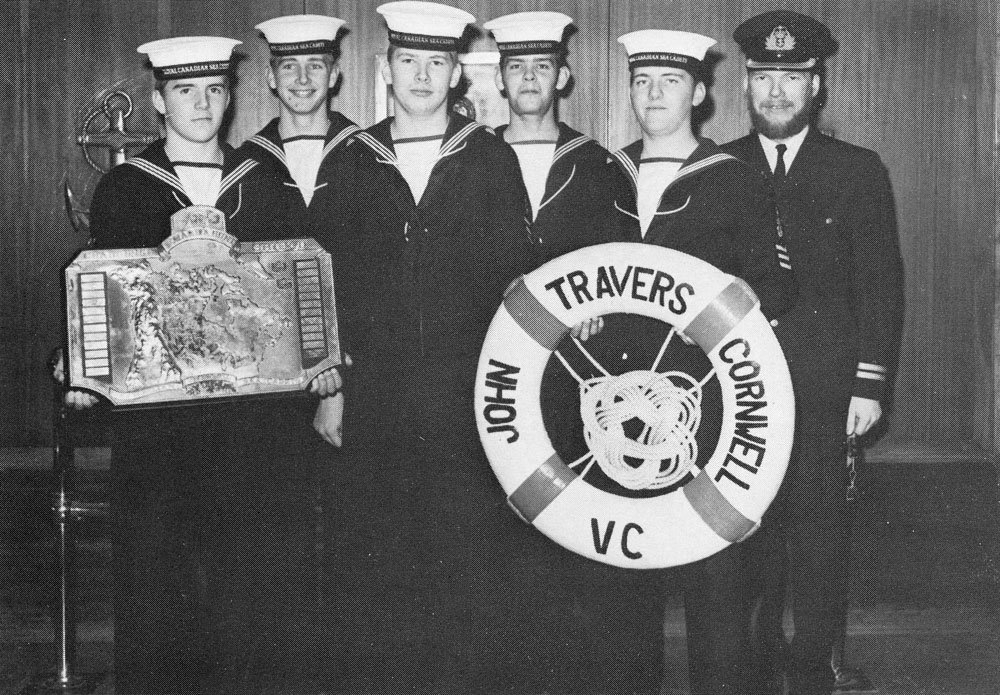 HOLDING THE HOWARD HUNT SHIELD EMBLAMATIC OF CADET RANGE SUPREMACY ARE:
A. Smith; D. Giesbrecht; L. Palmquist; A. Geisbrecht; B. Fry & Capt. J. Palmquist.
---
Guard - 1972
The largest extra curricular activity this year, as in the past was the Guard. Training approximately forty-eight people "A" & "B" Guards in the finer aspects of precision drill. Capt. J. Palmquist and Lt. McNair are to be commended for their fine job. The Guard participated in many activities leading up to and including the Ceremony of the Flags at Annual Inspection and must be recommended as a fine asset to John Travers Cornwell V.C. Part of the credit must also go to Petty Officers J. Jamieson and D. Blain who very ably assisted in the Guard's training and did in fact take command of the "A and B Guards" on many occasions. As usual the Guard provided an activity which brought many junior Cadets out on weekends as well as keeping more senior Cadets involved and giving them a chance to develop their leadership and instructional technique. In all it was a fine year for the guard which no member will ever forget.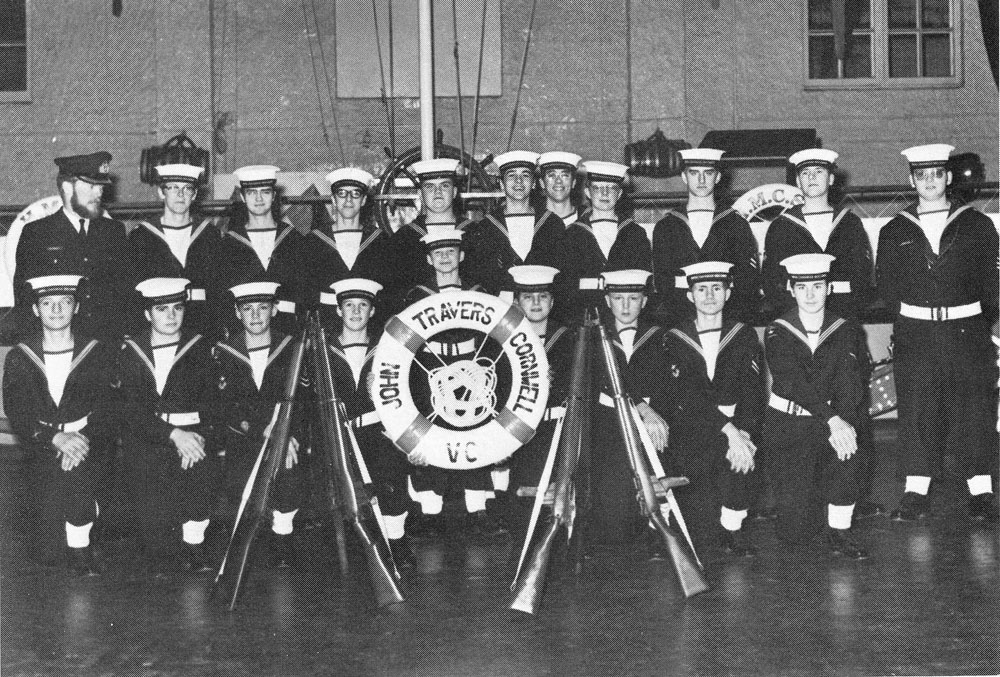 FRONT: AB B. Cechvala; LC D. Smith; LC D. Waolfe; LC R. Boguski; AB R. Bolton; AB R. Milani; AB R. Forbes; LC M. Still; AB R. Martin
BACK: Capt (SR) J. Palmquist; AB B. Arnold; AB W. Thomson; AB R. Nixon; LC T. Dolinski; LC M. Trump; LC P. Longtin; LC V. Dyer; LC B. Zuk; LC J. Steeves; POl J. Jamieson.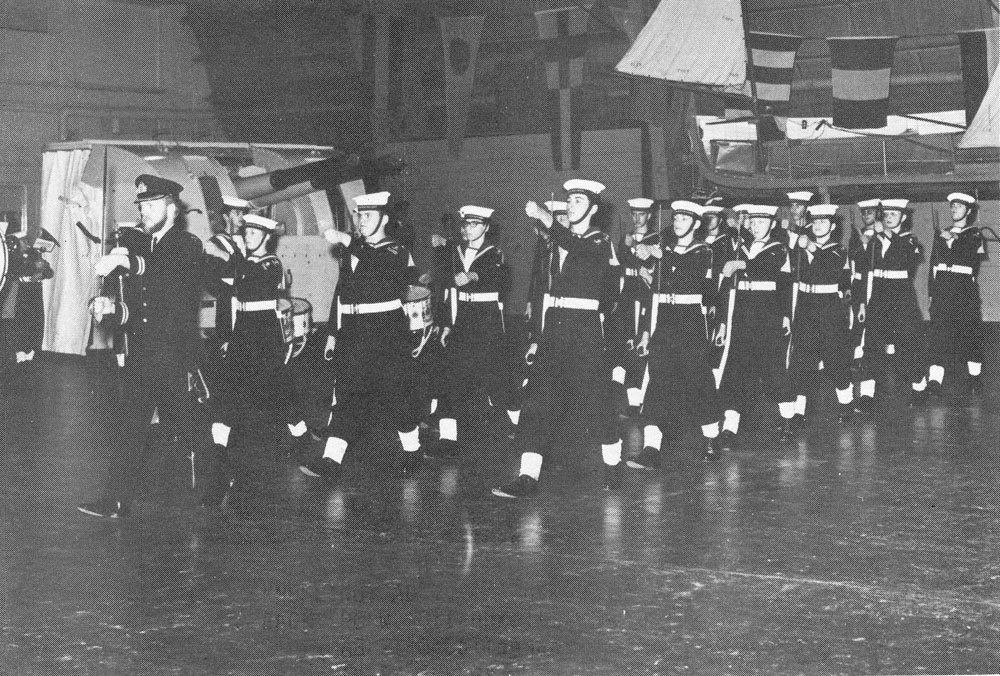 ---
Gun's Crew 1972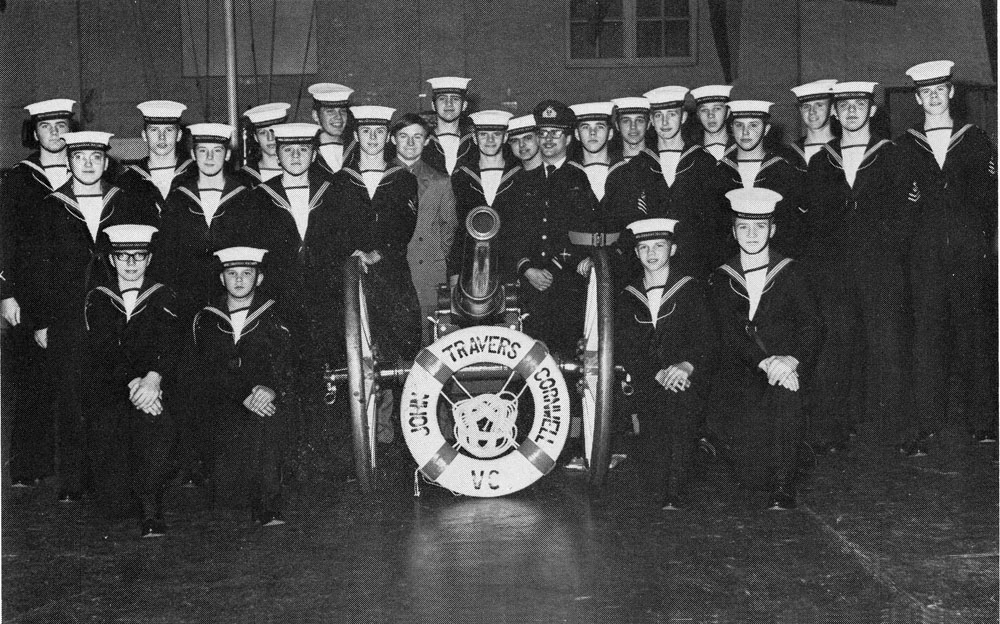 KNEELING: AB T. Brewster; AB R. Kolomaya; OD T. Huls; OD K. Carlsen
FRONT: AB R. Katyrynuik; AB J. Golis; AB J. Brigham; LC G. Sadler; LT. (SR) P. Brown; PO; B. Webb; LC D. Giesbrecht; AB K. Davidson; LC R. Stankevicius
BACK: PO C. Perkins; PO L. Palmquist
MISSING: LC D. Lloyd; PO W. Ottenbreit; LC R. Milani; PO B. McAdam; PO A. Hooper; AB C. Carey; LC K. Walker; LC D. McAdam; PO M. Knight.
Gun's Crew Highlight of '72 Tattoo
Thundering down the deck, feet pounding, wheels rolling, a booming command "Action Rear" and the members of the Gun's Crew leap to obey. Breaking down, firing and limbering up with split second timing and precision, they are the delight of all who see them. Any Sunday morning, you can see them sweating through their calesthetics and practice. But perfection can be achieved as thousands of spectators at the Tri-Service Cadet Tattoo can witness. The sight of the Gun's Crew in 19th century uniforms was the highlight of the show. The thunderous roar of their four ounce charges shaking the deck and bringing dust down from the rafters sent weak hearts racing. The Gun's Crew under the direction of Lt. P Brown and PO1 R. Webb has been the show piece of the Corps this past year. Best wishes go to all members of the Gun's Crew, their instructors and to HMCS Chippawa for the continuing loan of gun and limber. To all "Well Done".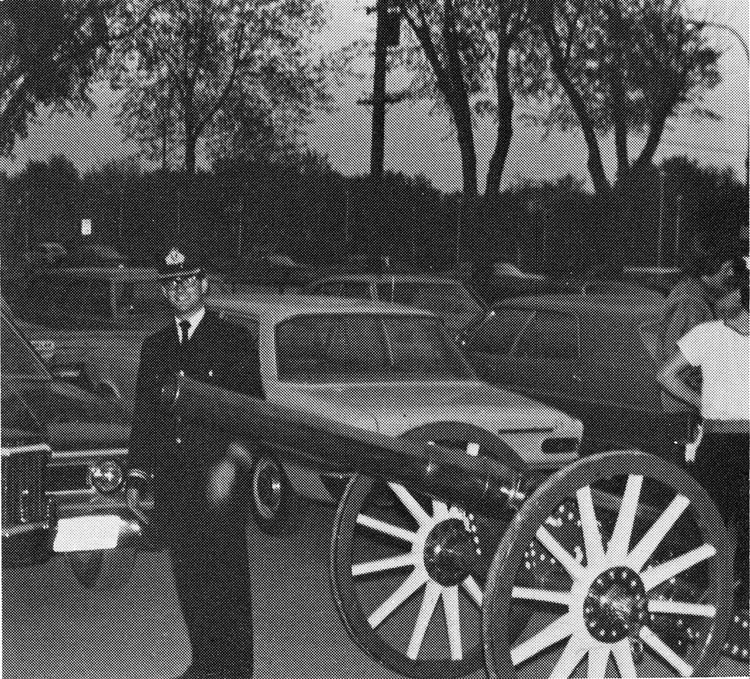 ---
Band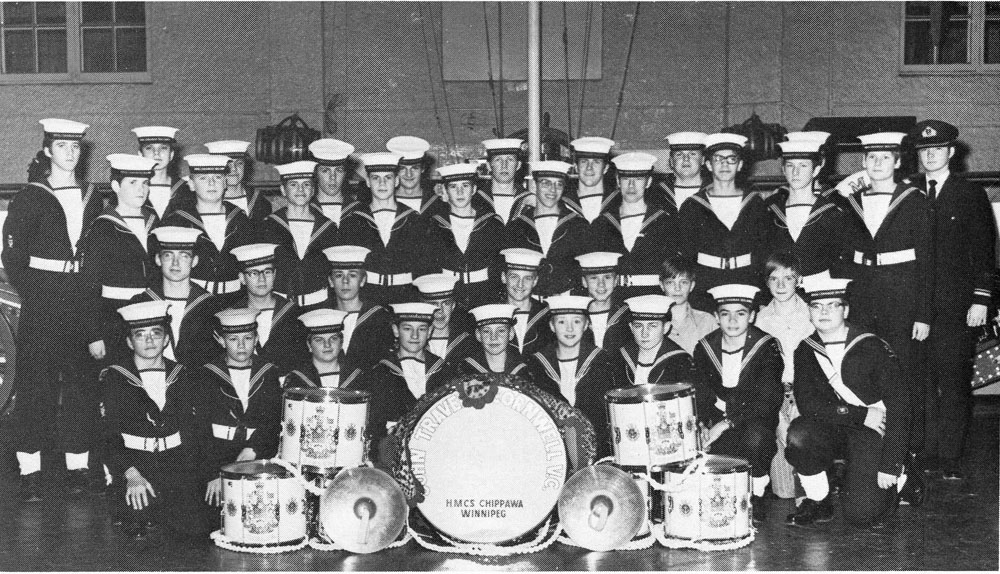 FRONT: LC O. Oevischier; OD R. Palmer; AB O. Crosley; OD O. Agar; OD G. Kurtz; OD R. Miller; OD H. Allen; OD R. Oumans; OD J. Templeman
SECOND: LC B. Byrne; LC O. Mellanson; lC R. Turrif; AB K. Lilliman; OD C. Davis; OD H. Hagenaars; OD G. Lodge; OD O. Caskey
THIRD: AB G. Fergusson; AB R. Plenar; AB C. McKenzie; AB R. Savage; AB O. Johnson; LC R. Weatherby; LC P. Cowtun; OD D. Koshman; LC R. Anderson; OD B. Stein
BACK: LC O. Southall; OD O. Klymchuk; PO P. Tackaberry; PO R. Muir; PO B. Marich; POl P. Hay; POl R. Fergusson; POl M. Wagner; PO P. Lester; Lt. (SR) R.G. Payne.
J.T.C. Band - 1972
There is no person alive who does not thrill to the sound of a fine military band playing a stirring march. Any person who heard the band of John Travers Cornwell V.C. this year cannot fail to admit that they were deeply moved by the precision and musical talent of this skilled band which must rate among the best in Canada.
Under the direction of Lt. G. Payne, assited by Petty Officers R. Fergusson and M. Wagner, the band put in one of its most successful years, parading and playing for numerous affairs all across the province, besides its regular Corps activities.
Starting off the year was the annual fall outing, the Church Parade to commemorate the Battle of Trafalgar. Despite the very windy weather the band put on a creditable performance. The month of November brought its share of parades including a Remembrance Day excursion to Steinbach with the guard and Guns Crew and the annual gruelling Santa Claus parade through downtown Winnipeg. And so it went through the winter months. Long hours of practice, a number of concerts for Christmas parties and teas. March, along with the melting snow brought the Tri-Service Cadet Tattoo and weekly practice at Minto Armouries. The Tattoo of which Lt. Payne was Musical Director, featured the band as the musical number. April brought the performance of the Tattoo, the success of which can be traced in large part to the experience and talent of the band of John Travers Cornwell V.C. Battle of Atlantic Sunday and with it the years second Church Parade. The band, sparklingly crisp looking in their "whites", did their part by keeping everybody in step. May, and the culmination of the years training - Annual Inspection. The band's performance in the Ceremony of the Flags left a lump in many throats and a proud feeling in the hearts of all who witnessed the show. Congratulations must go to Lt. Payne for developing such a musically excellent band of which every member of the Corps can be justifiably proud. The band of John Travers Cornwell V.C. has had the longstanding reputation of being the best in Canada and this year has been no exception to the rule.

Band on Parade
---
V.C. FOR VALOUR
1972 saw the revival of the Corps' newspaper VC FOR VALOUR. Under the supervision of Capt. (SR) G.R. Killen and Editor PO R. Fergusson, the paper expanded from its fledgling first edition of two pages to an eight page star-studded inspection issue highlighted by Intriguing columns, interesting photography, gripping want-ads and magnificent journalism. Despite these seemingly fatal faults the paper was generally admltted to be a flrst rate effort. A word of appreciation must go to the paper's staff for introducing this new and informative element into the life of our Corps.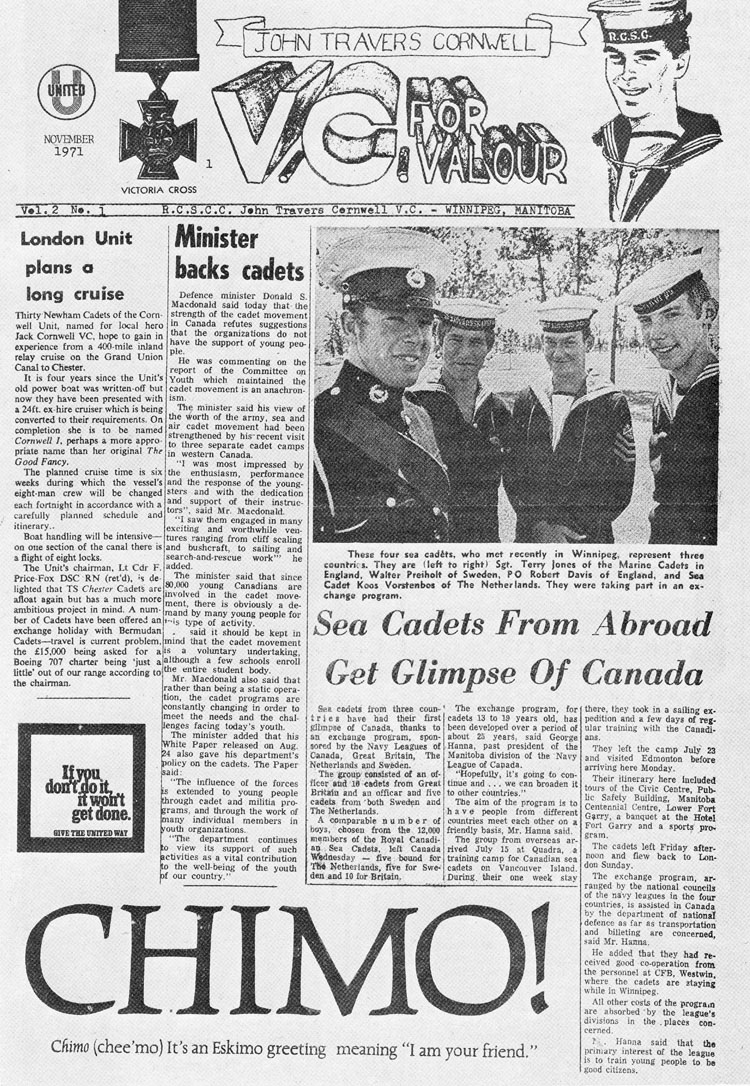 ---

Sport's Highlights - 1972
1972 saw the revival of an effective general sports program in J.T.C., a program that was greeted with overwhelming enthusiasm by Cadets of all ranks from Petty Officer to Ordinary Cadet.
In previous years the sports program in the Corps had been limited to the "Blood Bowl" a brutal football confrontation between the heroes (officers) and the villains (Petty Officers) and the brief period of training for the Tri-Service Cadet Swim Meet. Aside from these the only sports were few challenges between the Guard, Band or Gun's Crew which were generally limited in participation. This was fine for the Senior Cadets but did not meet the needs of the Junior Cadets who make up 80% of the Ship's Company.
The Sports Program this year began with the appoint of Lt. (SR) T.G. Lofto as Sports Officer. He divided the sports program into two sections. The first section was designed to meet the needs of an inter-corps sports team. The second section was designed as a program of recreational sports which was open to anyone of any rank who wished to participate in the sports offered. The main activites which took place included such sports as football, water polo, swimming, drown proofing, badminton, bowling, table tennis, and the ever popular floor hockey. Many of these activities would not have been possible if it were not for the financial support of the Chief's and Petty Officers Mess of John Travers Cornwell V.C. Many thanks are extended to the PO's for their donation of the floor hockey and table tennis equipment.
Throughout the year, many opportunities were presented for J.T.C. teams to show their superiority in Inter-Corps competitions. The results of the various competitions followed a distinct pattern.
The First Annual Swiftsure-J.T.C.V.C. Sports Tabloid held in Brandon. Our team took first place, collecting 117 out of a possible 120 points.
Tri-Service Cadet Swim Meet. The Sea Cadet team won the meet for the third consecutive year. 80% of the team which was coached by Lt. Lofto was from John Travers Cornwell V.C. The award for top swimmer of the meet went to PO P. Hay of JTCVC.
The first annual "Cock of the Walk" competition. This competition was sponsored by the Navy League and involved six Corps from Manitoba. The sports team from John Travers Cornwell V.C. Corps emerged victorious, capturing first place honours.
To say the least it was an extremly successful year for sports and a valuable activity for the Cadets involved. Thanks go to Lt. Lofto for doing such a fine job and to all members of the teams for upholding the name of John Travers Cornwell V.C. in the sports competitions and finally to all the others who simply came out to have a good time. It was you who made the whole thing a success.

---
Yearbook Editor's Letter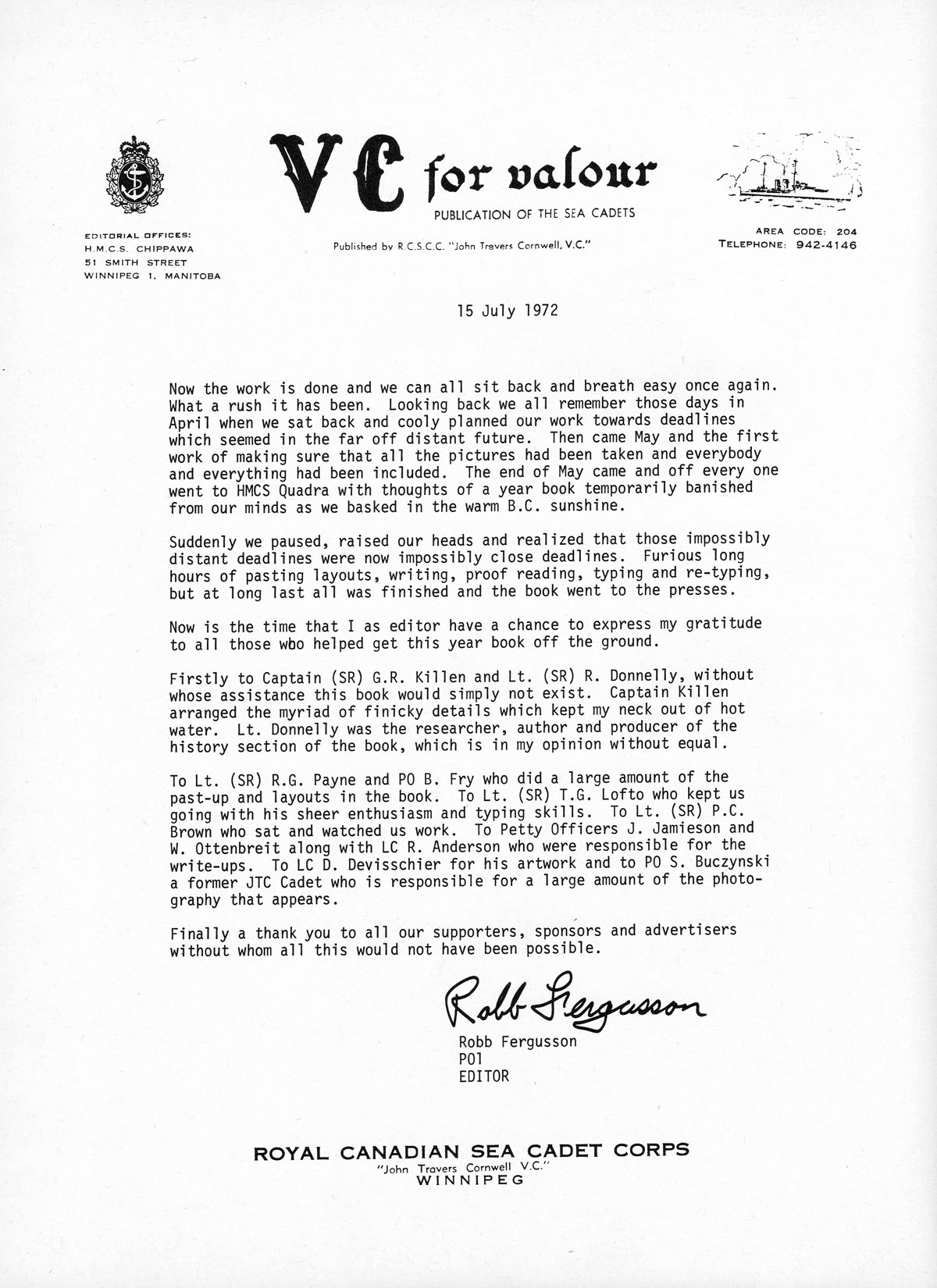 ---
Alumni Advertisement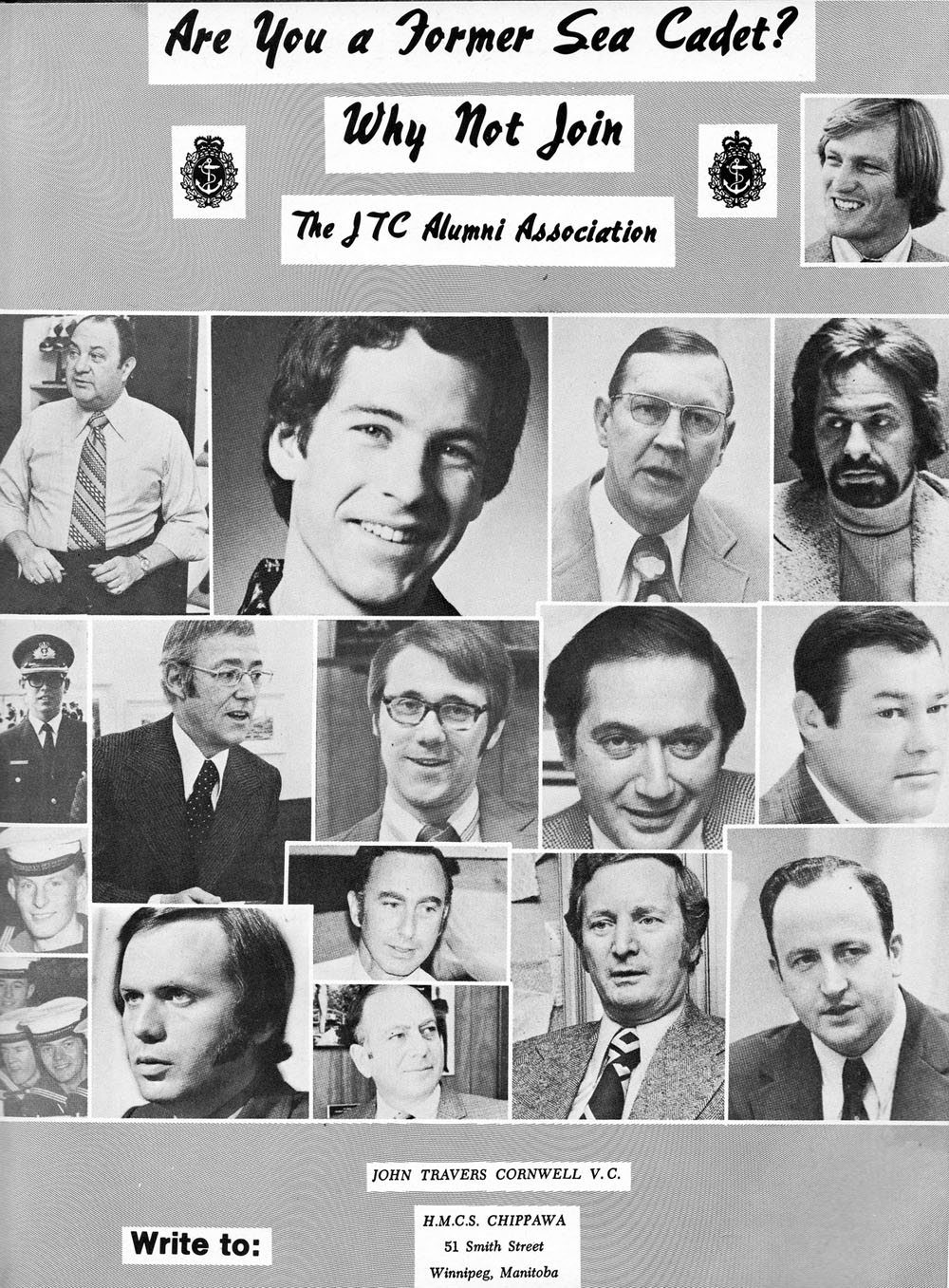 ---
Commanding Officer's Letter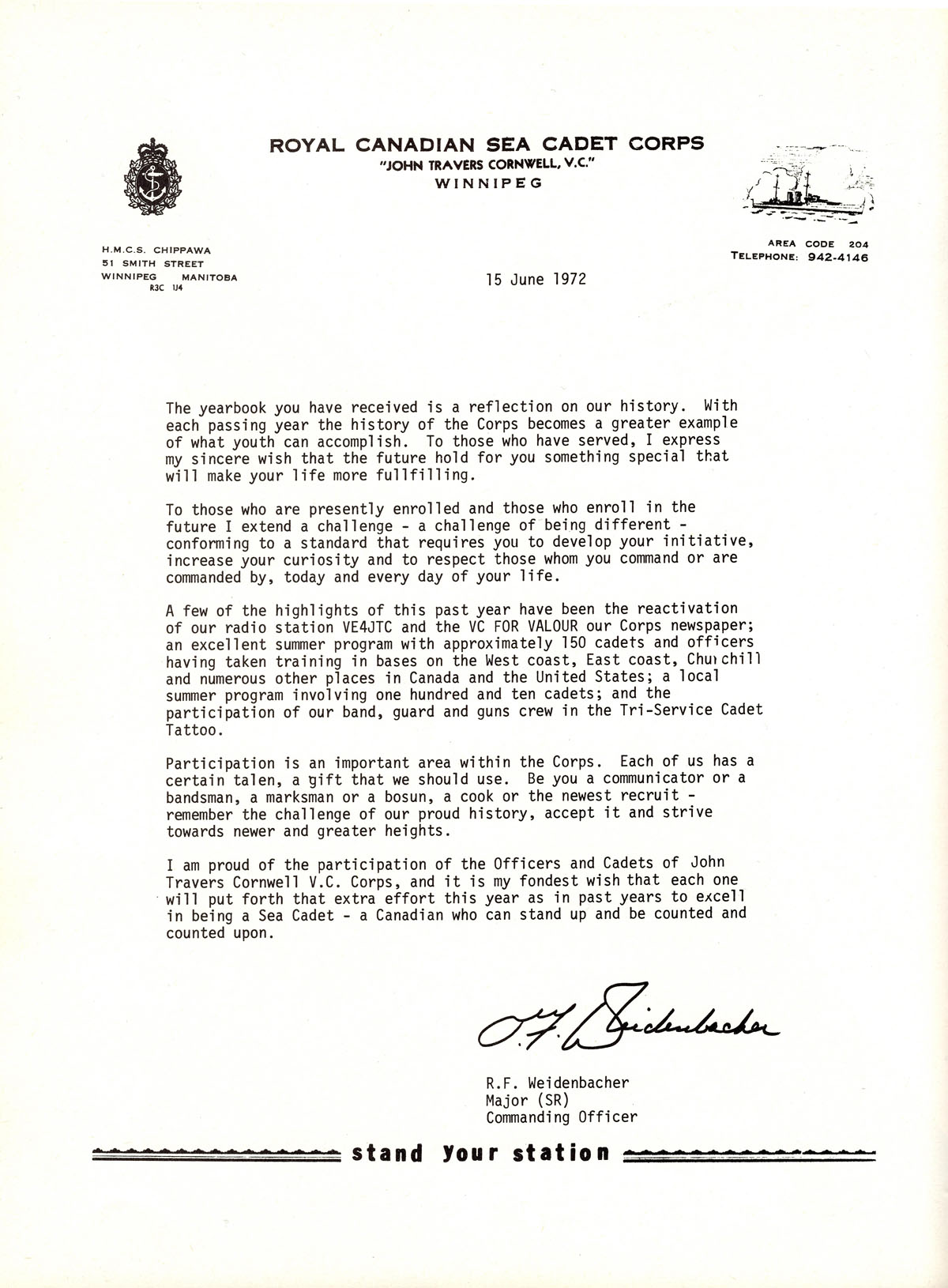 ---
CAPTAIN (SR) W.F. SUTHERLAND - EXECUTIVE OFFICER.

Looking through the pages of this fine book, anyone can plainly see that R.C.S.C.C. John Travers Cornwell V.C. is a Corps to be proud of. An illustrious history of fifty years of supremacy in the British Empire. Our former Cadets are to be found in positions of authroity, be they military or civilian, in every corner of Canada and the Commonwealth. Remember our namesake, a sixteen year old boy seaman whose tradition of loyalty and devotion to duty is a memory which lives on in our Corps. This is our heritage, this is our past. The future belongs to you.
---
CAPTAIN (SR) J.T. DERHAK - TRAINING OFFICER

One of the greatest things in my life has been being Training Officer of the finest Sea Cadet Corps in Canada. Over the past years, I've worked for Cadets, but more important with Cadets. I've seen all our Petty Officers and most of our Junior Officers come into this Corps as nervous, awed thirteen year olds, and I've watched them develop after four or five years into mature, self confident young Canadians who can see what has to be done and get on with it. This is in my mind, what Cadets is all about, taking boys and turning them into mature men who are a Credit to Canada.
---
CHIEF PETTY OFFICER HUGH WALKER
CHIEF OF JOHN TRAVERS CORNWELL V.C. CORPS

It has been a distinct pleasure for me to have served as Chief of John Travers Cornwell this past year. In fact it has been one of the most rewarding tasks which I have undertaken in my cadet experience, as well as one of the most challenging, and at times, most trying.

Looking back on the past year we can see that it has been a most important one in the history of our great Corps. This year saw the return of our Newspaper the VC FOR VALOUR and the establishment of what will become without a doubt a yearly occurance - the publication of this fine yearbook. Two Cadets in the Corps received their amateur radio lisence and obtained the Call Sign VE4 JTC, enabling the name of our Corps to be spread far and wide. For the first time in a number of years a class was held in the ancient naval past time of decorative ropework. Our Band and Guns Crew were obviously the stars of the Tri-Service Cadet Tattoo. Every Sunday the main deck resounded to the shouts of the weekly floor hockey and badminton games. Cadets from the Corps were given the chance to visit other Cadet Corps as a result of the Inter-Corps Sports Competitions. For the first time ever, Cadets from Manitoba participated in the West Coast Easter Cruise.

Taking only these examplss of new activities in 1972 one can plainly see that John Travers Cornwell V.C. is a Corps that is going places, a Corps with a future as well as a glorious past. This then is my message to you; we have a great past which is undoubtedly a great heritage, but instead of resting on our past we must strive, each one of us, to ensure that the future lives up to the tradition of our proud history.