1933
Decoration Day Parade 1933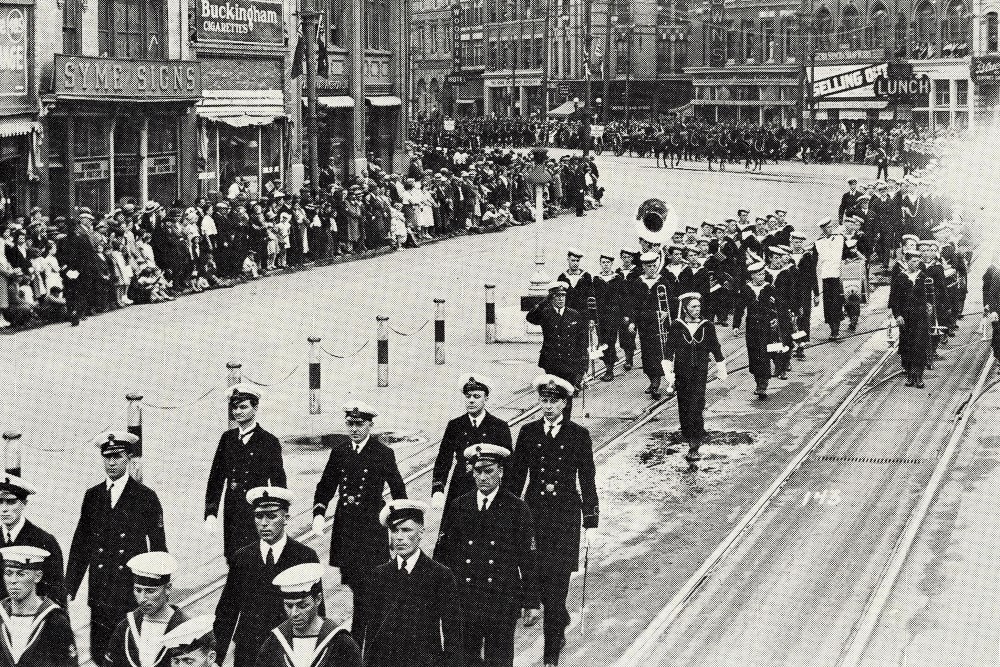 Winnipeg Sea Cadets following in the wake of the Winnipeg R.C.N.V.R. detachment during the 1933 Decoration Day Parade. Photo taken on Main Street by City Hall.
Recruiting continued in 1933 to maintain the John Travers Cornwell unit as the largest Sea Cadet Corps in the British Empire. Perspective recruits were asked to appear at the barracks on the Tuesday or Friday parade nights. In addition to the height requirement of 5 ft. 3 in. and an age of between twelve and seventeen years, the parents were asked to co-operate with the officers to maintain the recruits uniform and attendance.
Inspections were a way of life for the corps and the officers and cadets appreciated the opportunity to display the results of their training and discipline. In addition to the annual inspection, the unit was inspected on separate occasions by Brigadier T. V. Anderson, General Officer Commanding Military District 10, and by Admiral W.O. Story, C.B.E., honourary supervisor of Sea Cadets.
The first aid training of the cadets was not neglected as the unit continued its dominance of the Provincial competition. In the 1932 finals, the senior first aid team beat out twelve other teams to capture the Colonel Leonard Trophy. The competition consisted of team work, in which the four man teams took part in giving first aid to an injured person. The individual ability of the team members was also tested by the St. John Ambulance judges.
On November 29th the Winnipeg Auditorium was filled to capacity for a concert given by the band. The boys gave a remarkably fine performance and the greatest credit was due Bandmaster J.P. O'Donnell for the infinite patience and the enormous amount of practise that must have gone into such a fine program.
Among the selections played was a banjo sextet featuring cadets E. Murray, R. Mills, J. Skinner, B. Wright, R. Smith and J. Cordupal. D. Watson and H. Oddlafson performed vocal and violin solos.
During Admiral Story's visit to Winnipeg he stated that Winnipeg had the largest Sea Cadet Corps in Canada and the only Corps with an instrumental band. He had nothing but praise for the local organizer, J.R.K. Millen. In fact, he said, it was Lt. Cdr. Millen's personal attractiveness and his method of handling boys that appealed so strongly to Winnipeg youths.
It was this attention and interest shown by all the officers that created such a successful organization.
Photograph provided by Mr. F. Ligertwood of Winnipeg.
Page 29