1937
Change in Command 1937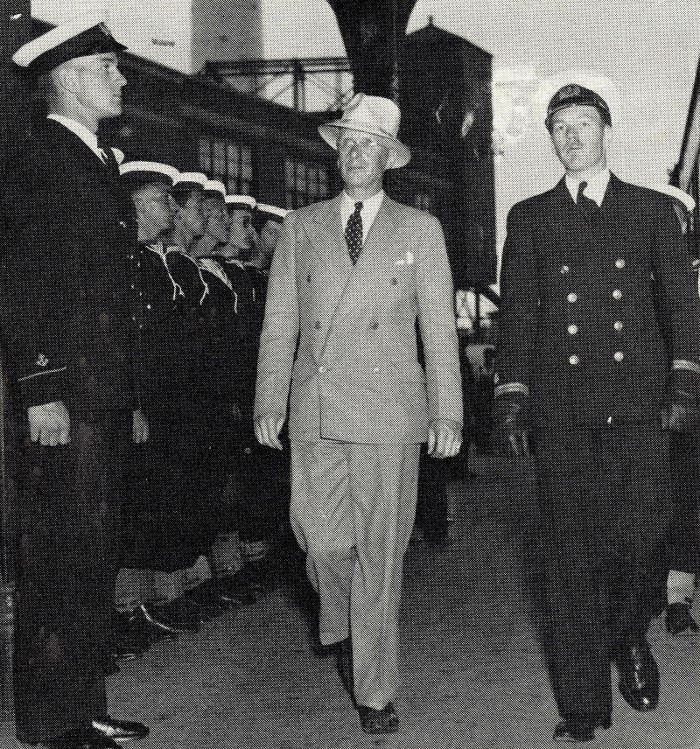 LCdr. A.E. Tamkin inspects guard of honour at the C.P.R. Depot as he says farewell to Winnipeg. Accompanying LCdr. Tamkin is his successor Lt. W.J. Rooke.
In 1937 the Winnipeg organization underwent a period of change with the retirement of their president and commanding officer.
Mr. W.M. Neal, president of the Manitoba Branch of the Navy League, retired after two and on half years service in that position. He was succeeded by Mr. E.W. Kneeland a prominent Winnipeg businessman. Upon accepting the presidency, Mr. Kneeland expressed the Navy Leagues' appreciation of the fine work done by Mr. Neal.
During July of 1937, it was announced that Lt. Cdr. A.E. Tamkin would resign as commanding officer after ten years service in the Winnipeg Sea Cadets. Mr. Tamkin's work in the serviceman's organization, TOC H, had forced a transfer from Winnipeg. He was given a guard of honour by officers and cadets of the Ship's company upon his departure aboard a C.P.R. train. With all his years of devoted service, Mr. Tamkin would be greatly missed by all those associated with the Sea Cadets in Winnipeg.
Upon Mr. Tamkin's departure, it was announced that Lt. Wallace J. Rooke, second in command under Mr. Tamkin, would be the new commanding officer. Mr. Rooke had joined the corps as a cadet and had subsequently been promoted through the ranks to a Warrant Officer and eventually attained the position of Lieutenant. This was the first time the Winnipeg unit was to have a commanding officer who had come through the ranks.
With close to 1,000 people in attendance, the Winnipeg Sea Cadets held their annual concert at the Dominion Theatre on April 30th. The program was opened when Lt. Cdr. Rooke led the cadets in the colourful ceremony of hoisting the flags. The presentation included singing and instrumental solos, skits, hornpipe dancing and musical renditions by the band. As in all the previous concerts, the band, under the baton of Bandmaster Lt. W.A. Cramp, was the heart of the production.
The first aid team once again won the championship for Military District 10 and the right to represent the province in the National Competition. The Wallace Rankine Nesbitt Trophy was presented to the team captain, Arthur Beck, by Mr. Kneeland at a ceremony held aboard the Sea Cadets Barracks on March 30th. Other members of the team were V. Huminski, J. Downey, R. Howells and E. Belogus.
Photographs for 1937 were donated by Mr. J. McIntosh of Scarborough, Ontario and Mrs. W.A. Cramp of Winnipeg.

Cadets and band formed up at Legislative Grounds prior to church parade in 1937.

Church parade June 20, 1937 at Osborne St. and Roslyn Rd. Officers in foreground, left to right, Assistant Bandmaster, Sub.Lt. W. Thompson; Fo'Castle division, Sub.Lt. R. Glazin; Commanding Officer, LCdr. A.E. Tamkin; and Executive Officer, Lt. W.J. Rooke.
Pages 35-37