1936
Band: 1936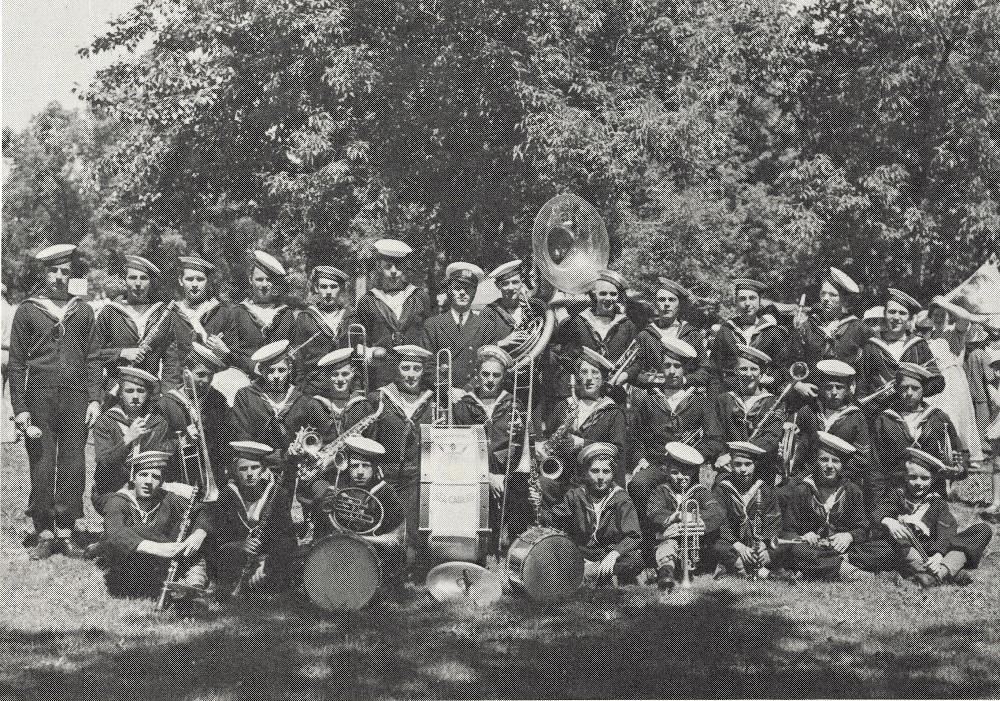 Band poses for photograph at Winnipeg Beach during Corps Picnic 1936. Assistant Bandmaster Lt. I. MacIntosh.
Due to the economic conditions of the day, corps attendance in the latter part of 1935 and the beginning of 1936 dropped slightly to the level of 178 officers and cadets. However, the cadets maintained their high level of efficiency and pride. With the increasing changes within the corps, it becomes most difficult in this limited publication to detail the assigning, promotion and subsequent requirement or resignation of officers. Therefore, throughout the remainder of this book, only passing reference will be made to significant changes.
Through the continuing efforts of the local Navy League officials, the Winnipeg Sea Cadets enjoyed many opportunities not otherwise available. This aspect of membership in the Sea Cadet organization was highlighted by the acceptance of two cadets for positions at sea. Leading Seaman Hector Clark became a bridge messenger on the Canadian Pacific liner Empress of Japan while Cadet Harold Lovegrove joined the C.P. Steamship Princess Alice on the Vancouver-Alaska run as a deck boy.
During this same period, Petty Officer Godfrey H. Hayes became the third cadet from the corps to gain acceptance to train aboard H.M.S. Conway. It was hoped that Petty Officer Hayes would maintain the high standards set by cadets LeMaistre and Wills while aboard the training ship.
It was during this time in the corps history that the cadet "Old Timers" organization was formed with past officer T.W. Baird as president. The group was initiated at the Trafalgar Day dinner gathering held at the Picardy banquet hall. Aside from Mr. Baird, other officers elected were Honourary President J.R.K. Millen, Secretary J. Pickering; Executive, A. Barrett, E. Johnston, E. Wilson, L. Purser, D. Nichol and R. Knight.
Mr. Charles F. Gray, Old Man of the Cutty Sark Club and former president of the Navy League was guest speaker while messages of congratulations were read from D.C. Coleman and past commanders of the corps who were unable to attend. The evening was concluded by a floor show by past members of corps.
The corps was praised during 1936 for the alert action of one of its officers, Richard Booth Jr., who averted a drowning on the Red River. Mr. Booth, fully clothed, dived from aboard one of the corps cutters to assist two boys whose canoe had capsized. He managed to assist the boys back to their canoe to which they clung until the cadets in the cutter could come alongside and take them aboard.
Photographs for 1936 were made available by Mrs. W.A. Cramp and Mr. Dick Booth of Winnipeg.
Church Parade 1936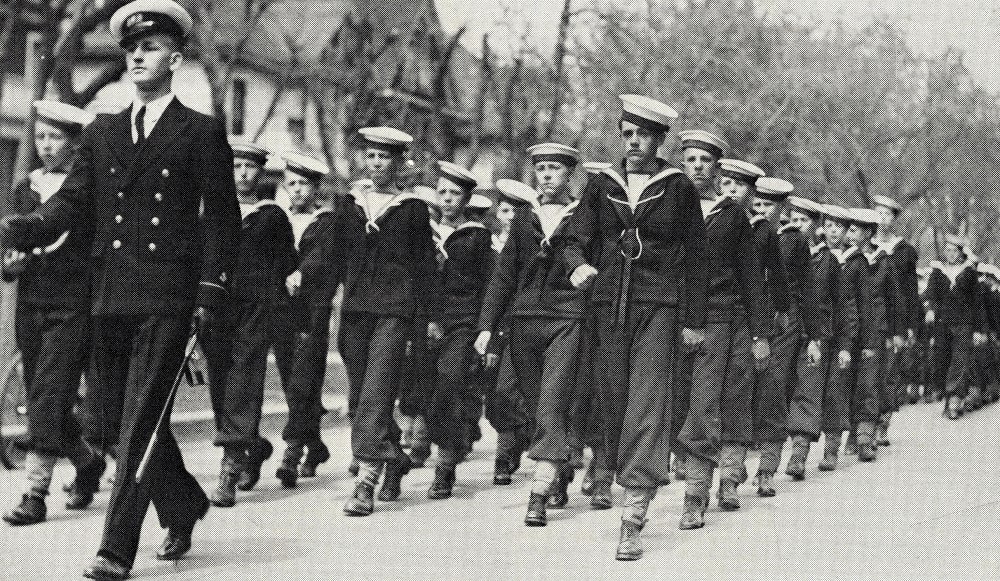 Sub. Lt. D. Booth and cadets during parade to morning services at First Presbyterian Church, Sunday, May 17, 1936.
Decoration Day Parade 1936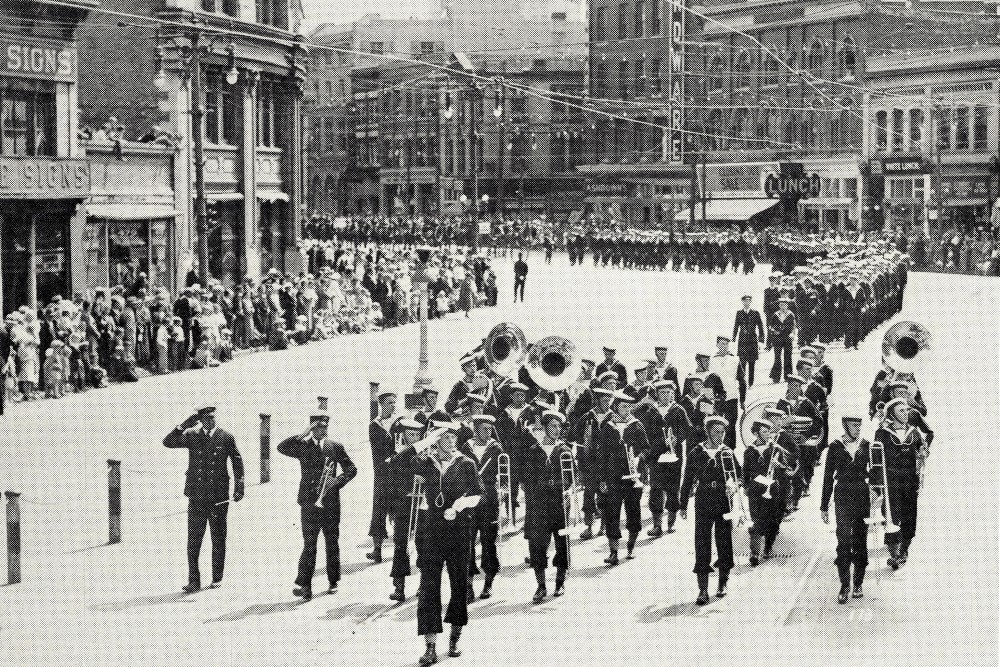 Winnipeg Sea Cadets pass saluting base at city hall during Decoration Day Parade 1936.
Pages 33-34