1940
Corps Officers 1940


Winnipeg Sea Cadet officers pose for photograph prior to 1940 camp. Left to right, T. Crowther, C. Hyslop, C. Rasmussen, B. Hodge, H. Jones, W.J. Hodge, LCdr. T.W. Baird, W.A. Cramp, T.H. Metcalfe, V. Mayle, B. Prentice, H. Speed, and R. Wareham.
With the increasing war effort in 1940 the sea cadet movement across Canada found itself fulfilling a more demanding and varied role. The need for personnel to fill Canada's expanding naval service was to bring about many changes in the Sea Cadet training program.
One such important change took place within the Winnipeg Sea Cadets. It was announced, early in the year, that an intensive training program would be undertaken with the aim of training senior cadets in all aspects of wireless telegraphy. This group of cadets was placed in a separate unit which devoted the full training year to studying in depth this expanding field. The success and quality of this training program could be appreciated when the complete class was absorbed into the naval service upon graduation. The need for such experienced cadets resulted in their accelerated dispersal to posting at sea and sadly, in some of the corps' first war casualties.
The corps had the honour of being inspected by Admiral Sir Howard Kelly, G.B.E., K.C.B., R.N. during a visit to Winnipeg. On his informal inspection, Admiral Kelly was accompanied by Brigadier B.W. Browne, D.S.O., M.C., District Officer Commanding; Lt. Col. L.W. Miller and Mr. E.W. Kneeland, president of the Manitoba Branch of the Navy League of Canada. At the completion of the inspection he spoke to the assembled cadets and advised them that "Nothing is worth fighting for in this world as freedom - the freedom to live in your own country and to live as you wish."
Word was received during February that Sub. Lt. G.H. Hayes, serving with the Royal Navy and a past member of the corps, had been awarded the Distinguished Service Cross. The example set by Sub. Lt. Hayes and the many other past members of the corps serving in the armed forces, was a continual inspiration to the John Travers Cornwell unit.
In March the corps presented its annual concert at the Walker Theatre with Mr. D.H. Gibson, president of the Navy League of Canada present. For over two hours, the cadets and the 65 piece band, under the baton of Lt. W.A. Cramp, entertained a full-house. The varied program consisted of soprano solos; club swinging; instrumental solos; and several enjoyable band selections.
Upon the conclusion of the evening's entertainment, Mr. J. Ruttan, executive member of the Manitoba Branch of the Navy League, voiced his thanks to the audience on behalf of the Winnipeg Sea Cadets. Mr. Ruttan also paid tribute to the officers and cadets who made the concert possible.
Photographs were kindly provided by Mr. T.W. Baird, Grand Marais, Manitoba; Mrs. W.A. Cramp, and Mr. T. Wetton of Winnipeg.
Sir Howard Kelly Visit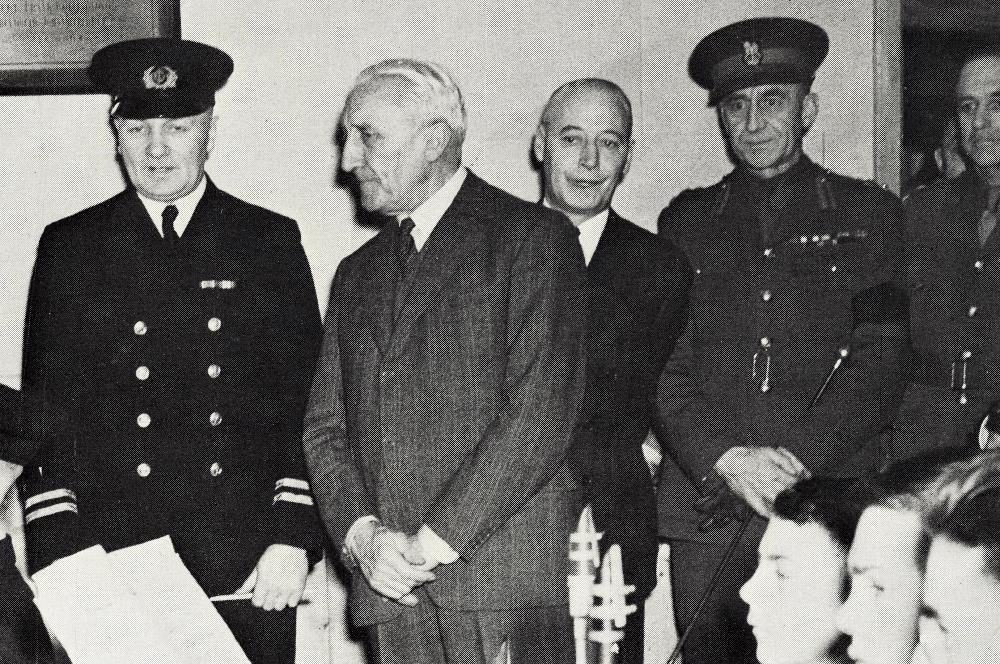 Admiral, Sir Howard Kelly (Ret.), inspects Corps during visit to Winnipeg in February, 1940. Shown here inspecting the band are Lt. W.A. Cramp, bandmaster; Admiral Kelly; J.D. Ruttan, president, Manitoba Branch of the Navy League of Canada; and Brigadier B.W. Browne, Commanding Officer M.D. 10.
Church Parade 1940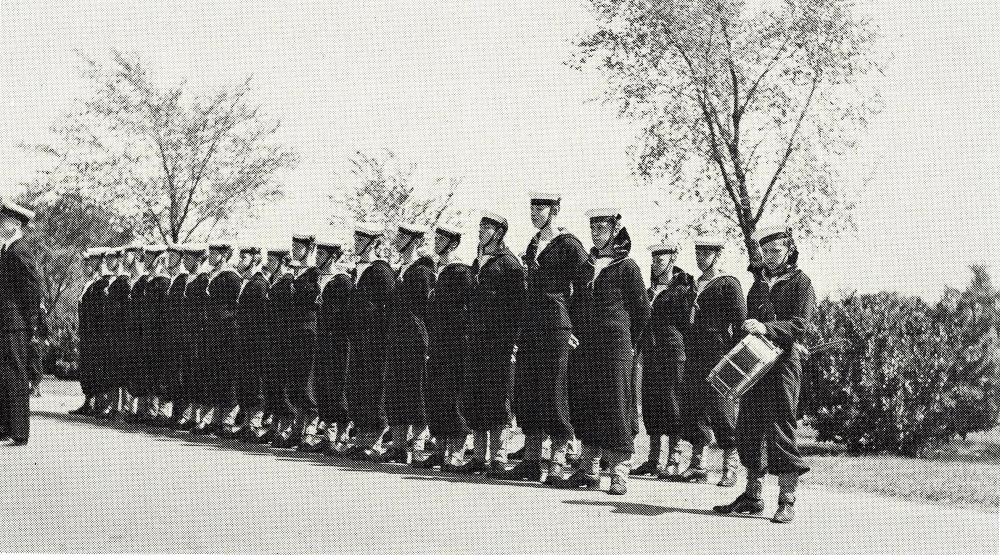 Decoration Day Parade 1940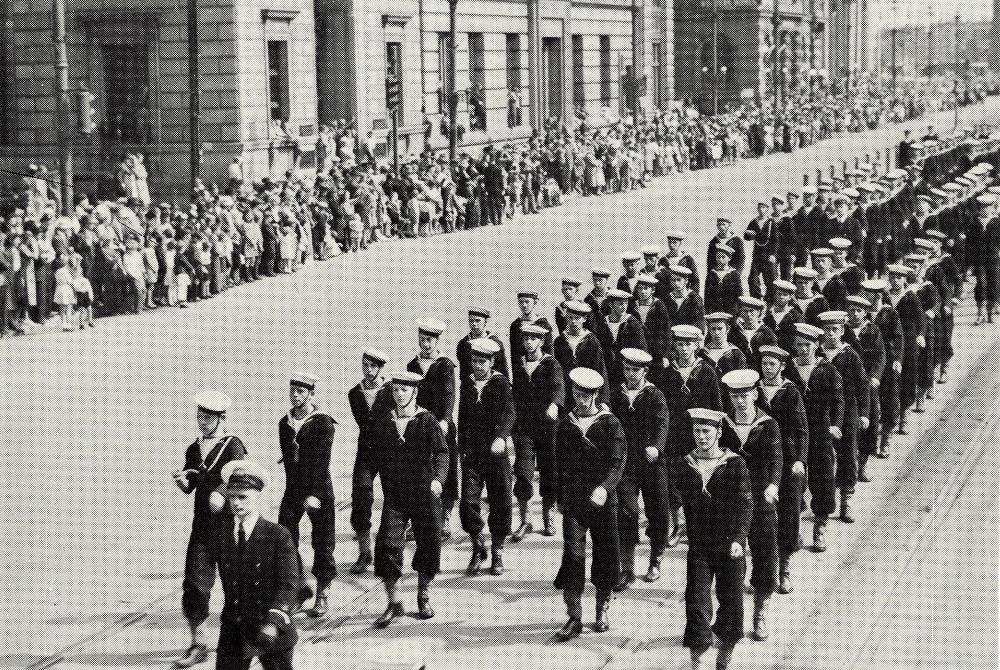 Sea Cadets parade down Main Street during Decoration Day Parade, May 19, 1940.
Musketry Class 1940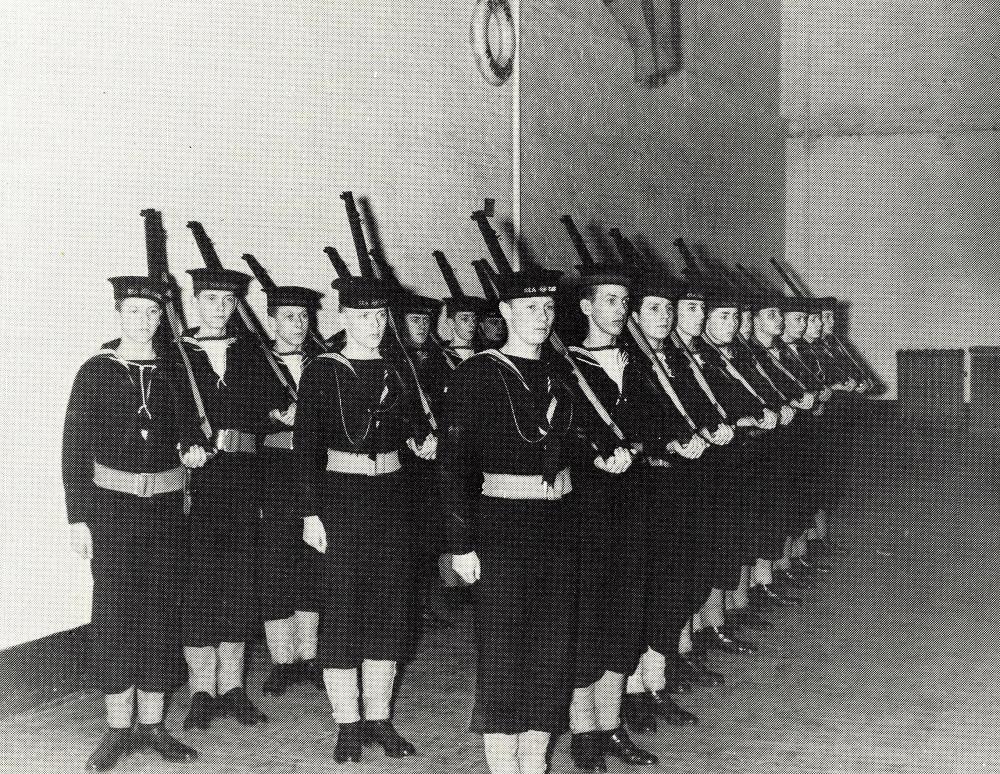 Special Musketry class on parade deck of Ellice Ave, Barracks. Cadet on extreme left, W. Sommerville, eventually became Commanding Officer of R.C.S.C.C. John Travers Cornwell V.C. from 1963 to 1967.
Pages 47-49