1941


On steps of Legislative Building 1941, Officers, left to right, J. Coghill, T. Wetton, H. Metcalfe, Unidentified, LCdr. T.W. Baird, C. Hyslop, V. Mayle, W.A. Cramp, W. Johnstone, C. Bardal, J. Hodge, and B. Wilson.
The Winnipeg Sea Cadet Corps was saddened in 1941 by the untimely death of Mr. E.W. Kneeland, president of the Manitoba division of the Navy League of Canada. Mr. Kneeland, a prominent Winnipeg grain executive, had joined the Navy League during the 1920's and had attained the position of president in 1937. Throughout his association with the Navy League he had always shown a keen interest in the cadets and rarely missed an opportunity to visit and observe the corps.
Mr. Kneeland was succeeded by Mr. J.D. Ruttan, a local businessman and well-known sportsman. Mr. Ruttan, a member of the Hockey Hall of Fame, had served as chairman of the Sea Cadet Committee under Mr. Kneeland and was well suited to perform his new and demanding duties.
Despite the continuing loss of officers and senior cadets the corps expanded throughout 1941. The department which was to be most severely affected by these losses was of course, the band. The bandsmen, with their years of experience and training, were difficult to replace. Therefore, it was a tribute to the hard work and endurance of Lt. W.A. Cramp that not only did the brass band endure, but also a drum and bugle band was added to the corps. The instruments for the new unit were presented to the Winnipeg Sea Cadets by Mrs. E.W. Kneeland as a memorial to her late husband.
Included in the summer activities was the summer camp at Stevensons's Point. While an advance party of 25 cadets prepared the campsite, the remainder of the 110 participants arrived a few days later. Lt. Cdr. Baird was again in charge of the camp which was operated along the same lines as 1939 and 1940. The highlight of the thirteen day stay was a series of "war games", where one half of the camp played the role of an enemy submarine landing party while the balance took the role of defenders.
Lord Beatty, chairman of the Navy League of Great Britain and the son of the late Admiral Beatty, spoke to the corps during a visit to Winnipeg in October. He congratulated the corps on being the largest in the British Empire and praised the record of 110 enlistments in the navy from the 200 members enrolled at the outbreak of war.
The photos of 1941 were made available by Mr. T. Baird of Grande Marais, Manitoba, and Mr. W. Sommerville of Winnipeg.
Band: 1941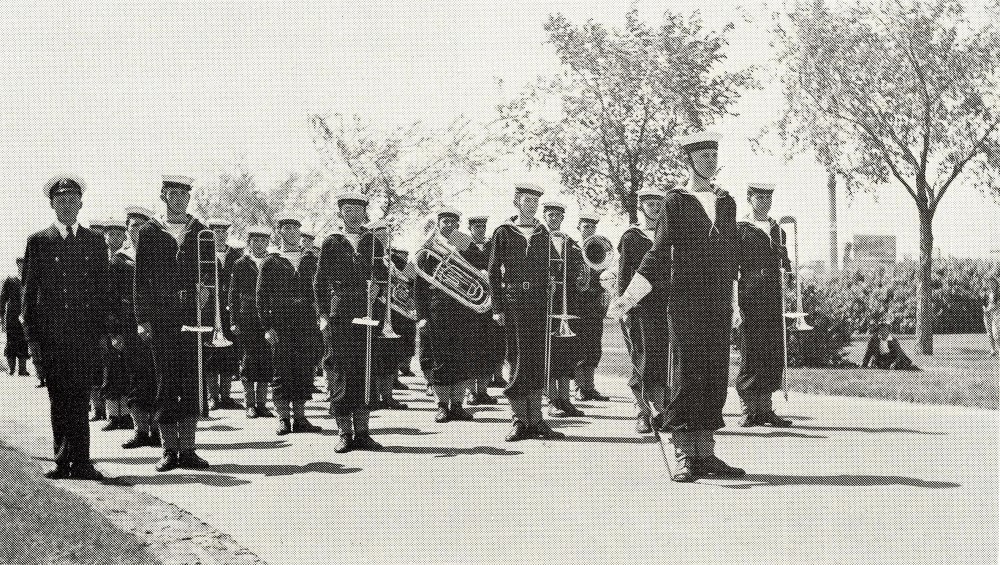 Band on Legislative Grounds, 1941.
Pages 50-51