1944
The ever increasing demands of supervising a corps of 900 cadets that paraded four nights a week in various parts of the city proved too much of a strain on Lt. Cdr. Killey's time. He therefore resigned after a year of devoted service to the Winnipeg sea cadet movement. His departure was deeply felt by all those who came in contact with him.
The control of R.C.S.C.C. John Travers Cornwell V.C. fell once again on the shoulders of Mr. J.R.K. Millen. Mr. Millen, who was co-ordinator of sea cadets for western Canada during the war years, took command of his old corps. The same problems of administration that plagued Lt. Cdr. Killey, were solved by placing more of the corps duties in the hands of the company commanders.
An opportunity to centralize the corps' activities was made possible when the Navy League took possession of the old R.C.N.V.R. barracks on Ellice Ave. Though the No. 1 and No. 2 ships company moved into the new quarters in December of 1943 they were not officially opened until March of 1944.
The opening ceremonies were attended by many leading civic and military dignitaries. Mayor Coulter of Winnipeg, in his speech, stressed the fact that although the sea cadets were presently being trained so they could take their place in the navy, the corps would eventually serve its peacetime role of training boys in citizenship. Others in attendance were Mr. J.D. Ruttan, president, Manitoba branch of the Navy League; Mr. R.C. Stevenson, co-ordinator of sea cadet activities for Naval Services; and Mrs. V.H.K. Moorehouse, president of the women's auxiliary.
Reverend Terence Finlay, protestant chaplain of H.M.C.S. Chippawa, dedicated a roll of honour during the ceremony. The roll of honour included the names of more than 800 past sea cadets who were presently serving in Canada's armed forces.
The corps brass band left on April 8th for a 10 day tour of nine western cities. In addition to the 36 members of the band the tour included a chorus, ten hornpipe dancers, two sword dancers, in Russian costume and piano, trombone, accordion and euphonium soloists. The itinerary included stops at Brandon, Moose Jaw, Regina, Medicine Hat, Lethbridge, Red Deer, Drumheller, Banff, and Calgary.
Lt. W.A. Cramp was in charge of musical arrangement while Mr. Stanley N. Jones acted as manager. The overall planning was handled by Mr. J.R.K. Millen.
The photographs for 1944 were provided by Mrs. W.A. Cramp of Winnipeg and R.C.S.C.C., John Travers Cornwell V.C.
Band: 1944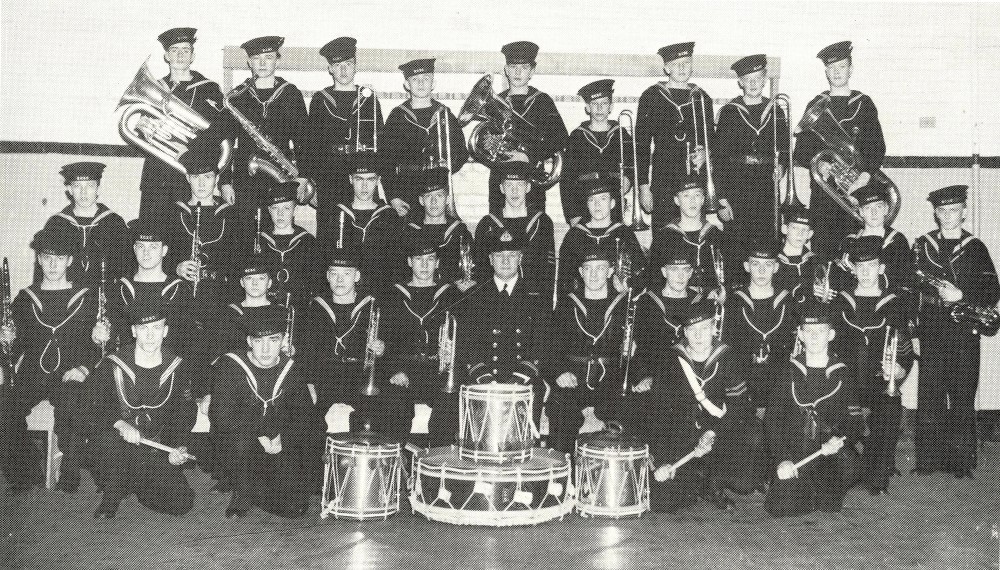 Bandmaster, Lt. W.A. Cramp, poses with band, November 1944.
Pages 58-59