1947
Navy League National Proficiency Trophy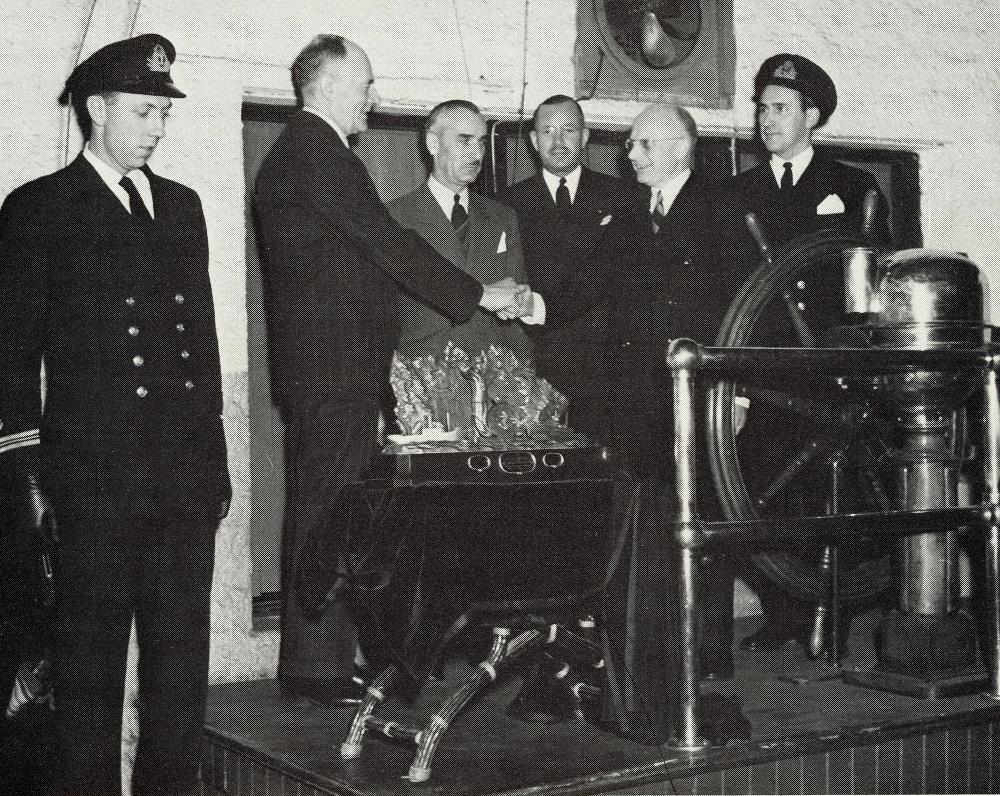 Commodore E.R. Brock (ret) president, Manitoba Branch - Navy League of Canada accepts the National Proficiency Trophy from J.W. Sanger on behalf of the Navy League of Canada.
The corps strength continued to dwindle throughout the 1946 and by the spring of 1947 stood at 550 cadets. The unit was reorganized into three ship's companies which continued to parade at H.M.C.S. Chippawa on Monday, Thursday and Friday evenings. The brass band, under the command of Lt. V.W. Taylor, paraded on Tuesday and Friday at Kelvin school.
The past corps officers, who were returning from war service, made their presence felt when it was announced that Lt. Cdr. T.W. Baird would once again resume duties as commanding officer. Lt. Cdr. Baird was assisted by Lt. J. Hodge as commanding officer of No. 2 Ship's Company with Lt. W. Wilson as commanding officer of No. 3 Ship's Company. Lt. Cdr. Gilbart was forced to resign due to business reasons.
At the annual meeting of the Navy League of Canada, Manitoba Division, held on April 15, Mr. J.R.K. Millen was appointed chairman of the Winnipeg Sea Cadet Committee replacing Mr. S.N. Jones. Mr. Jones had found it necessary to relinquish his duties owing to the pressure of business. He had given a great deal of his time and was the prime mover and organizer of many of the corps concerts.
It was announced in 1947 that, effective immediately, the maximum age of sea cadets would be eighteen. This was to cause the immediate resignation of many older cadets in the corps. These senior boys had given excellent service during their time in cadets and they were missed by their friends and associates in the corps.
Two cadets, Chief Petty Officer Garth Miller and Leading Seaman Edgar Wilson, were selected by the Navy League to represent the Manitoba sea cadets on a visit to the British Isles. The cadets were part of a group of twenty-five sea cadets from all parts of Canada, who, on the invitation from the Navy League of England, sailed in July for the seven week visit.
In a colorful cermony held aboard H.M.C.S. Chippawa on February II, the Navy League of Canada, was presented with a Dominion Council trophy for general proficiency by a group of Winnipeg citizens. The trophy was presented by Mr. J.W. Sanger and accepted by Commodore E.R. Brock on behalf of the Navy League. The trophy, pictured above, is still being presented annually to the best sea cadet corps in Canada.
The photograph included was kindly provided by Mr. R. Brock of Winnipeg.
Page 64