1948
Band: 1948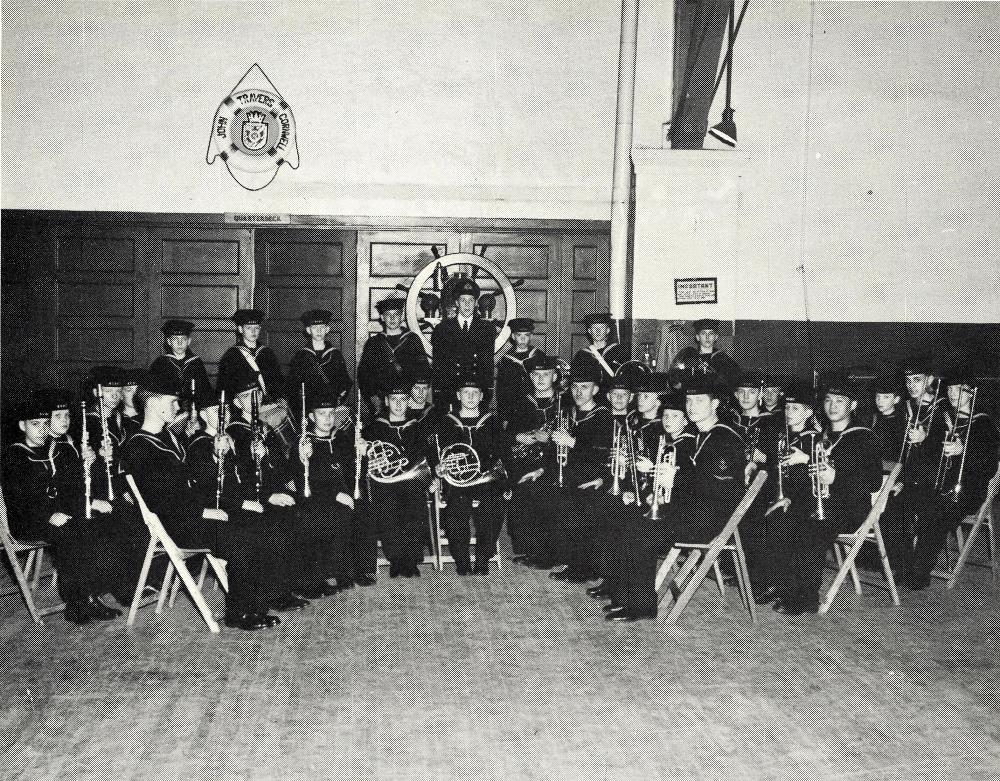 Assistant bandmaster Sub. Lt. M. McDill and band aboard H.M.C.S. Chippawa.
On May 2, 1948 approximately 2,000 persons attended the twenty first annual Sea Cadet Concert at the Winnipeg Auditorium. The opening address was given by Commodore E.R. Brock, president of the Manitoba division of the Navy League, who reviewed the history and ideals of the cadet training.
The corps band was conducted by Lt. Sid Doe while a former cadet, Mr. Jack Sutton, provided accompaniment for the singers. Among those participating were Lt. M. Boychuk, folk dancer; David Girling, boy soprano; Lt. John Meder and Lt. Maurice Bradstock, piano duo; George Kent, tenor; Sub. Lt. A. Payne, directed the sailor's hornpipe and SUb. Lt. D. Lee Commanded the ceremony of the colors.
In January of 1948 R.C.S.C.C. John Travers Cornwell V.C. underwent further reorganization under Lt. Cdr. T.W. Baird. No. 1 and No. 2 ship's companies were combined to form "A" company while No. 3 ship's company became "B" company. Lt. Cdr. Baird remained as commanding officer with Lt. W. Wilson as first lieutenant and Lt. J. Hodge as executive officer. Lt. J. Walker, "A" company commander was assisted by Sub. Lieutenants' Adey, Payne, Matheson, Otty and Ball. In addition to Sub. Lt. McLaughlin as company commander "B" company consisted of Sub Lieutenants' Lee, Dancer, Boychuk, Rose, and Wood. Sub. Lt. Darlington was corps range officer and Lt. Meder and Sub. Lt. Davidson were responsible for new recruits.
With the start of the new training season in September the corps returned to the pre-war practice of parading two nights a week. Parades were to be held on Tuesday and Friday evenings so as to enable the cadets to get the maximum amount of training during the year.
A new ship's bell was presented to the corps by Chief Petty Officer W.J. Law on behalf of the chief's and petty officers. The bell was paid for with funds collected at the ship's dances.
During the summer months two members of the corps, Chief Petty Officers H. Walton and R. Crossley, had the honor of accompanying thirty cadets on a two week training course to Royal Roads in Victoria, British Columbia. For those not fortunate enough to be selected for this course there was the two week training period at Camp Ruttan from July 3rd to the 17th. Over 160 boys from the corps participated in the 1948 camp.
The photograph shown on this page was kindly made available by Mr. S. Doe of Winnipeg.
Page 65