1950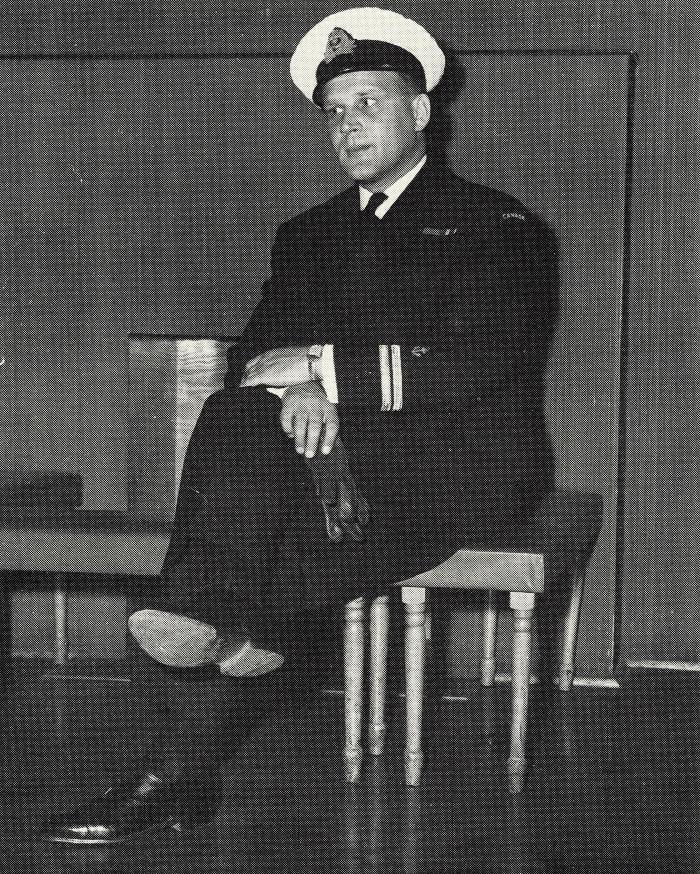 LCdr. G.D. Kuhn.
In the spring of 1950 Winnipeg was struck by widespread flooding when the Red and Assiniboine Rivers overflowed their banks. As a result, a large number of sea cadets and their officers were active in flood control or rescue work.
For the duration of the flood threat, H.M.C.S. Chippawa was converted to provide living quarters for the navy and sea cadet personnel. While the assistance provided by the corps was to receive praise from local dignitaries the cadets who participated remembered the event as an exciting and unusual experience.
During July of 1950, H.M.C.S. Chippawa and the Winnipeg sea cadet organization was the host to seventy seven sea cadet officers from across Canada. The officers, were in Winnipeg to attend a two week course to upgrade and standardize cadet training throughout the country. While in the city they were guests of the Manitoba division of the Navy League at a dinner at the St. Charles Country Club.
In a change of pace from the classroom instruction the officers were transported to Camp Ruttan for a weekend of practical training. All seventy-seven officers were required to carry out the same routine that the sea cadets themselves had to adhere to when in the summer establishment.
Seven members of R.C.S.C.C. John Travers Cornwell V.C. left Winnipeg on July 28th. to attend a two week course at H.M.C.S. Cornwallis. Cadets attending were Leading Seamen Andrew Blaney, Bruce Massey, Sydney Morris; Petty Officers Raymond Graham, David Ankrom, Jack Templeman and Chief Petty Officer Dan Buss. A highlight of the course was a visit to the Royal Canadian Navy aircraft carrier H.M.C.S. Magnificent.
Midshipman Herbert J. Walton, who joined the corps as a cadet in 1945, was awarded one of the ten scholarships awarded annually by the Navy League of Canada. The scholarship entitled him to two years free tuition at the Royal Roads Naval College in Victoria, British Columbia.
Due to business pressures Lt. Cdr. J. Meder was forced to resign as commanding officer at the end of 1950. While the corps expressed its sorrow at Lt. Cdr. Meder's departure they welcomed their new commanding officer Lt. Cdr. G.D. Kuhn. Lt. Cdr. Kuhn, a newcomer to sea cadets in Winnipeg, expressed his pleasure on his appointment and pledged every effort in carrying out his duties.
Photograph kindly provided by Mr. G.D. Kuhn of Victoria, British Columbia.
Page 73