1954
Navy League Corps J.R.K. Millen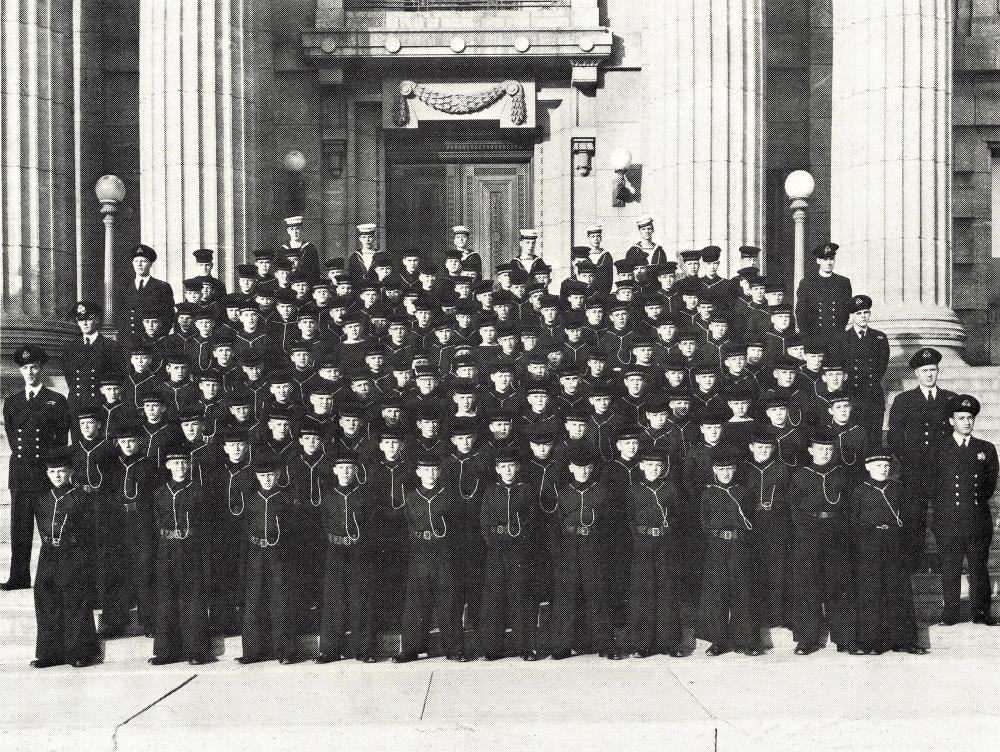 Here is the first photograph of the Navy League cadet corps J.R.K. Millen. The corps, named after Mr. J.R.K. Millen, the long time supporter of cadets in Winnipeg, was organized on January 13, 1954.
In January of 1954 a junior sea cadet corps for boys between the ages of twelve and thirteen was formed in Winnipeg by the Navy League. The corps, under the complete jurisdiction of the Navy League, was later named the Navy League cadet corps. J.R.K. Millen, as a tribute to the many years of service given by Mr. Millen. The new corps was commanded by none other than Lt. Cdr. T.W. Baird who was assisted by other past R.C.S.C.C. John Travers Cornwell V.C. officers. A number of the corps senior cadets paraded with the younger boys to assist in the training of the new corps.
For the first time in the history of the sea cadet movement, the Chief of the Naval Staff, Vice-Admiral E.R. Mainguy, presented new colors to the four Manitoba sea cadet corps. The new colors which replaced the old blue ensign, was a white ensign with the Union Jack in the corner and in the opposite corner, the official crest of the Royal Canadian Sea Cadets in blue and gold. The ceremony was attended by approximately 500 cadets representing the J.T. Cornwell V.C., and Crusader Corps from Winnipeg; Daerwood from Selkirk, Manitoba; and Swiftsure from Brandon, Manitoba.
The Battle of Atlantic was observed on May 16th when the R.C.S.C.C. John Travers Cornwell V.C. joined other sea cadet and naval personnel in ceremonies at Trinity Church and the Cenotaph. The salute was taken by Mr. H.E. Sellers, honorary captain of H.M.C.S. Chippawa.
Over a hundred members of the corps left by C.P.R. train in July to attend the two week summer training at H.M.C.S. Quadra on Vancouver Island. The corps band, under the direction of Lt. E. Rigg, left aboard the same train however, they were to remain at H.M.C.S. Quadra for the season, returning to Winnipeg at the end of August.
The corps was awarded the Navy League Proficiency Trophy for the third time in five years. The trophy, awarded to the best sea cadet corps in Canada, was presented by Marilyn Bell, the seventeen year old swimmer of Lake Ontario, at the Navy League dinner at Toronto. Runner-up to the award was R.C.S.C.C. Warrior of Edmonton.
The photograph shown above was made available by Mr. T.W. Baird of Grand Marais, Manitoba.
Page 79