1957-1961
LCDR. A. Hodgson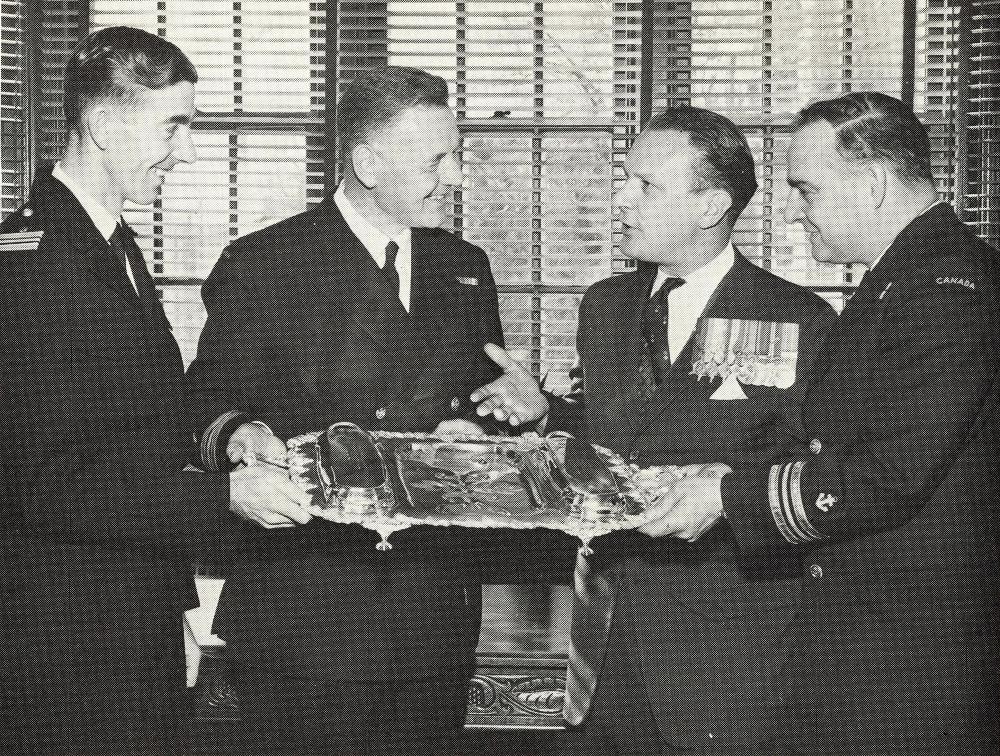 LCdr. A. Hodgson is shown during a presentation to the retiring commanding officer of H.M.C.S. Chippawa, Capt. L.B. McIlhagga. Left to right, LCdr. R. Watkins, commanding officer of N.L.C.C. J.R.K. Millen; LCdr. Hodgson; Captain McIlhagga and LCdr. J. Hutton, commanding officer of R.C.S.C.C. Crusader of Winnipeg.
During the period 1957 to 1961 the corps came under the command of Lt. Cdr. A. Hodgson. Lt. Cdr. Hodgson, who joined the corps as an officer in 1955, replaced Lt. Cdr. S. Perkins who retired early in 1957. Upon his retirement, the cadets expressed their thanks to Lt. Cdr. Perkins for the time and energies he expended on their behalf.
Under its new commanding officer the corps was to gain widespread recognition and honors. By 1959 R.C.S.C.C. John Travers Cornwell V.C. was to become the largest sea cadet corps in the British Commonwealth with 450 cadets under the supervision of some twenty two officers.
In 1956 through 1958 the R.C.S.C.C. John Travers Cornwell V.C. band, under the direction of Lt. E. Rigg, spent a good portion of the summer months touring several Ontario and midwestern United States cities. The tour, organized jointly by the Navy League of Canada and the Royal Canadian Navy, was initiated to increase interest in the R.C.N. and sea cadets in general. Home base during the tour was R.C.S.C.C. Lion in Hamilton, Ontario.
Three of the participating band members were, in later life, to become well-known in the sports and political area. Cadet D. Rowland, presently the Member of Parliament for Selkirk constituency, is the New Democratic Party member of the standing committee on national defence. Drum Major P. Robson has played professional football for the past eight years with the Winnipeg Blue Bombers of the Canadian Football League, while cadet Pat Hailley was a member of the 1972 world champion curling team.
Leading Cadet George Brown was to bring acclaim to the corps with his swimming ability. Cadet Brown, accompanied by the corps swimming instructor Lt. Blair Ledger, swam the twenty three mile distance along the Red River between Winnipeg and Lockport, Manitoba in five hours and twenty eight minutes. This exploit was to create widespread public interest and Cadet Brown was to attempt the eighteen mile crossing of Lake Winnipeg on August 5th. However, severe cramps were to thwart this attempt after ten hours in the water and only one mile from his destination.
In 1958, the corps under Lt. Cdr. Hodgson's guidance, won the Navy League Dominion Proficiency Trophy emblematic of the best sea cadet corps in Canada. It was a tribute to Lt. Cdr. Hodgson and his officers and cadets that R.C.S.C.C. John Travers Cornwell had captured the title for the fourth time in seven years.
The training facilities provided by the Royal Canadian Navy continued to create opportunities for corps members. In 1958 Leading Cadets D. Colleaux, T. Derhak and R. King participated in a Far East cruise aboard R.C.N. ships. Leading Cadet J. Letham enjoyed a similar cruis e to the northern Pacific in 1959 while Petty Officer R. DeMarcky visited Japan and Hong Kong in 1960.
Navy League Honorary Certificate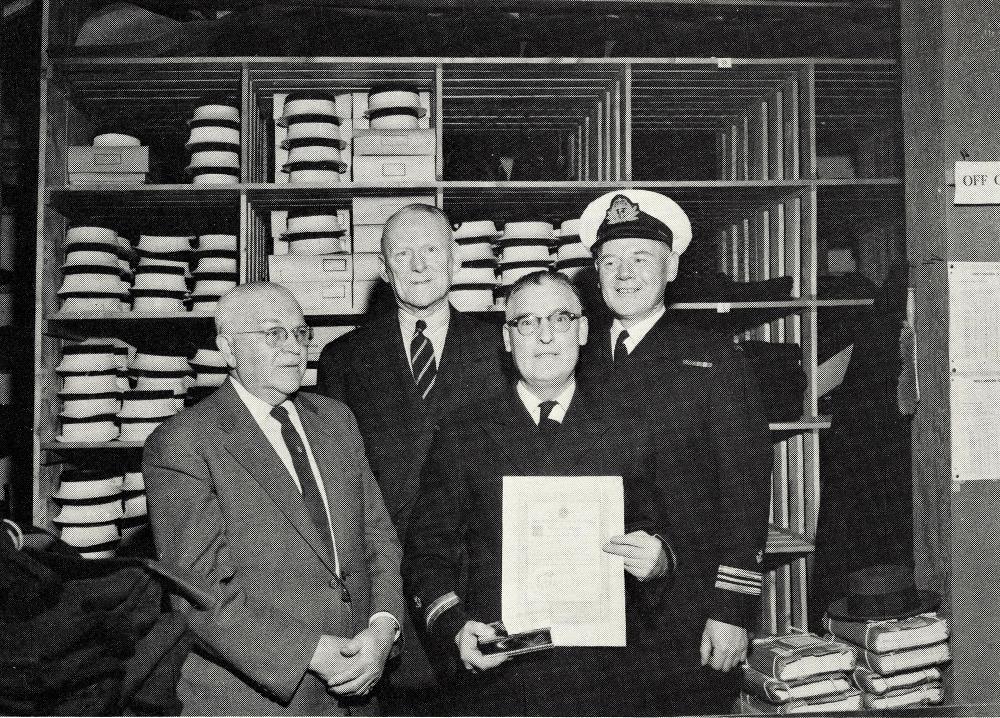 Lt. G. Drummond is shown here receiving the Navy League Honoray Certificate for outstanding service to sea cadets. Left to right Mr. J.R.K. Millen, Mr. E.B. Frost, Lt. Drummond and LCdr. Hodgson.
"Youth versus experience," were the words voiced by Noel Cox in awarding the R.C.S.C.C. John Travers Cornwell V.C. a mark of 84 in the 41st annual Manitoba Musical Festival, the largest of its kind held in the British Commonwealth. The band was competing in Class A competition in 1959 and placed second to the Winnipeg Concert Band, a professional group of older, and more experienced men who placed first with a mark of 86.
Another event of significance in 1959 was the presentation of an Honour Certificate to a long time officer of the corps. Lieutenant G. Drummond, stores officer for R.C.S.C.C. John Travers Cornwell, was awarded a Navy League of Canada Honour Certificate in recognition of his 25 years service to his own corps and more recently R.C.S.C.C. Crusader and the Winnipeg Navy League Cadets. Mr. E.B. Frost and Mr. J.R.K. Millen of the Navy League of Canada, Manitoba division, made the presentation.
Mr. Drummond was active with the corps until his retirement in 1967. His many friends and associates were saddened by his untimely death recently and he will always be remembered for his kindness and interest shown to the cadets.
Mr. J.R.K. Millen, one of the outstanding leaders in the Navy League of Canada, was presently surprised one evening in May 1960. Mr. Millen who had started as the corps commanding officer in 1925, had attended an inspection of the Winnipeg Navy League Cadet Corps and discovered that the corps name had been changed to the J.R.K. Millen Corps of the Navy League of Canada.
At ceremonies following the inspection Mr. Millen was given a sterling silver tray signed by some eighty Navy notables who had worked with him over the past 35 years. Among the signatures were those of Rear Admiral Adams and Commodore Finch-Noys.
To the martial music of the R.C.S.C.C. John Travers Cornwell V.C. band, the Lieutenant Governor of Manitoba, Errick Willis, inspected a mass rally of sea cadets on the south lawn of the Manitoba Legislative Grounds in May 1961. The rally, to publicize the opening of Navy Week in the province, was attended by nearly 1000 cadets representing R.C.S.C.C. John Travers Cornwell and R.C.S.C.C. Crusader of Winnipeg; R.C.S.C.C. Swiftsure of Brandon and the J.R.K. Millen Navy League Cadets. The event, which was an annual affair for some years, always attracted a large number of interested spectators.
Lt. Cdr. Hodgson, after several years of service, retired in May of 1961 and turned command of the corps over to Lieutenant W.A. Somerville. Lt. Somerville, who had joined the corps as an ordinary cadet in 1939, had served as an officer since the early 1950's.
During Lt. Cdr. Hodgson's time as the commanding officer he had applied his energies and knowledge to develop and strengthen the corps. His parting was deeply felt by all those associated with R.C.S.C.C. John Travers Cornwell V.C.
The photographs for 1956 to 1964 were kindly provided by Mr. D. Wilkie and Mr. G.A. Moore of Winnipeg.
Navy Week 1961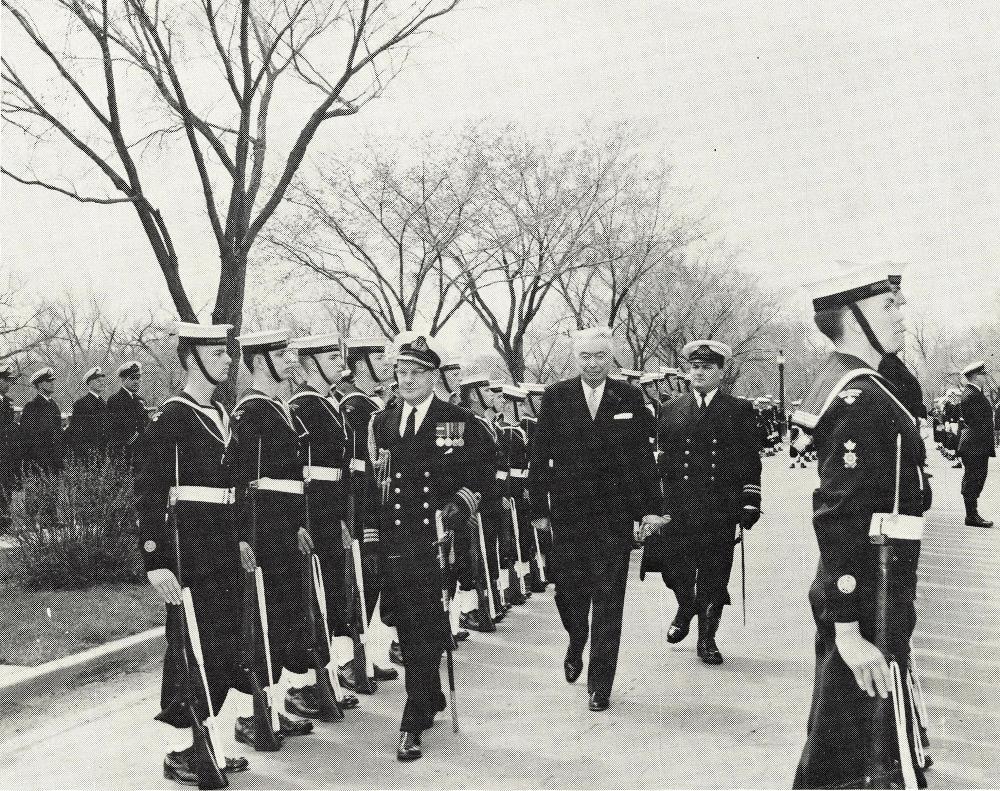 Lieutenant Governor E. Willis of Manitoba inspects the sea cadet guard of honour at the official opening of Navy Week in 1961.
Band 1957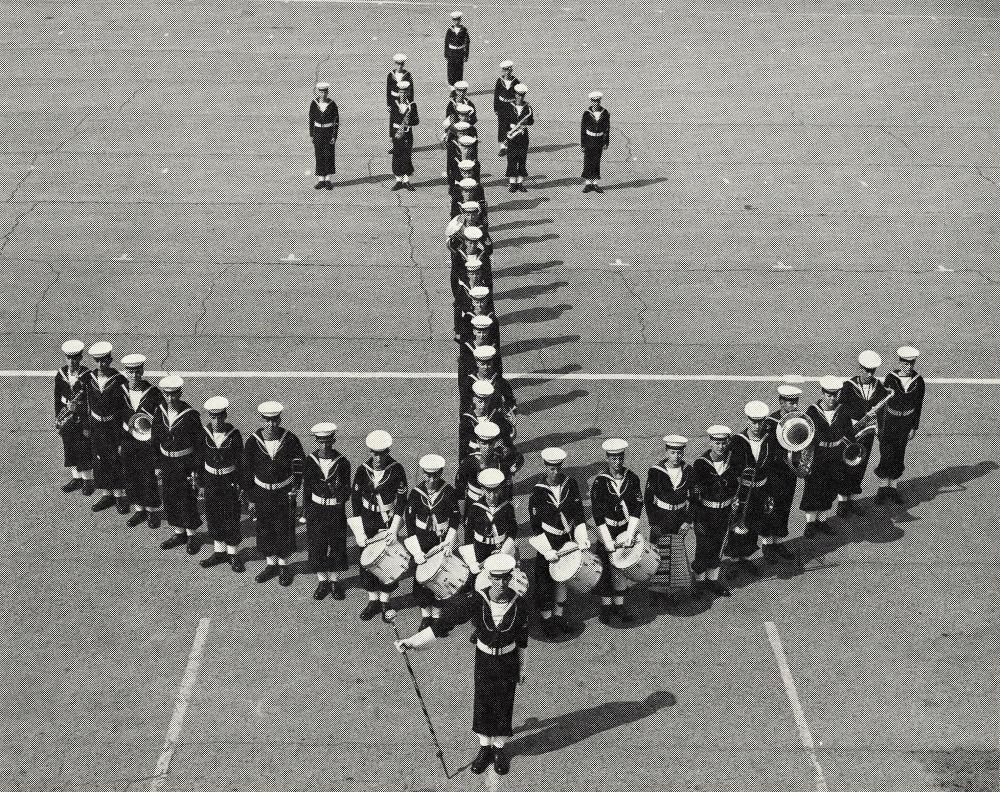 The R.C.S.C.C. John Travers Cornwell V.C. band poses for photograph during the visit to eastern Canada in 1957.
Pages 82-84