Visit to Great Britain August 1947
Submitted by: Edgar Willson (1944-1959)

On Sunday, July 27, 1947 CPO Garth Miller and LS Edgar Wilson left Winnipeg by train for Halifax. Both Cadets were chosen to represent Manitoba Sea Cadets on a vist to the British Isles. They were selected by a board consisting of Cmdre. E.R. Brock, A. Devlin, J.D. Ruttan, J.R.K. Millen and H. Orris, to be part of a contingent of 25 Royal Canadian Sea Cadets from across Canada, who, on invitation from the Navy League of England, would spend the next six weeks visiting Britain. They would sail to and from the British Isles aboard the aircraft carrier HMCS Warrior; and Ed Wilson would keep a record of his trip, which would be published in the Corps Newsletters (see below for details) after they returned.
The following are the pictures given to each of the 25 Cadets in a personalized album, produced by the Navy League of Canada, to commemorate their adventure. Thank you to Ed Wilson for allowing us to borrow his album, newspaper clippings and newsletters and reproduce it here for all to enjoy.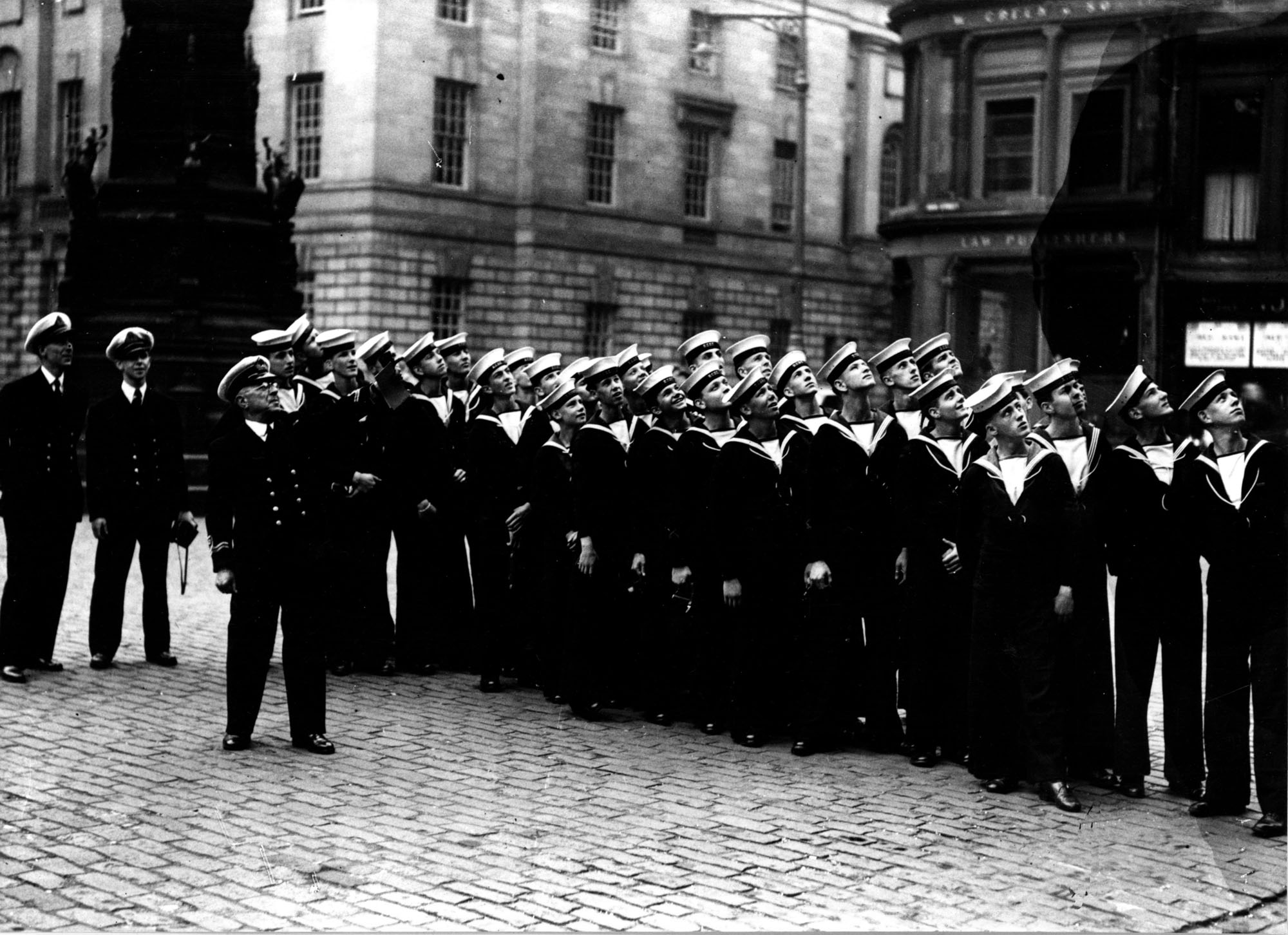 Outside St. Giles Cathedral, Edinburgh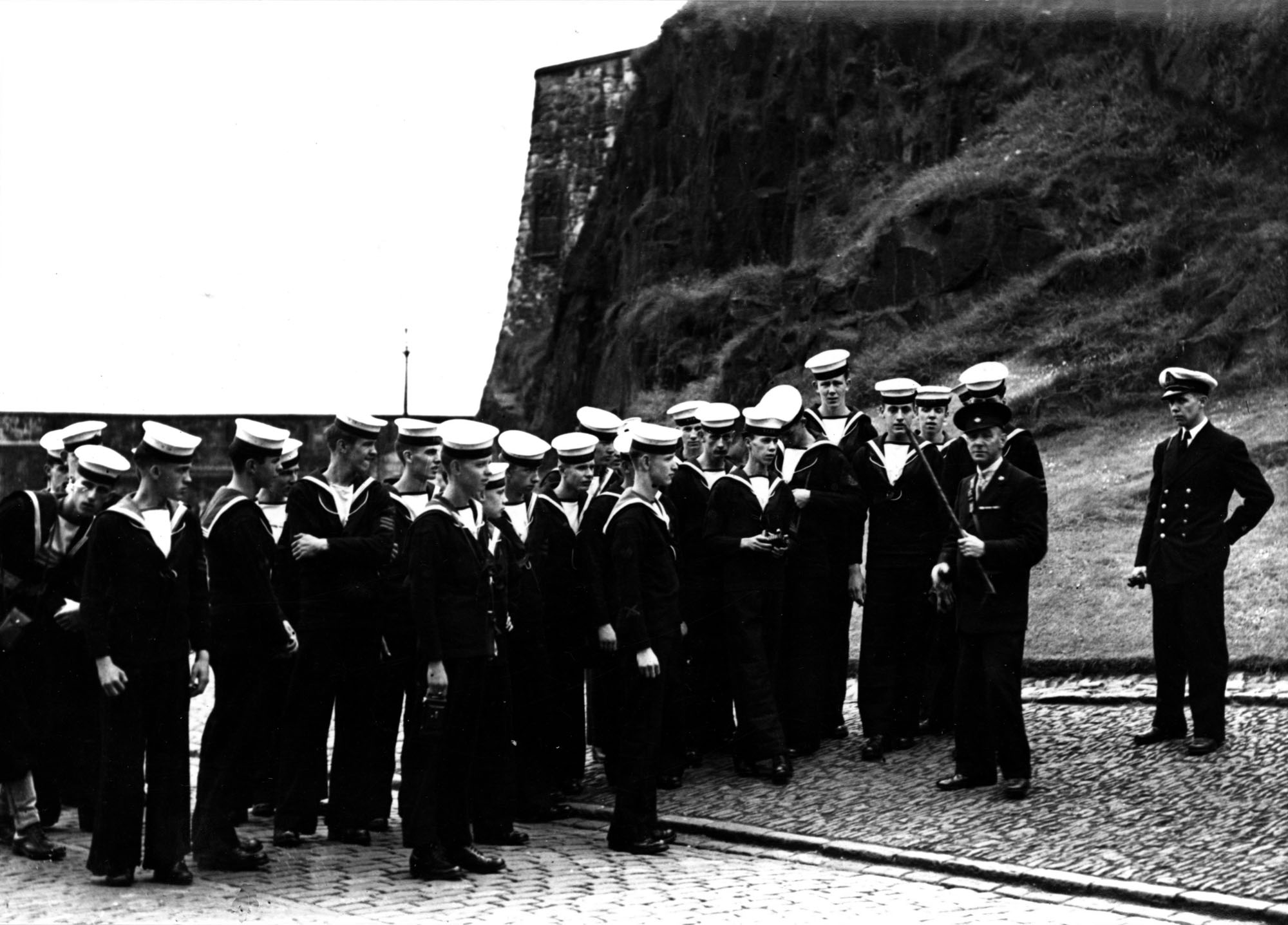 Inside Edinburgh Castle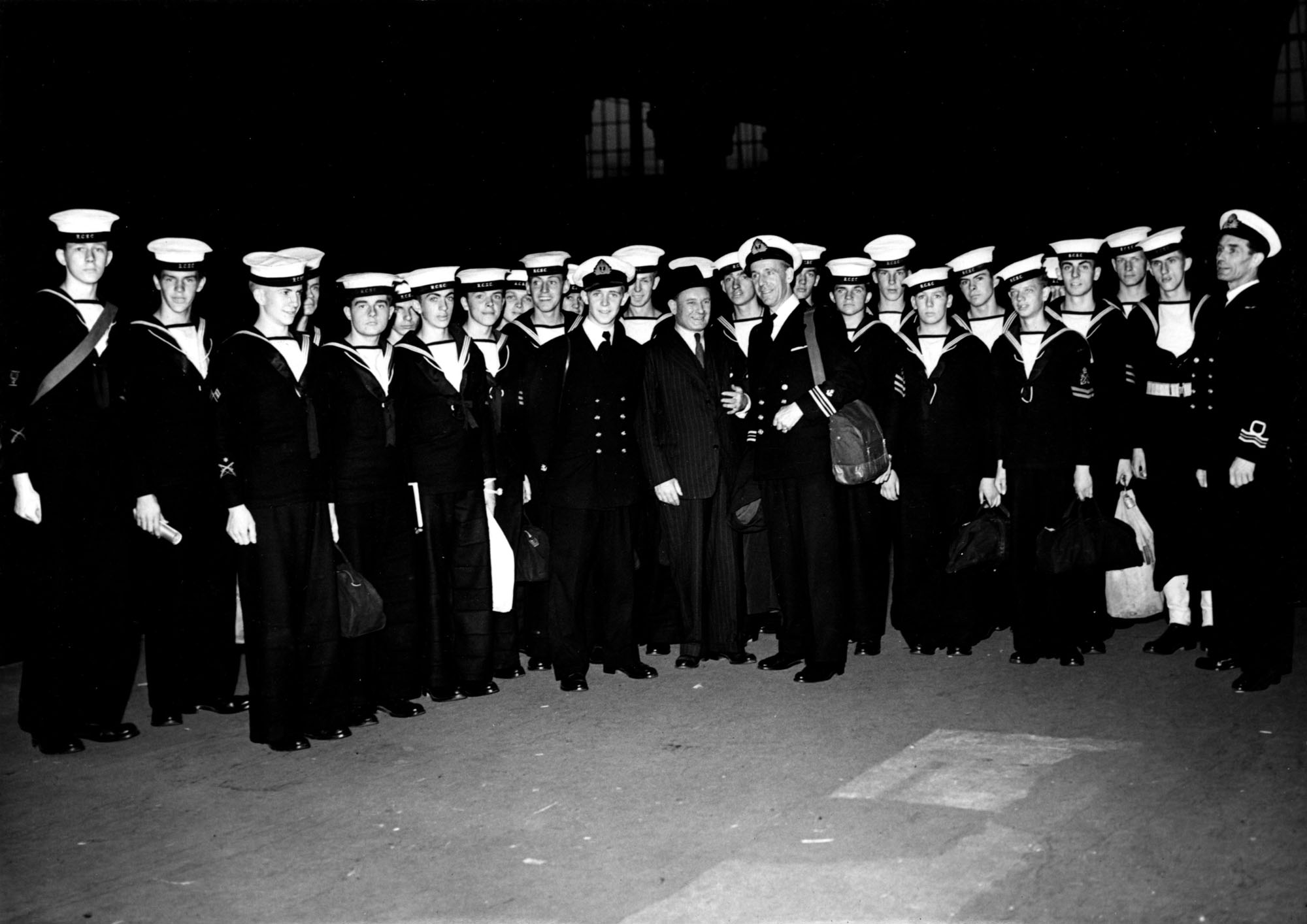 Kings Cross Station, London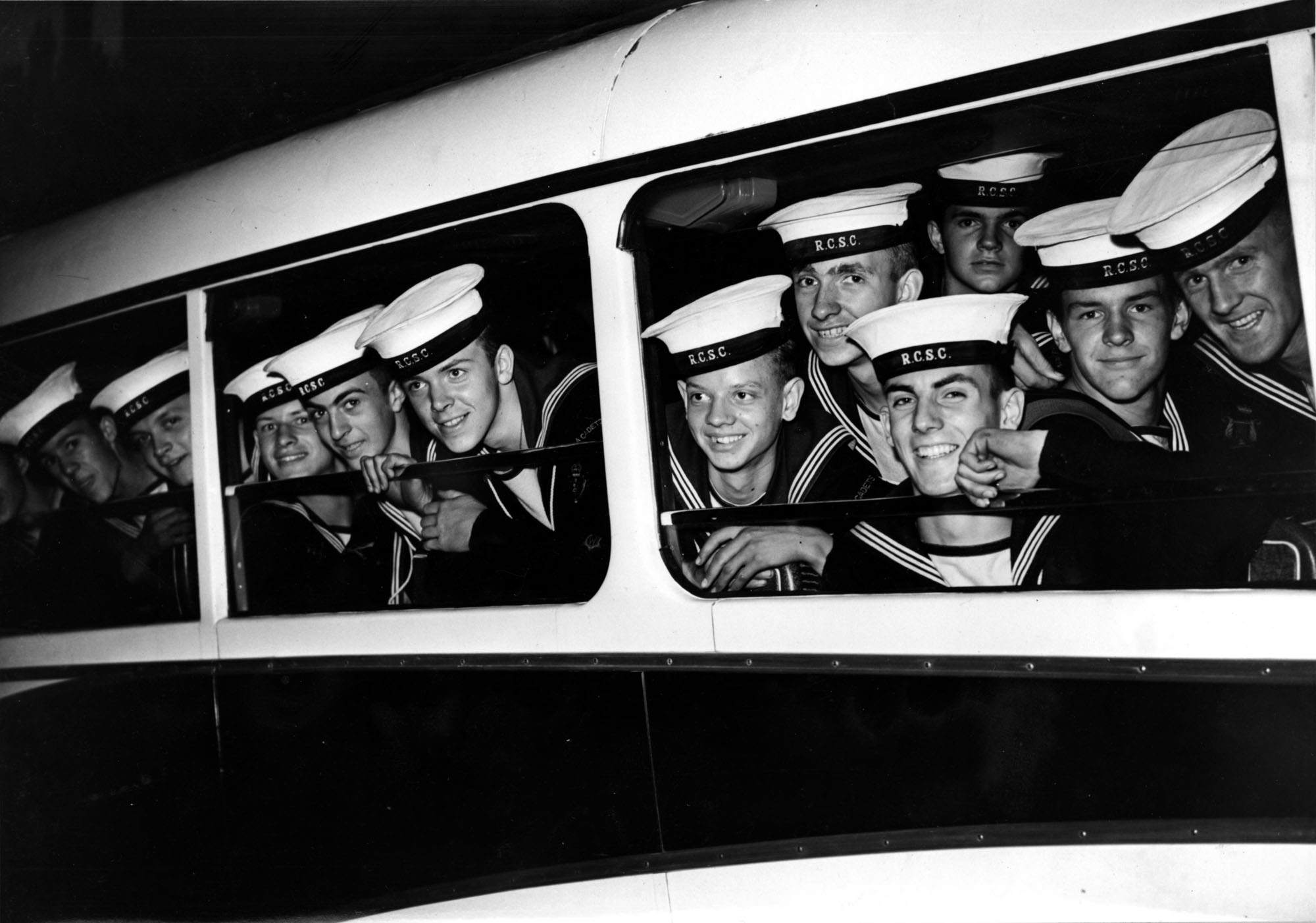 Off to Portsmouth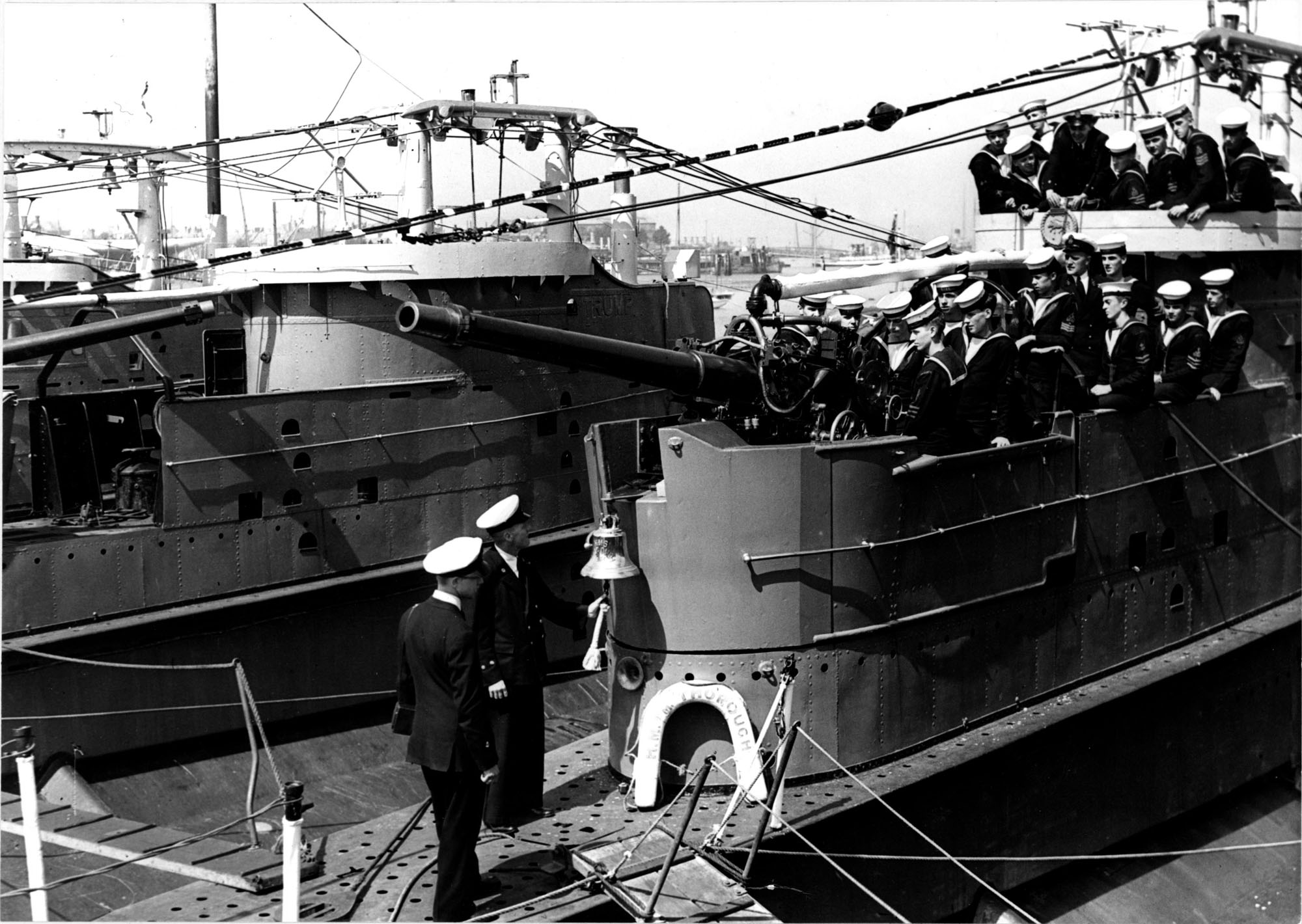 H.M. Submarine "Thorough"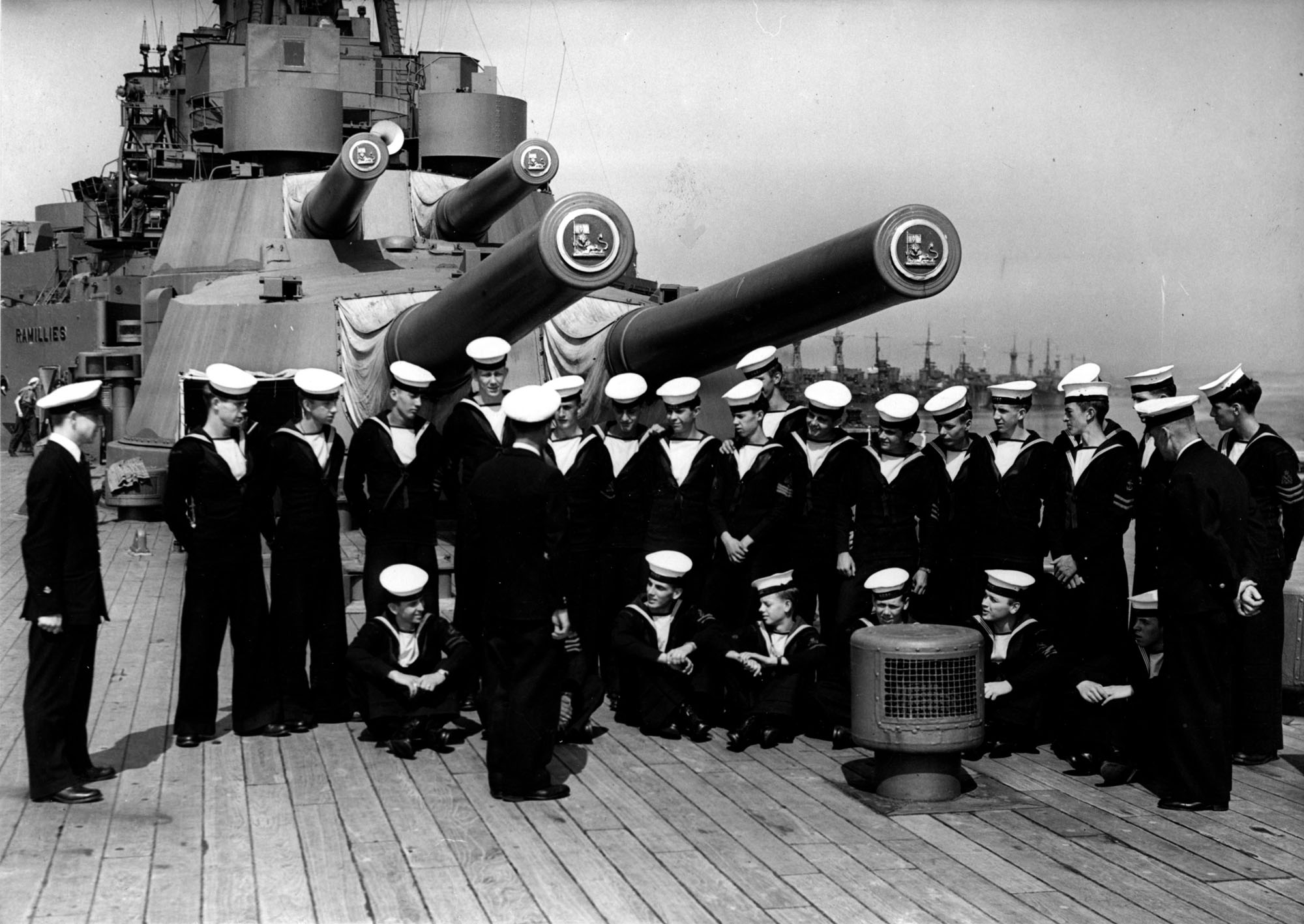 On board H.M.S. "Ramillies"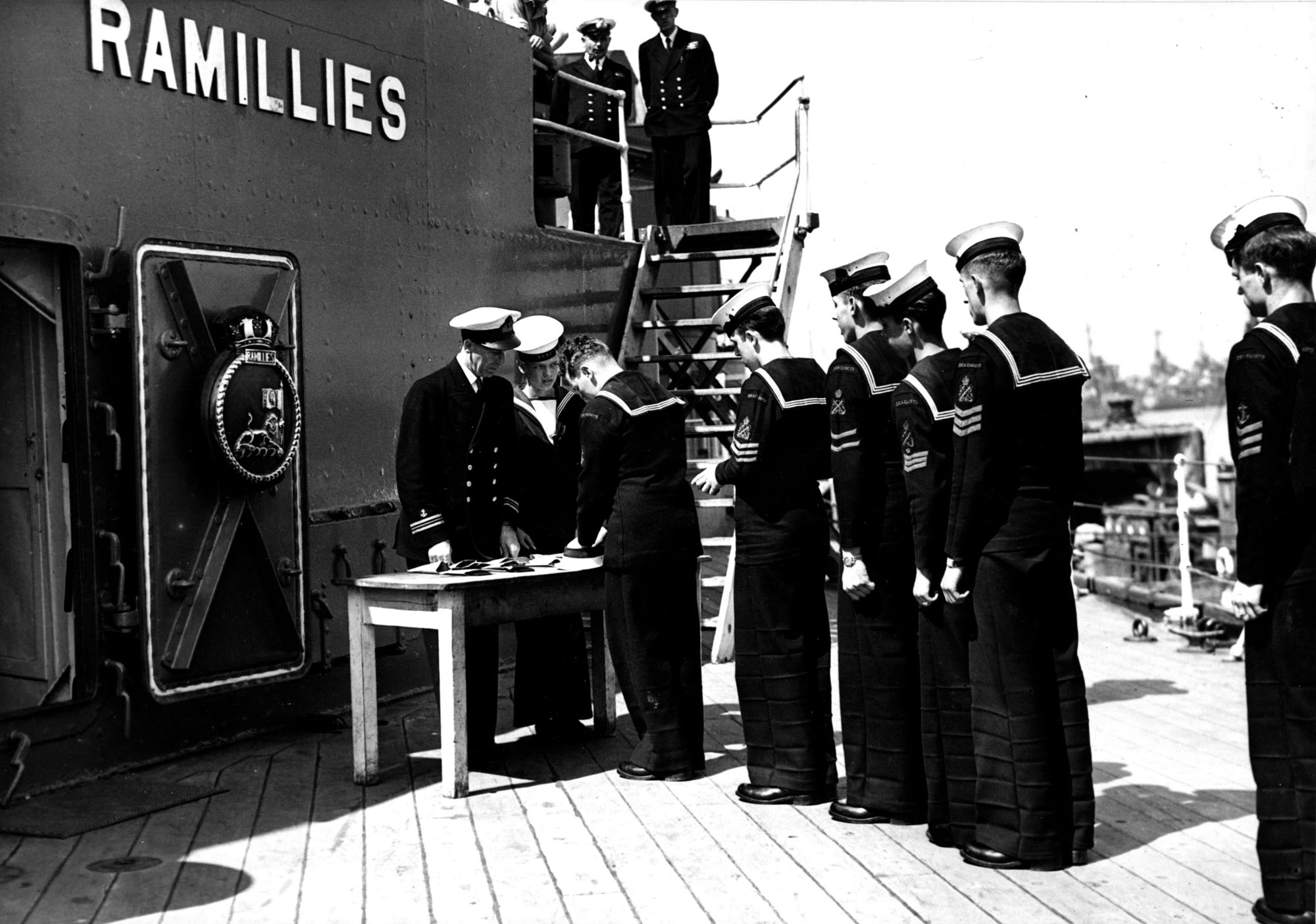 Pay Day

Pounds Shillings and Pence!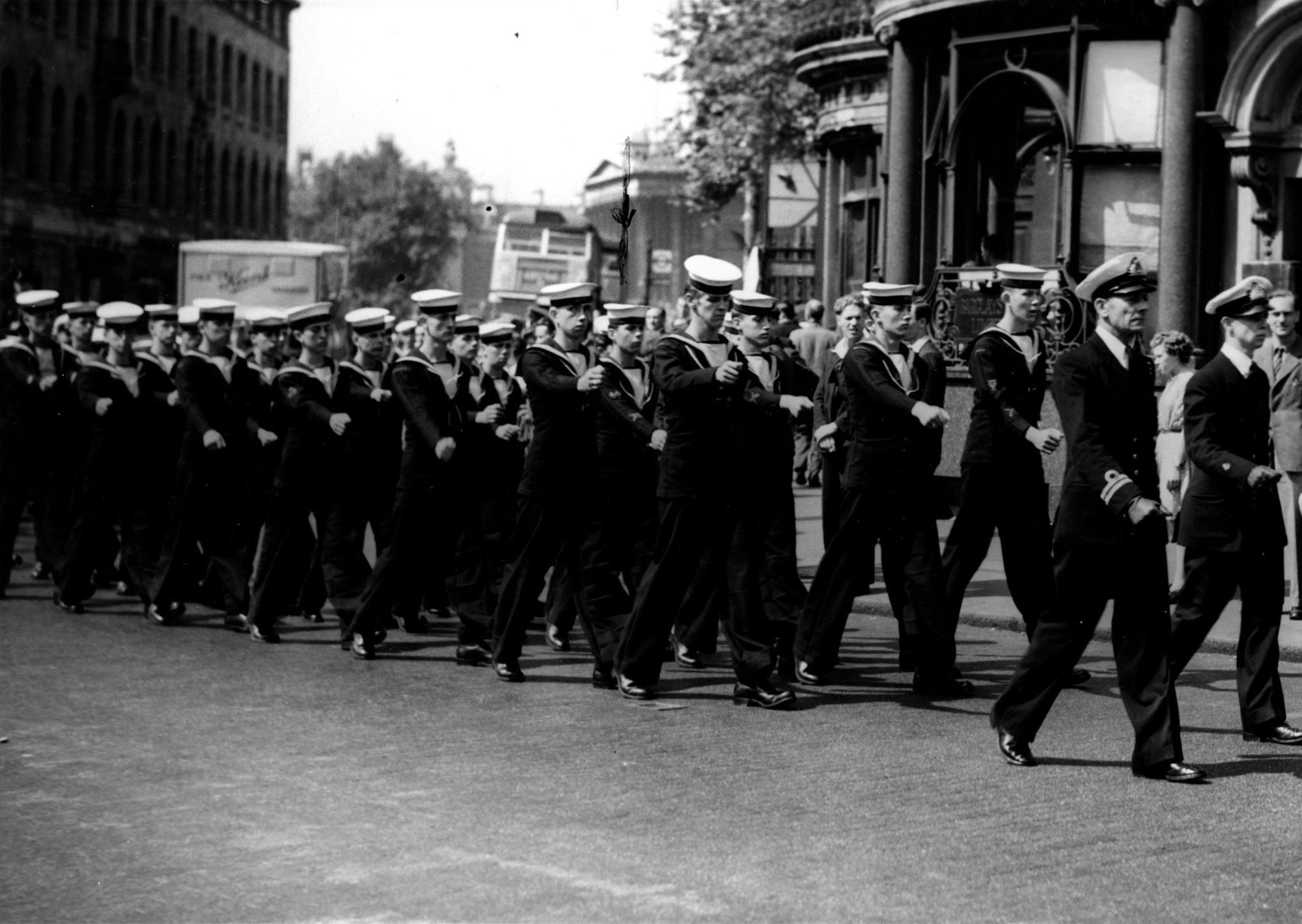 "Lets all go down the Strand"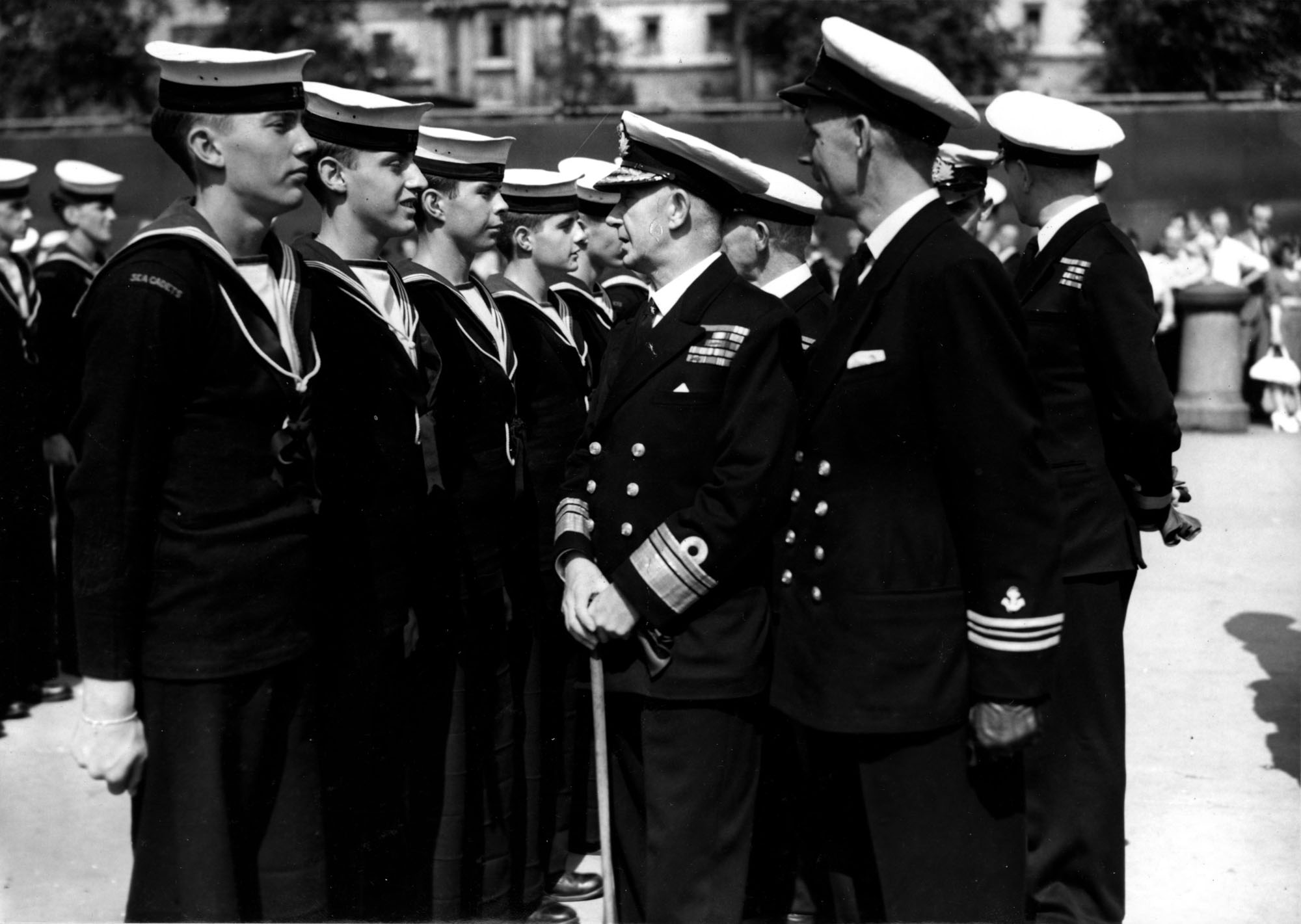 Trafalgar Square
Inspection by Vice Admiral Sir Charles Morgan, K.C.B., D.S.O.
Admiral Commanding Reserves.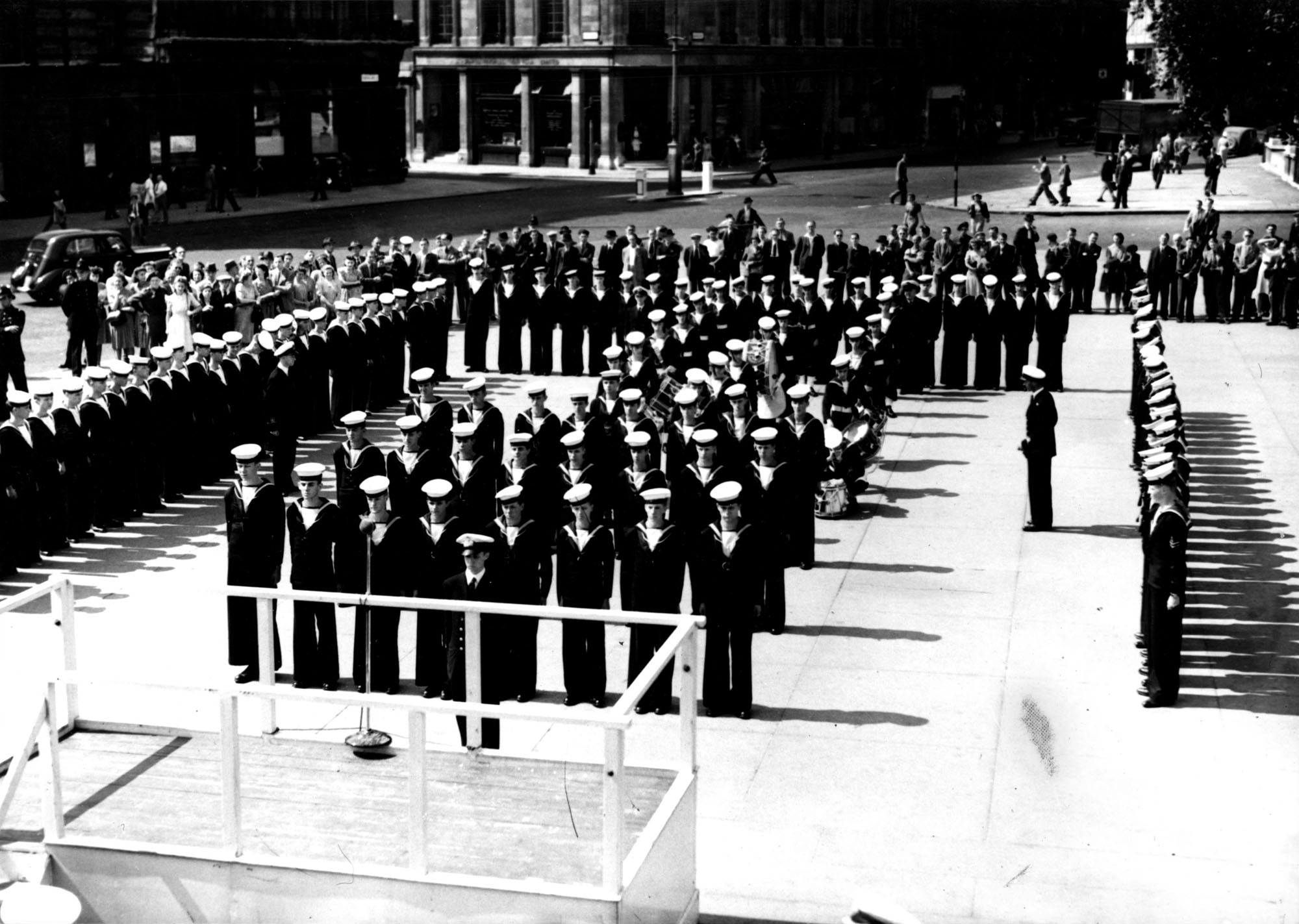 Trafalgar Square

Trafalgar Square,
Welcome by Vice Admiral Sir Gilbert Stephenson, K.B.E., C.B., C.M.G.,
Chairman, Navy League S.C.C. Committee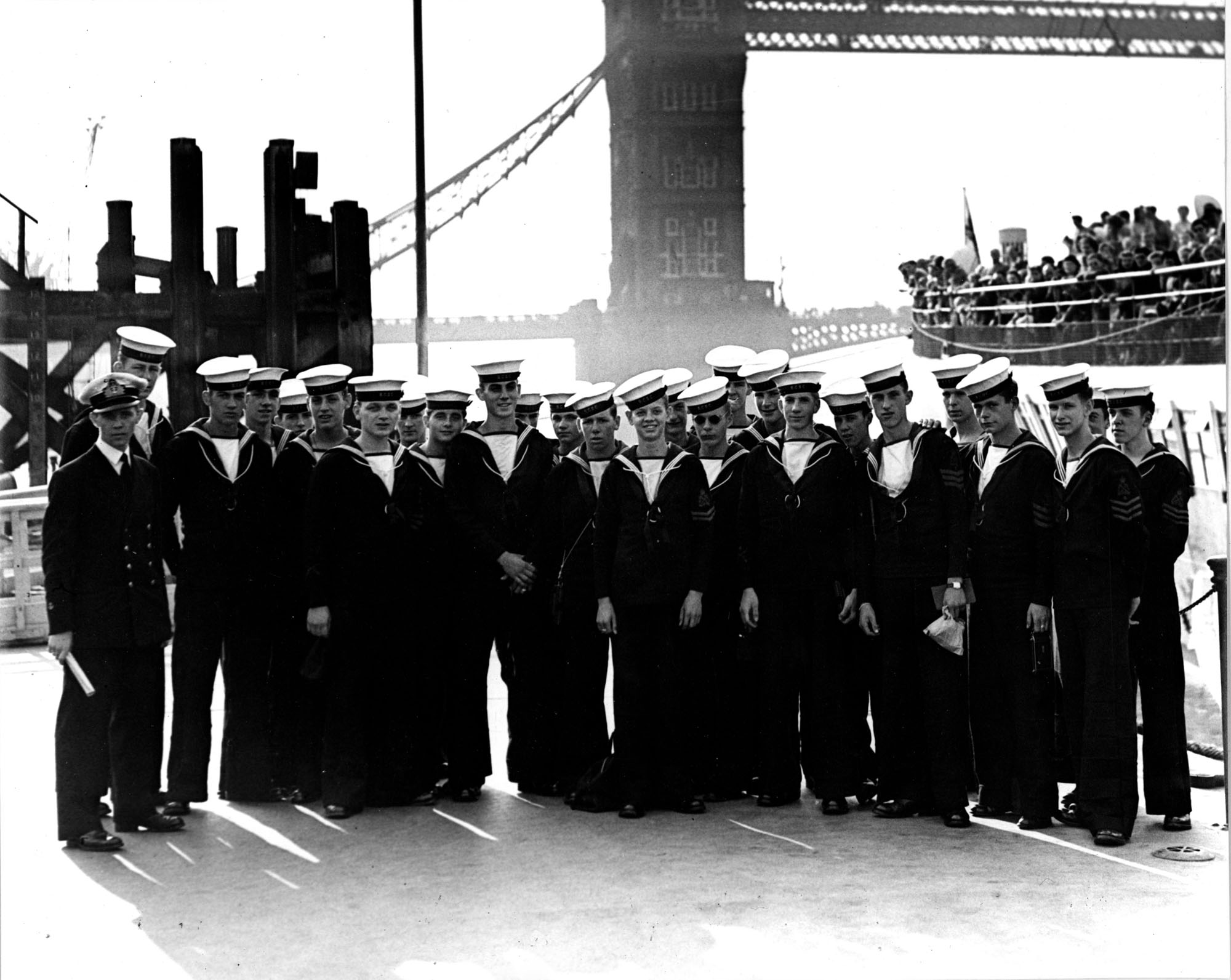 Tower Bridge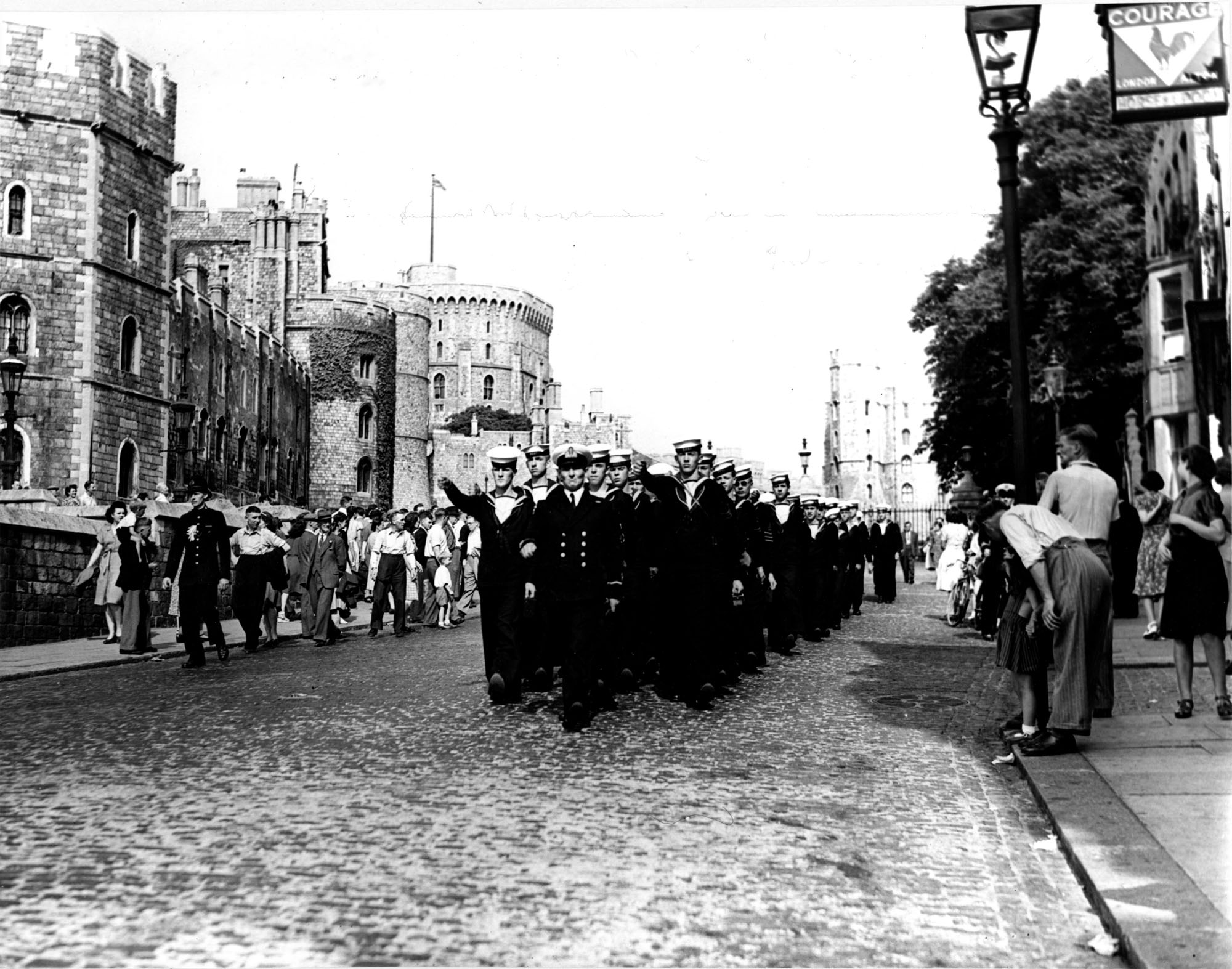 Windsor Castle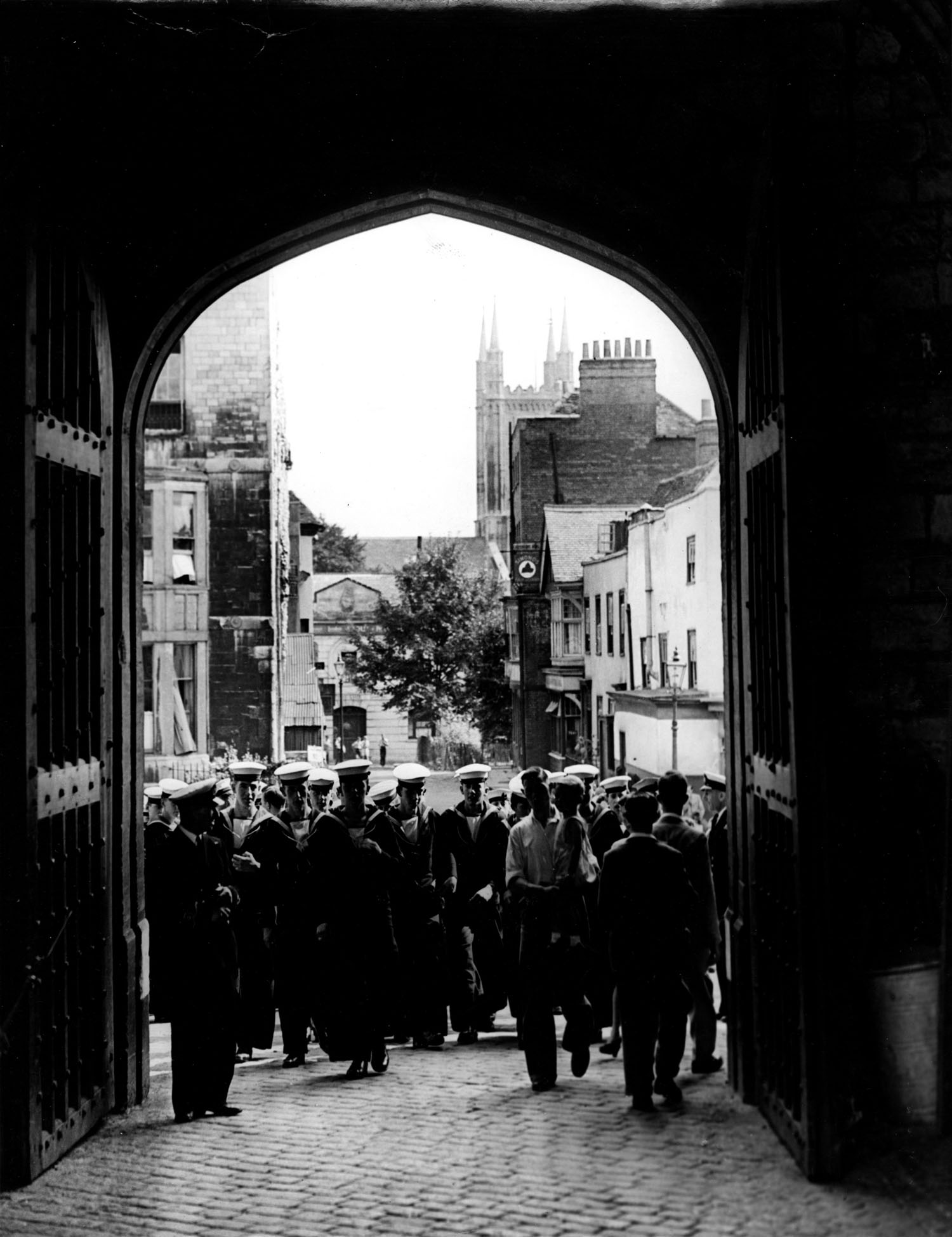 Eaton College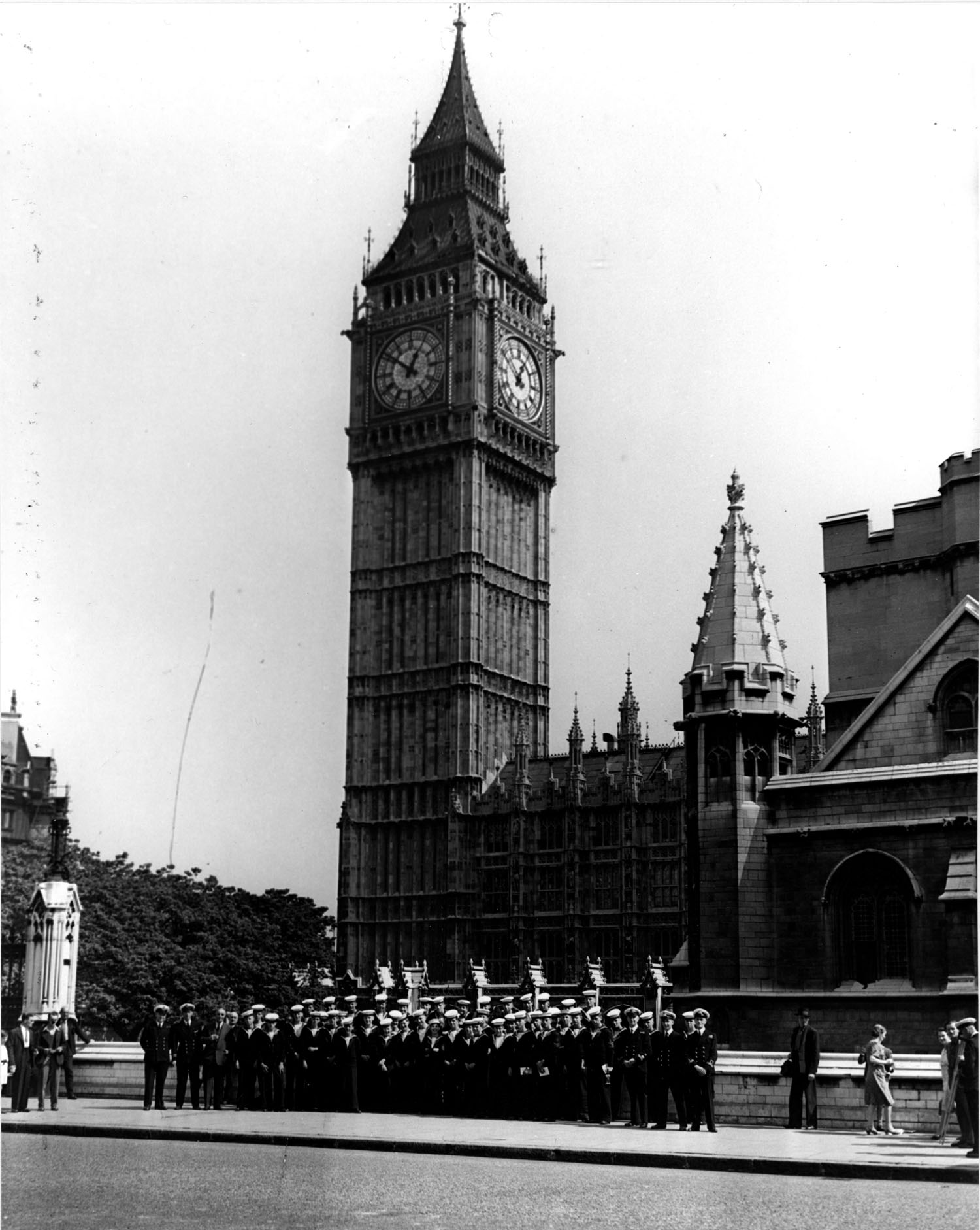 Houses of Parliament -- Big Ben
(with British Cadets)

Outside Houses of Parliament
(with British Cadets)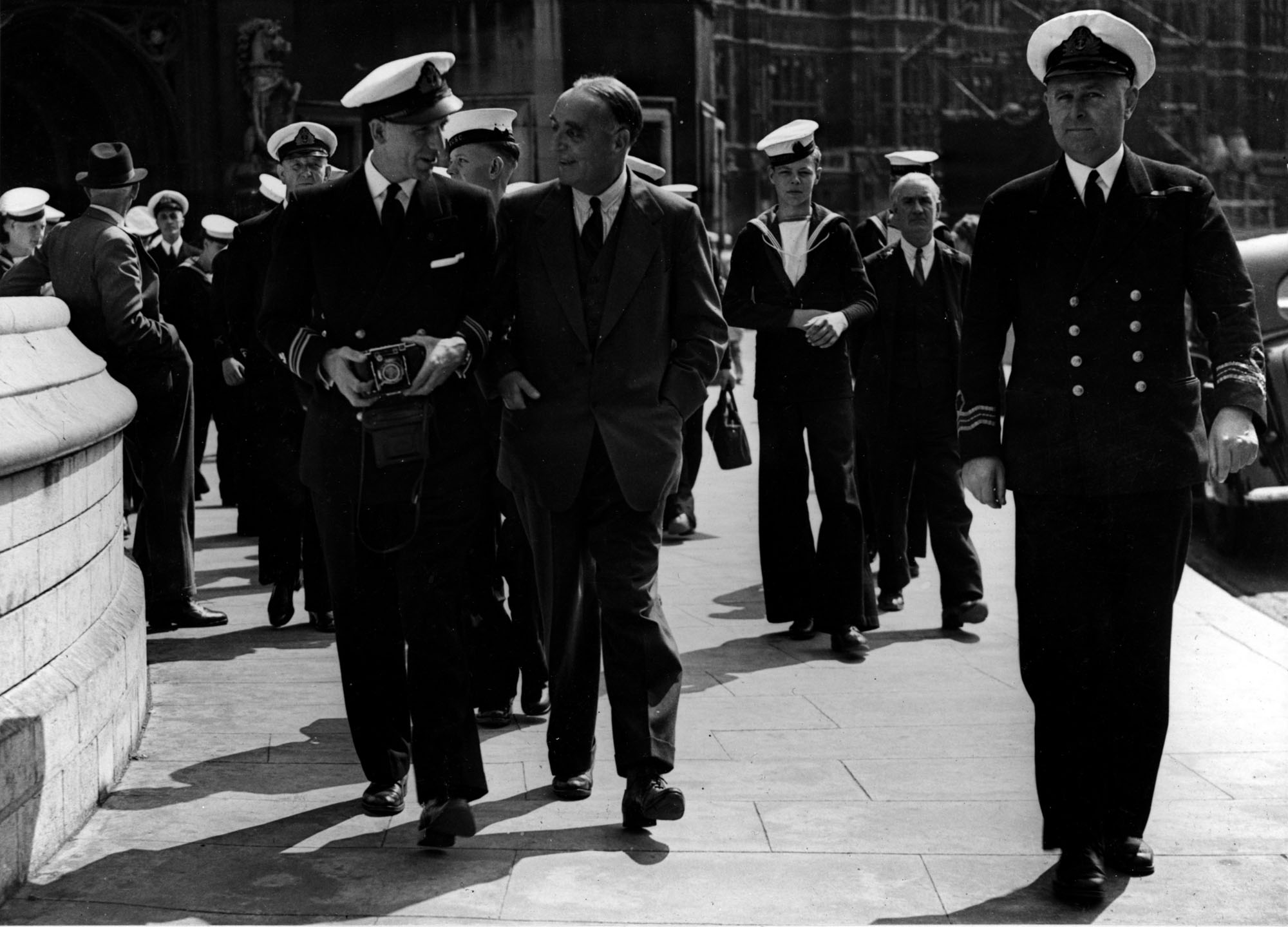 With Sir Harold Webbe, M.P.

Westminster Abbey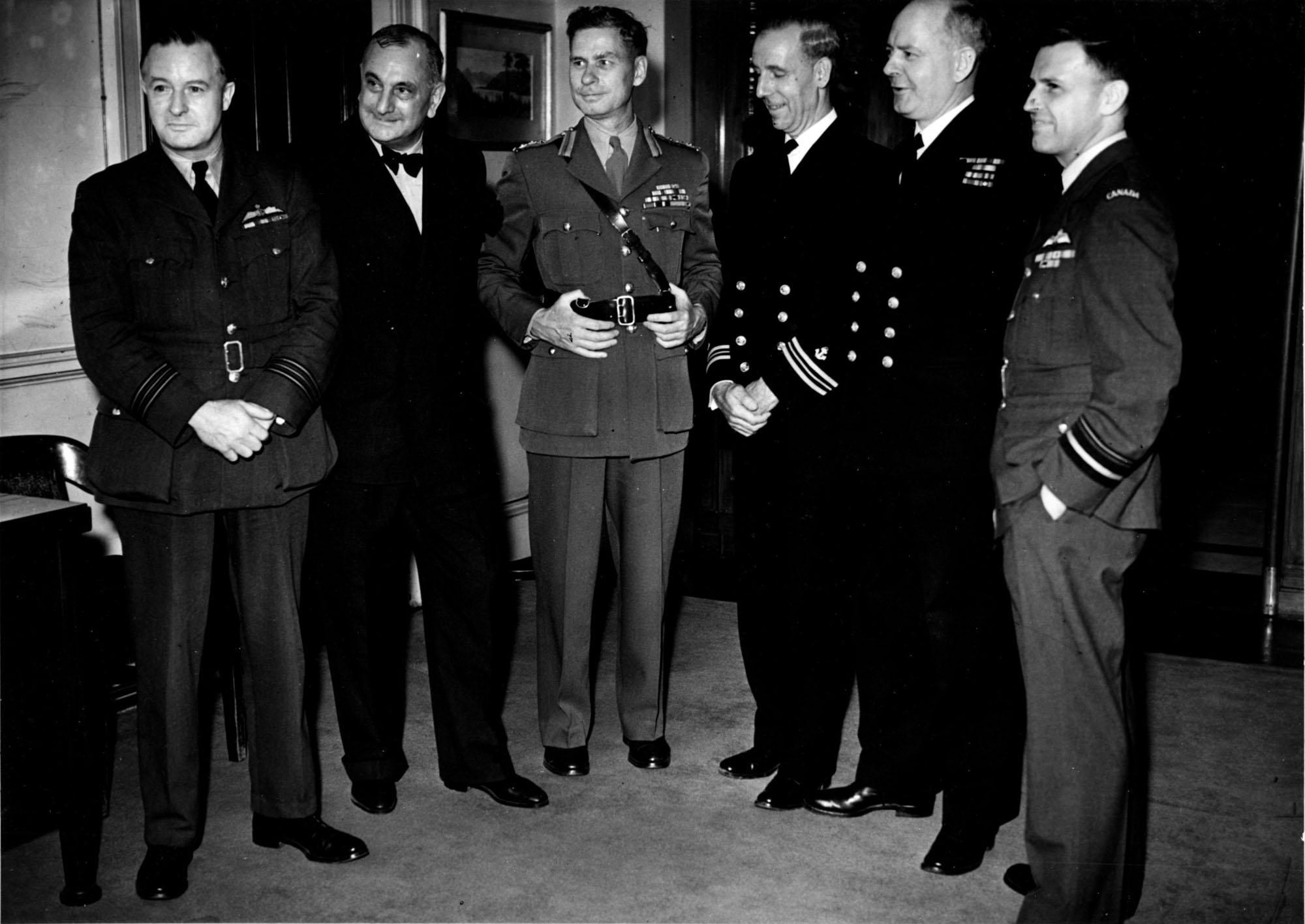 At Canada House
Squadron Leader Illsley, R.C.A. T.C.; F. Hudd, Esq., C.B.E.;
Brigadier N.D. Graham, C.B.E., D.S.O.;
Lieutenant Commander J. Moffatt, R.C.S.C.;
Commodor A.M. Hope, O.B.E., R.C.N.;
Air Vice Marshal R.E. McBurney, C.B.E., R.C.A.F.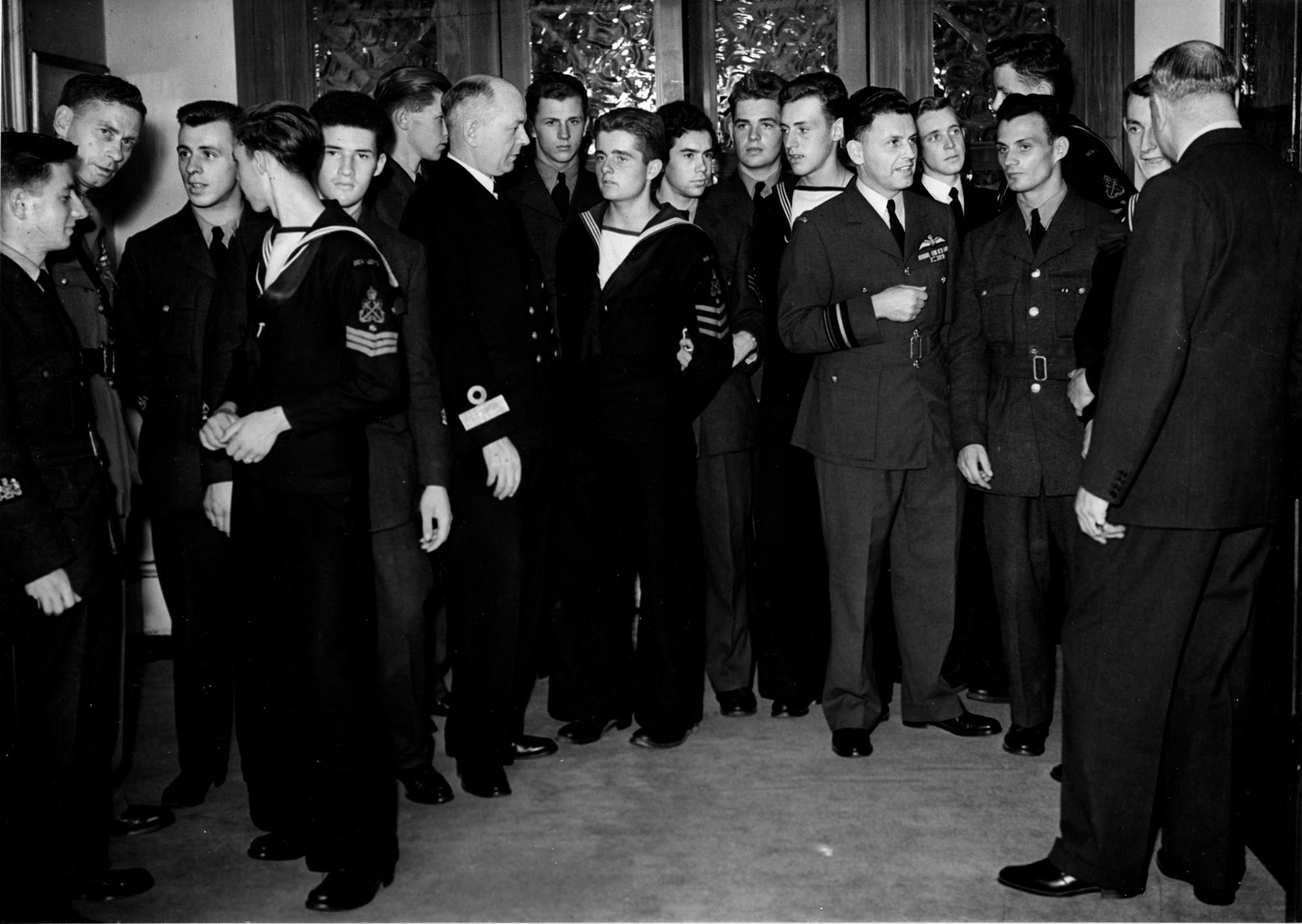 At Canada House -- Sea & Air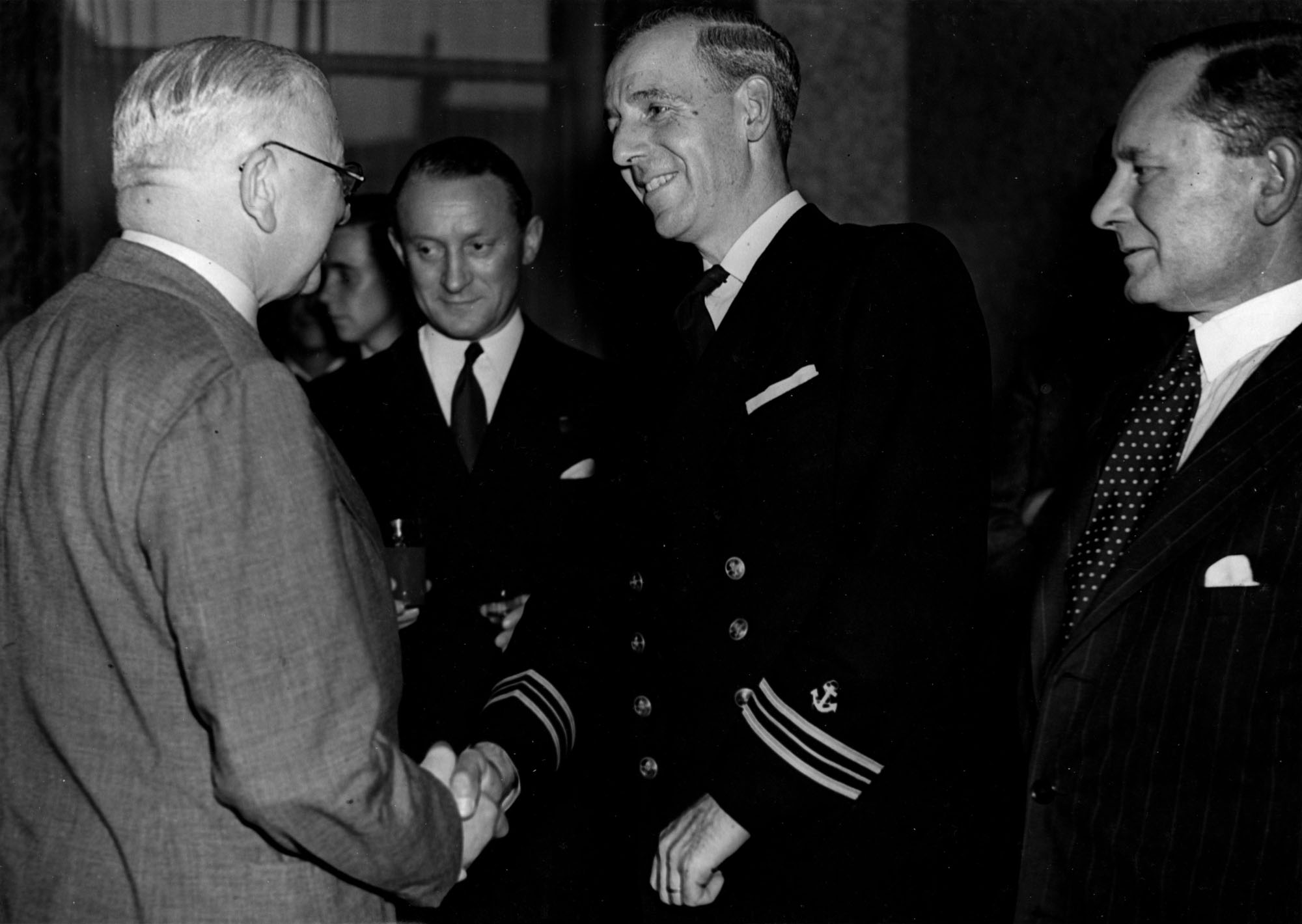 Lt. Cdr. Moffatt meets The Honble. A.V. Alexander, P.C., C.H.,
Minister of Defence.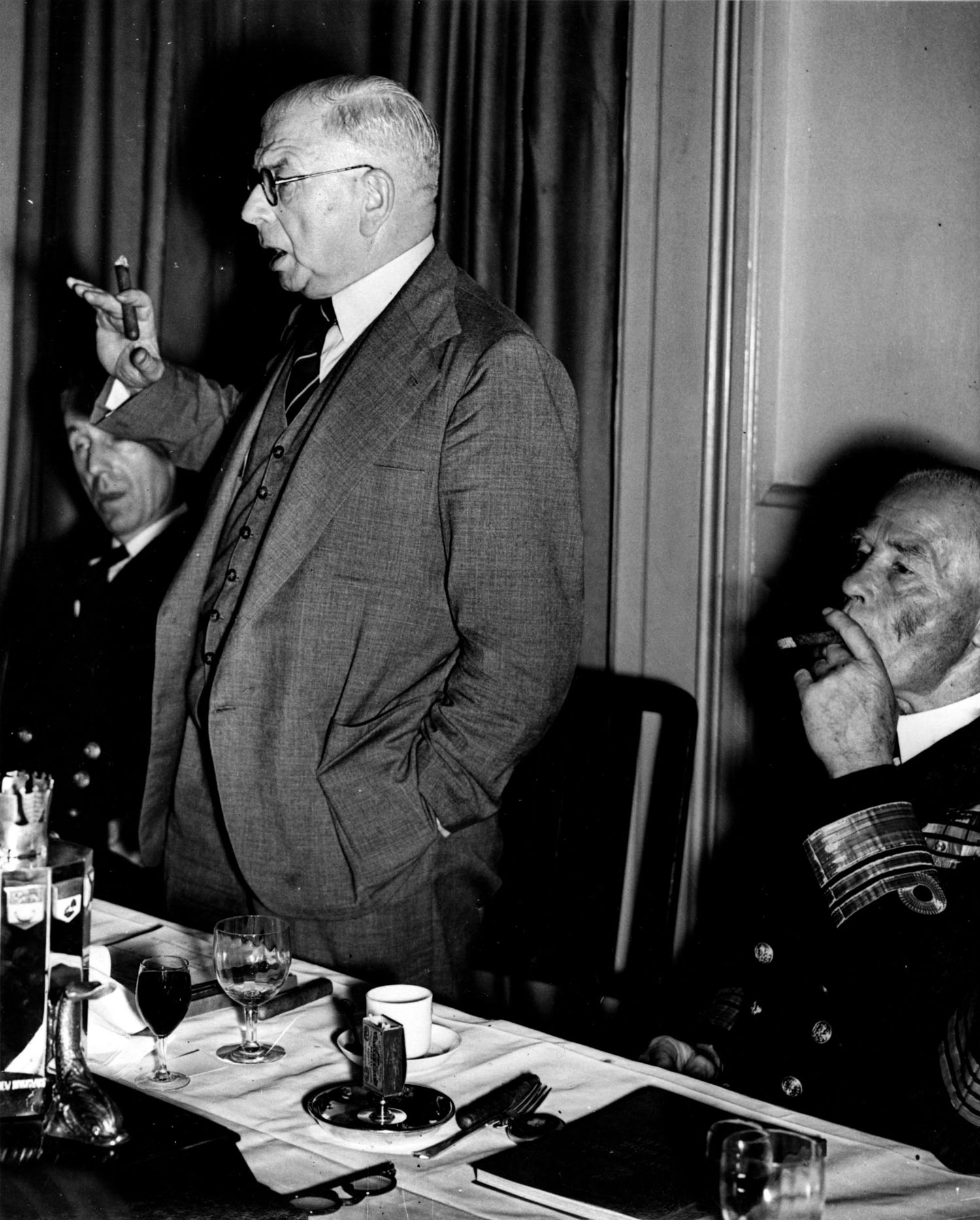 Mr. Alexander Speaks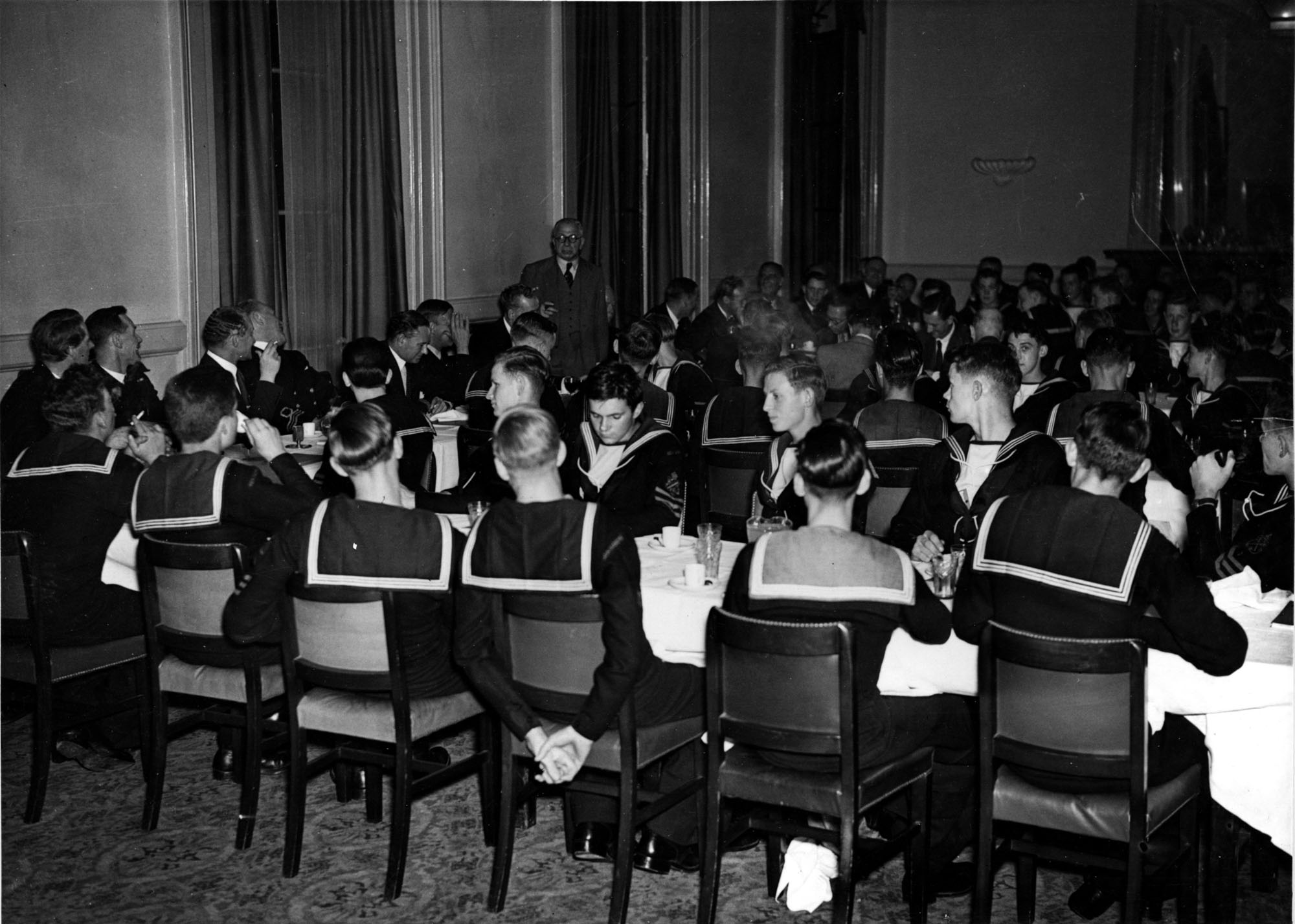 Farewell Dinner, Charing Cross Hotel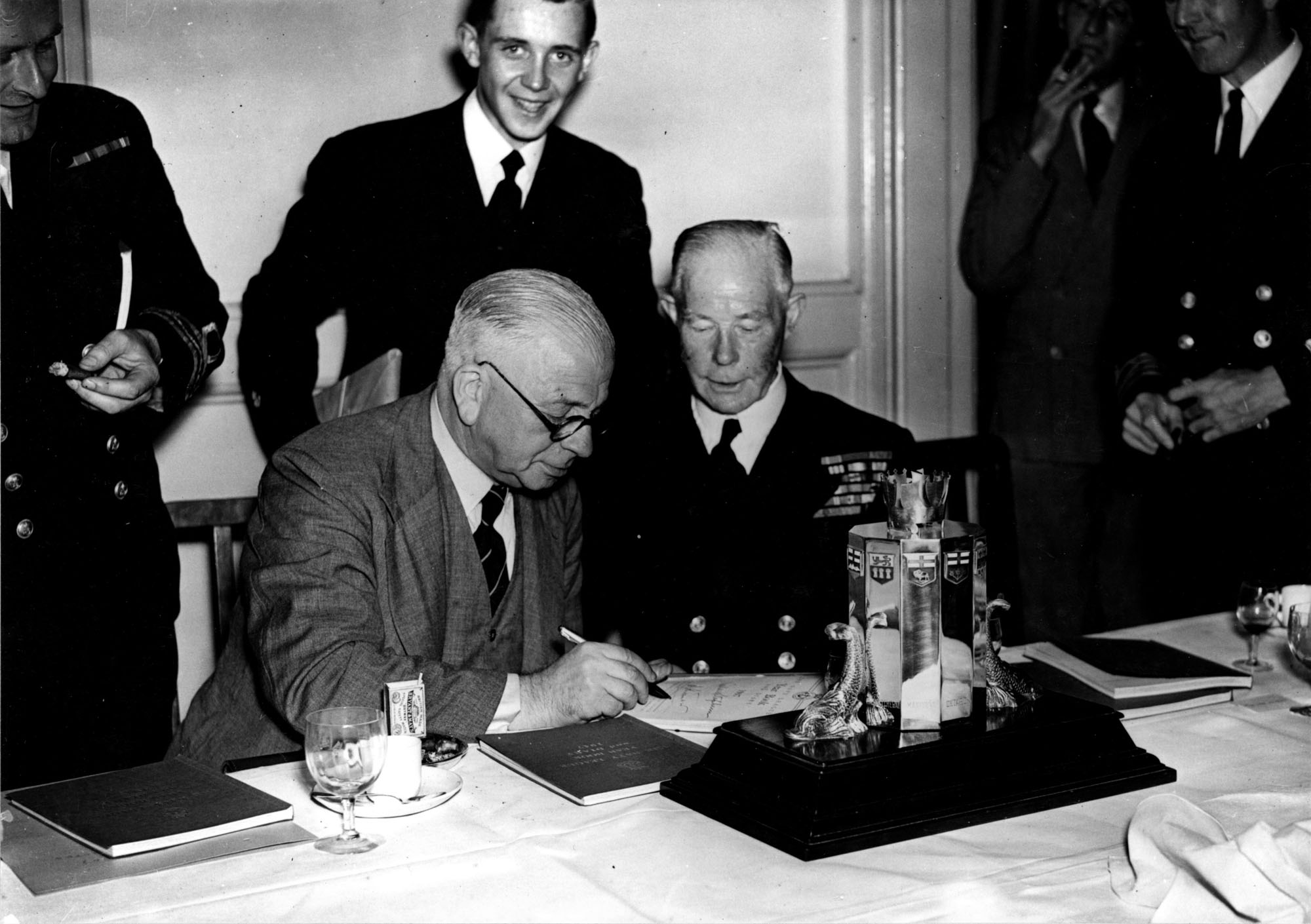 Mr. Alexander signs autographs
Additional Pictures
Winnipeg Free Press Newspaper Articles
Corps Newsletters - Edgar Wilson's Account of the Visit to Great Britain
Over the course of several months, the Corps newsletter published Ed Wilson's full account of their visit to Great Britain in August of 1947. Below is the cover of the May 1947 issue of the Corps newsletter, The Winnipeg Sea Cadet, in which the trip is announced. You can read Ed's full account in the November 1947, December 1947, February 1948, March 1948, April 1948 and May 1948 issues of The Winnipeg Sea Cadet.